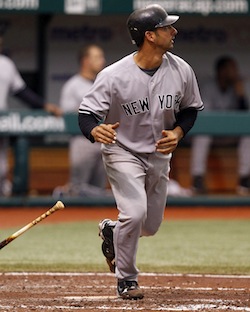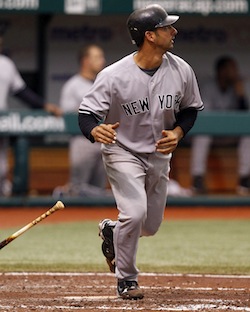 Jorge Posada was a weight around the 2011 Yankees' neck. Assigned the role of full-time DH, Jorge found himself in uncharted territory. While he'd DHed plenty in the past, and did it frequently in the 2010 season, it was nonetheless a huge change for him. Many players talk about how tough it is to play only half the game. Imagine how a catcher must feel in that situation. He goes from being involved in every play on the defensive side to being involved in none. Whether it was his role or his age, he produced below average numbers this season.
Once the Yankees figured out that holding him out against left-handed pitching would help mitigate the damage, things got better. On the season he produced 9.2 runs above average while batting lefty. Problem is, that's not exactly a quality number for a DH. Worse, he produced -10.4 runs above average against lefties. Hence, net negative. His season ended on a sour note, too, as he went 0 for his last 11, lowering his average to .235 and his SLG below the .400 mark.
And yet Joe Girardi still declared him the DH against right-handed pitchers for the postseason. Against Detroit in the ALDS that meant every game, since Detroit brought along four right-handed starters. It felt like an odd decision, since it reduced Jesus Montero's role. Just before his debut, a Yankees exec proclaimed that Montero would be the team's best DH option for the postseason. He seemed to prove that throughout September, producing a .421 wOBA in his 69 PA. That apparently was not enough to convince the Yankees' brass.
Throughout the first four games of the postseason, Jorge has done nothing but vindicate the Yankees' decision to stick with him. He has reached base in nine of his 15 PA, rapping a triple and scoring four runs along the way. He has accumulated .256 WPA in those games, and hasn't been in the negatives for any game. In Game 2 he was central in a comeback attempt, producing a team-leading .143 WPA and following up Nick Swisher's ninth-inning homer with the aforementioned triple. If the Yankees had pulled out that game and closed out the series on Tuesday, there's a chance that Posada could have been named MVP.
That's still a possibility, of course. With a big Game 5 Jorge could finish off his mastery of the Tigers and drive the Yankees to the ALCS. But the Yankees shouldn't have to lean on Posada once again. He has already done far more than was expected of him. It's time for the big guns to step up and finish this one off. That means Mark Teixeira, Alex Rodriguez, and Nick Swisher. Jorge has carried all three on his back for the past four games, and that kind of heavy lifting will tire out even a peak athlete, never mind a 40-year-old.
To close this on a high note, there's nothing to do but praise Jorge. He has come up big at a time when confidence in him has faded. Maybe he'll continue that into tonight and beyond, but no one should expect it. Instead, it's time to repay Jorge's deeds. He set them up for a Game 5 showdown. His teammates can finish the job.