Over the next few weeks, we're going to look back at what went right, what went wrong, and what went as expected during the 2011 campaign.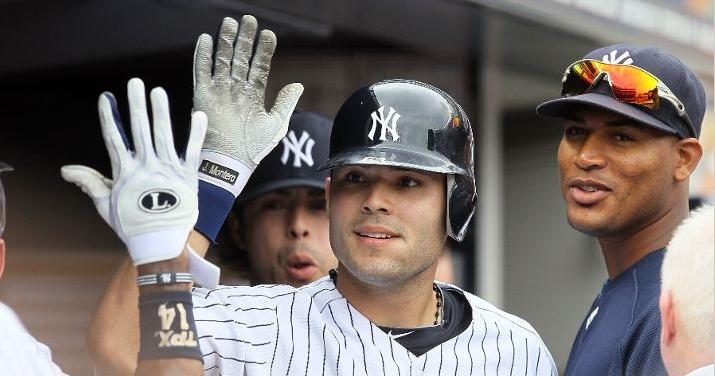 The Yankees had an ace up their sleeve all season. An ace capable of doing almost anything they wanted. Need a bat? A pitcher? Something else? Whatever the Yankees needed, Jesus Montero could give it to them. They had the option to insert him into the lineup if the offense needed help, and they also had the option of trading him for an arm if the pitching staff needed reinforcement. Thankfully, the pitching held up and the Yankees held on to Jesus.
The 21-year-old Montero started the season back with Triple-A Scranton, where he'd spent the previous year posting a .375 wOBA with a career high 21 homers in 123 games. He started the year off with a strong April (.365/.360/.473) even though he didn't draw a single walk, but stumbled through May and early-June (.254/.327/.328). That led to inevitable questions about pretty much everything. His work ethic, his talent, his future with the team, you name it and it was questioned after the worst 205 plate appearance stretch of his career.
The Yankees benched Montero for two games in June due to a "lack of energy," a few days after returning from an eye infection, fueling the narrative that he was bored with Triple-A life. Pretty much every prospect analyst dropped him in their midseason rankings. Brian Cashman admitted that Montero was a better option than incumbent backup catcher Frankie Cervelli shortly thereafter, but said the team was leaving him in the minors so he could play every single day. It was easy to twist that around and say he was being punished for the poor two months.
Montero returned to the lineup on June 13th, and like he'd done everywhere else in his career, he hit. A homerun in his first game back. Another hit the next day. Then again the next day. And again and again and again. After the benching, Montero hit .314/.376/.533 with 15 homers in 287 plate appearances, a batting line that looks an awful like the .314/.371/.511 he hit from 2007-2010, the first four years of his career. The second half surge put his final season numbers at .288/.348/.467 (.356 wOBA), and yet he had remained in Triple-A even though the Yankees were having serious DH problems at the big league level.
The Yankees finally righted a wrong (depending on who you ask) on September 1st, promoting Montero to the big leagues for the first time. They didn't hold him back either, he started that night at DH in Fenway Park against Jon Lester in a game where a win would have tied the two teams atop the AL East. Montero's first career at-bat came with the bases loaded in the first inning, but Lester struck him out. He didn't have a hit that night, but he did get hit by a pitch in his fifth trip to the plate, and later came around to score the eventual winning run. An 0-for-4 debut is never fun, but it wasn't completely unproductive.
Used primarily as the regular DH against left-handers, Montero picked up his first career knock in his second career game, a single to left off Ricky Romero. The next day came his first career two-hit game, and the day after that came his first two career homeruns. Both came off Orioles reliever Jim Johnson, a sinkerball specialist (61.5% ground ball rate) that had given up just one homer to a righty in the last calendar year. Montero hit both out to deep right field, showing off the opposite field power we'd heard so much about.
During the final month of the season, Montero hit .328/.406/.590 with four homers (Jered Weaver and Junichi Tazawa gave up the other two) in 69 plate appearances, earning a place on the postseason roster. He only batted twice in the ALDS, picking up hits in the late innings of New York's Game Four blowout win. The Yankees only let him catch three times after the call-up, a gentle little reminder that there are still questions about his defense behind the plate. There are no questions about the bat though, Montero's been hitting since the day the Yankees signed him, and his late season showing all but guarantees him a regular lineup spot in 2012, and hopefully many years beyond that.