Over the next few weeks, we're going to look back at what went right, what went wrong, and what went as expected during the 2011 campaign.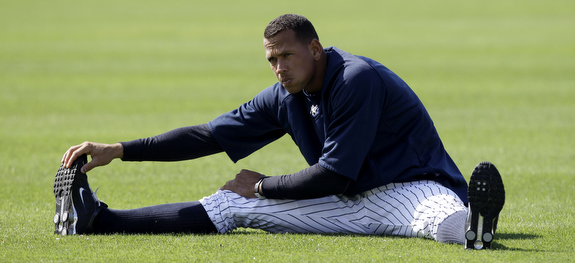 Spring Training can be deceiving. Every year we see players put up huge numbers in camp before having miserable regular seasons, and we also see players with terrible exhibition stats before raising hell in games that count. It's the nature of the beast, the small sample, the questionable competition (minor league players, etc.), all sorts of stuff. We fall for it every year, looking for meaning in meaningless games.
When Alex Rodriguez came to Spring Training this year, he was ten pounds and three percentage points of body fat smaller than he was in 2010. Not that he was fat before or anything like that, but he was noticeably slimmer and seemed much lighter on his feet. A-Rod then proceeded the hit the snot out of the ball for six weeks (.388/.444/.898), and before you knew it, people were predicting an MVP award and a return to the glory days of pre-2008.
For a while, Alex was on that MVP pace. He came out of the gate like a madman in April, with five homers, eleven walks, six strikeouts, and a .370/.483/.826 batting line in the team's first 17 games of the season. A-Rod fell into a slump after that, hitting just .171/.236/.232 with no homers over the next three weeks or so. He righted the ship with a two-homer day against the Rays on May 17th, and hit well enough over the next few weeks to carry a .301/.377/.509 batting line into July 1st.
Although he played in 80 of the team's first 86 games, Rodriguez clearly wasn't 100% physically. Joe Girardi said A-Rod was playing through a sore left shoulder in mid-June, and a few days later we learned that he was playing through a sore right knee, an injury he apparently suffered during the series against the Cubs at Wrigley Field. He was voted as a AL's starting third baseman in the All-Star Game (and he actually deserved the honor), but he had to skip the event when that sore right knee turned into a slightly torn meniscus. After a second opinion, the decision was made to have surgery.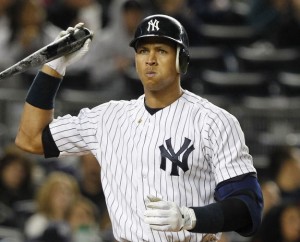 The procedure was supposed to keep him on the shelf for four-to-six weeks, and it ended up being more like seven. Not really a big deal. After a pair of rehab games with Triple-A Scranton, A-Rod returned to the lineup on August 21st and promptly went 0-for-5. He did pick up two hits next time out, then homered in his third game back, but he was playing with a new injury, a sprained left thumb. It was a fluke injury more than anything, he jammed the digit will making a play at third base in his first game back against the Twins. He missed time in early-September then even more in the middle of the month when the injury lingered.
After coming back from the knee injury, Alex played in just 19 of the team's final 37 games. He hit .191/.345/.353 in 84 plate appearances during that time, but at least he walked more than he struck out (15 BB, 13 K). The crummy performance carried over into the ALDS, when Alex contributed to the punchless 4-5-6 hitters with a 2-for-18 showing in the five games against Detroit. Despite the sluggish performance with the bat, I though A-Rod looked very good on defense later in the season and in the playoffs, but that's hardly a consolation prize.
All told, the now 36-year-old Rodriguez had his worst season since he was a 21-year-old kid with the Mariners in 1997. He hit .276/.362/.461 overall, a not terrible .361 wOBA that placed seventh among the 28 third baseman with at least 400 plate appearances this year. His power production declined considerably, evidenced by a .185 ISO that was his first sub-.225 ISO since that 1997 season. For the second year in a row, he struggled to hit lefties (.277/.367/.383), a demographic a right-handed cleanup hitter should crush.
The decline in production isn't really a huge problem though, the Yankees can live with an overpaid .350-.360 wOBA third baseman. The real problem is the injuries. A-Rod has been on the disabled list every year since signing his new ten-year, $275M contract, and this year he failed to play 100 games for the first time ever. It's been four years since he last played in more than 140 games. That's a whole lot of at-bats for Eduardo Nunez types. Once again, we're left heading into the offseason hoping that a winter of rest will help Alex stay on the field for a full season next year, but that looks more and more like a pipe dream.