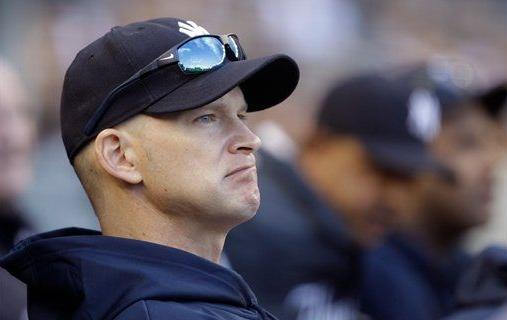 While we all focused on which starting pitcher could join the Yankees at the Winter Meetings, a rumor about a pitcher that could be leaving the team caught us (or at least me) somewhat by surprise. The New York Post reported that the Yankees were shopping A.J. Burnett in Dallas, and that they were willing to eat $8M of the $33M left on his contract to facilitate a trade. Burnett was and probably still is considered untradeable because of his contract and poor performance over the last two years, but that wasn't going to stop the team from trying to move him.
Today, buried in an article about the Rangers winning the negotiating rights to Yu Darvish, George King says that several teams are "kicking the tires" on acquiring Burnett, but the Yankees will have to eat more than that $8M if they want to get serious about a trade. Joe wrote exactly that earlier this month, suggesting they may need to pay about two-thirds of the remainder of his contract to make a deal happen, a la the Derek Lowe trade. Even then, they're likely to get little in return, a fringy prospect or maybe a spare bench piece in the best case. Either way, if the Yankees intend to move the righty, they're basically going to have to give him away.
Burnett has a partial no-trade clause in his contract, one that allows him to submit a list of ten teams he would reject a trade to each year. Clubs like the Padres, Nationals, Tigers, Diamondbacks, and Rockies are reportedly in the market for an arm, so I'm sure at least one of those teams kicking the tires is not on the partial no-trade list. The problem is that the Yankees aren't exactly in the position to give away pitching away at the moment, and Burnett is still a safe bet to take the ball every five days and give the team innings. They might not be the highest quality innings, but they are innings. Trade him, and the rotation becomes CC Sabathia, Freddy Garcia, and a bunch of kids in the three through nine spots. That can work, but it doesn't mean it's ideal.
Of course, there's always the option of adding an arm while still trading Burnett. We know all the names by now — John Danks, Edwin Jackson, Hiroki Kuroda, Gio Gonzalez, etc. — take your pick and that guy is almost guaranteed to be better than A.J. next season. The cost of acquiring each of those guys is very different, so at the end of the day the Yankees will have to decide between three options…
Do nothing.
Eat money to trade Burnett and acquire another pitcher
Keep Burnett and acquire another pitcher
Number two is probably the most preferable because the team would save some money even if it's just $6M a year for the next two years, but they would also be out an arm. Again, not the highest quality innings, but still innings. They'll come in handy when one of the five projected starters inevitably gets hurt, and I say that only because no team makes it through the season with exactly five starters. Ultimately, I still don't think any team will bite and trade for Burnett, and frankly the report of other teams kicking the tires isn't all that surprising. Any decent organization would look into all available options, Burnett being one of them.