Back in November I took a deep dive into the numbers to see whether there were any positives to be gleaned from A.J. Burnett's lousy 2011 season and whether we could expect at least a slightly better performance from the enigmatic righty in 2012 (assuming the Yankees don't eat his deal and decide to make him someone else's problem). What I found was that Burnett's season was utterly compromised by a brutal nine-start stretch he put together during July and August — which was in large part due to the fact that he lost nearly two inches of vertical break on his curveball — and that if you removed those performances from his ledger he actually threw to a 4.11 ERA over 135.2 innings. We all know baseball doesn't work that way, but that would seem to indicate that there's still a somewhat useful pitcher in there somewhere.
Today I wanted to examine a few key splits, in the hopes that there are some underlying trends that could bode well for A.J. going forward. For the masochists in the audience, feel free to download the spreadsheet I created which has the tOPS+ and sOPS+ data on pretty much every split you could want during the course of A.J.'s Yankee career. For the purposes of this post, we'll focus on sOPS+, as in the case of a pitcher like Burnett I think we'll get a better sense of just how effective/ineffective he's been comparing his performances in various splits against the league instead of compared to himself.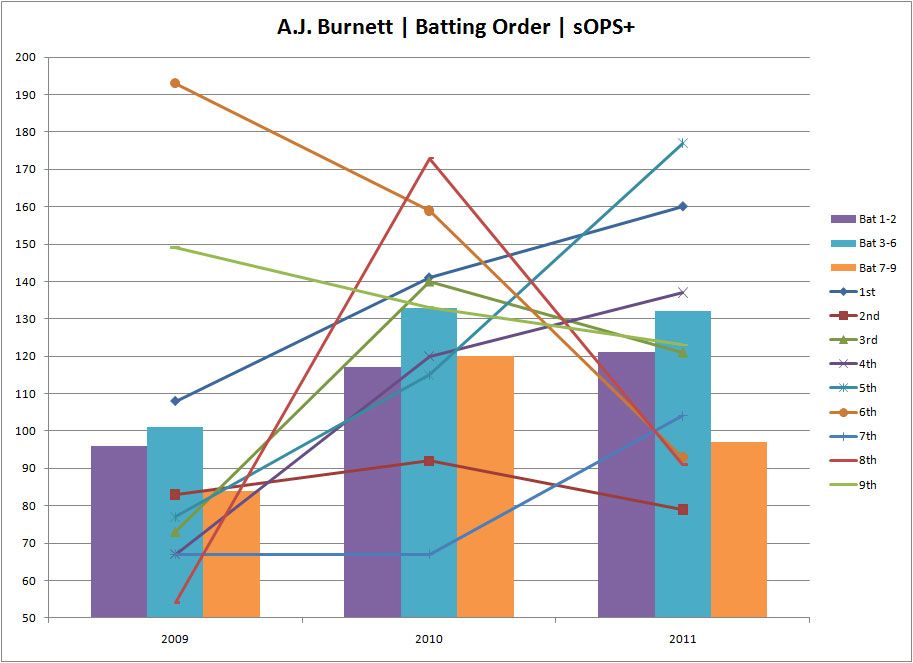 Over the last two years, leadoff hitters, cleanup hitters and 5th-slot hitters have really given it to A.J. but good. For some reason, A.J. fared best against #2 hitters last season, and also handled them relatively well last year. While his performance against 1-2 hitters slightly worsened in 2011, his sOPS+ against 3-6 hitters was flat year-over-year and his numbers against 7-9 hitters actually improved over 2010 (although in the case of the latter, he was still only 3% better than league average). Still, none of this data is terribly optimistic.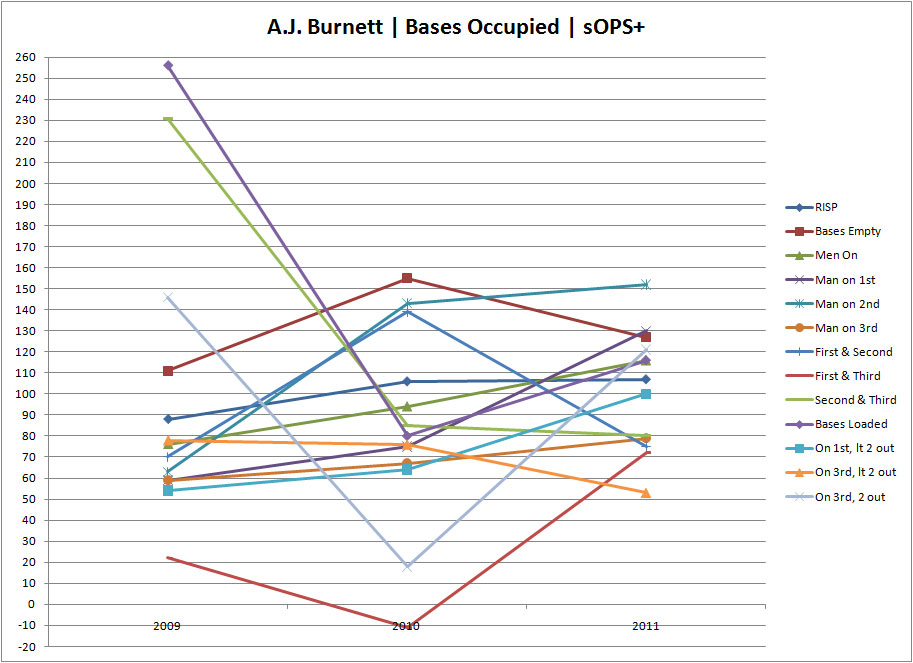 Last year, Burnett was curiously effective with a runner on 3rd and less than two outs (53 sOPS+). He also fared well with runners on first and third (72 sOPS+). Though one would think that Burnett's propensity for wild pitches — something that wouldn't show up in the opposition's cumulative OPS —  likely aided the opposing team's opportunities with runners on third. Burnett has been atrocious with a runner on 2nd these last two seasons, posting a 143 sOPS+ last year and 152 this past season. Nothing to see here.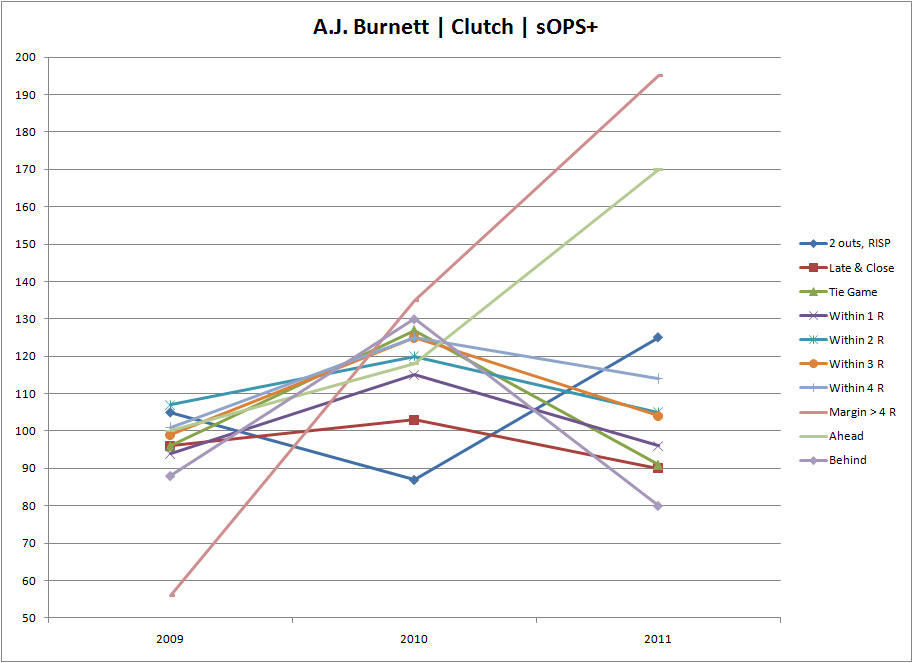 This past season A.J. appeared to save his best pitching for when the team was trailing, with an 80 sOPS+. However, as driven painfully home by the August 3 game against the White Sox, he was inexplicably terrible when pitching with a big lead, posting an sOPS+ of 195(!) when ahead by four-plus runs.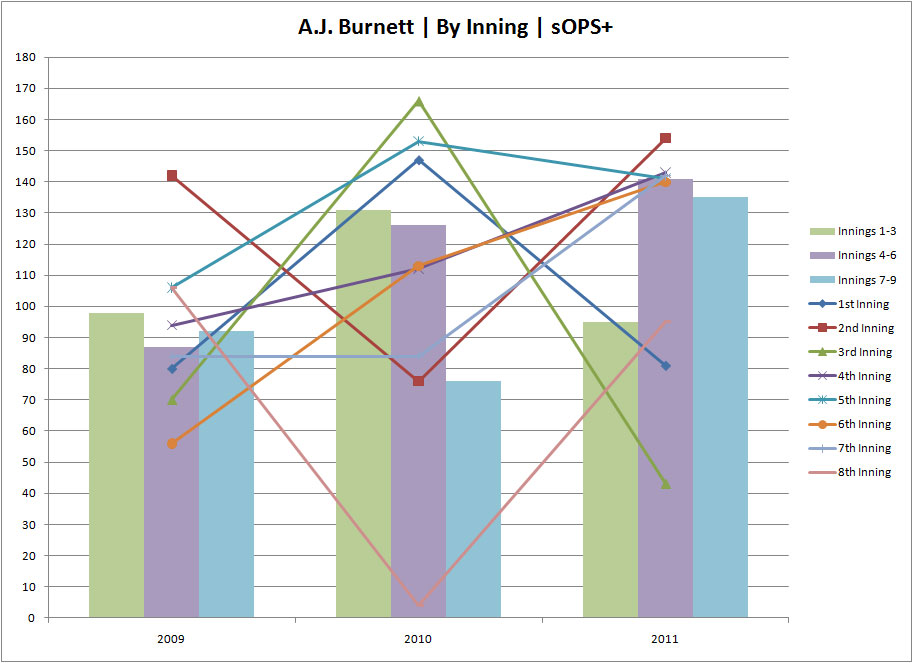 In 2011, A.J. saved his worst pitching for the middle innings collectively, although his worst performances came in the 2nd inning of games (154 sOPS+). Burnett was great in the 3rd inning (43 sOPS+), but that was one only three innings he was better than league average in, and one of those innings — the eighth — was one he rarely even saw.
Unfortunately there doesn't appear to be anything in the underlying data that might portend a brighter future for Allan James Burnett in 2012. I've been hoping against hope that A.J. can return to a level of effectiveness that he last evinced in 2009, and while I'll continue to perhaps foolishly expect better from A.J., no matter which way you slice 'em the numbers tell a very different story.