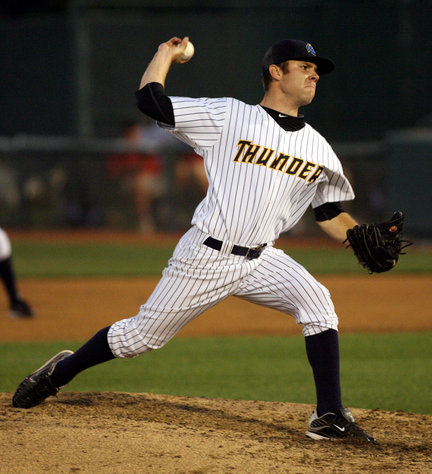 Note: This post was initially written prior to the Big Trade. With the Yankee rotation depth chart now seven deep at the Major League level, the likelihood of seeing David Phelps starting for the big league club at any point in 2012 has probably shrunk to nonexistent. Though in Phelps' favor, with the recent departure of Hector Noesi he and rotationmate Adam Warren have become the de facto "next in line" at AAA should the Yankees indeed simultaneously lose three starting pitchers to injury.
Last winter, most of the non-"Killer Bs" buzz regarding Yankee prospects surrounded Ivan Nova and Hector Noesi, both of whom acquitted themselves rather well during their first full seasons in the big leagues. With Manny Banuelos and Dellin Betances both expected to need further seasoning in AAA before getting the call to contribute at the MLB level full time, the two pitchers that we started hearing a fair amount about last offseason and who now appear to be next in line in the rotation pecking order when one of the Yankees' presumed starting five inevitably goes down with an injury are David Phelps (who Mike profiled a little over a year ago) and Adam Warren (Axisa profile). Today I'm going to take a look at what the Yankees might reasonably expect out of the former.
I found myself intrigued by the now-24-year-old right-hander — who most prospect mavens have pegged as a back-end-of-the-rotation guy at best — after seeing John Sickels recently rank him aggressively at #7 on his list of top 20 Yankee prospects, saying the following:
"I like (Phelps) more than most people do. Has developed the secondary pitches needed to off-set the fastball, and was one of the few pitchers who didn't get killed in the Arizona Fall League. Could be a fourth starter if given a chance."
While "fourth-starter-upside" isn't anything to get terribly excited over — and from what I gather, I get the sense that people aren't terribly enamored of Sickels' evaluations as it is — I don't know that I'd automatically thumb my nose at a guy who could hypothetically settle in as a #4 starter in an MLB rotation.
Phelps was drafted by the Yankees out of Notre Dame in the 14th round of the 2008 draft, and was immediately put to work in short season Staten Island. Here's a chart of his progression: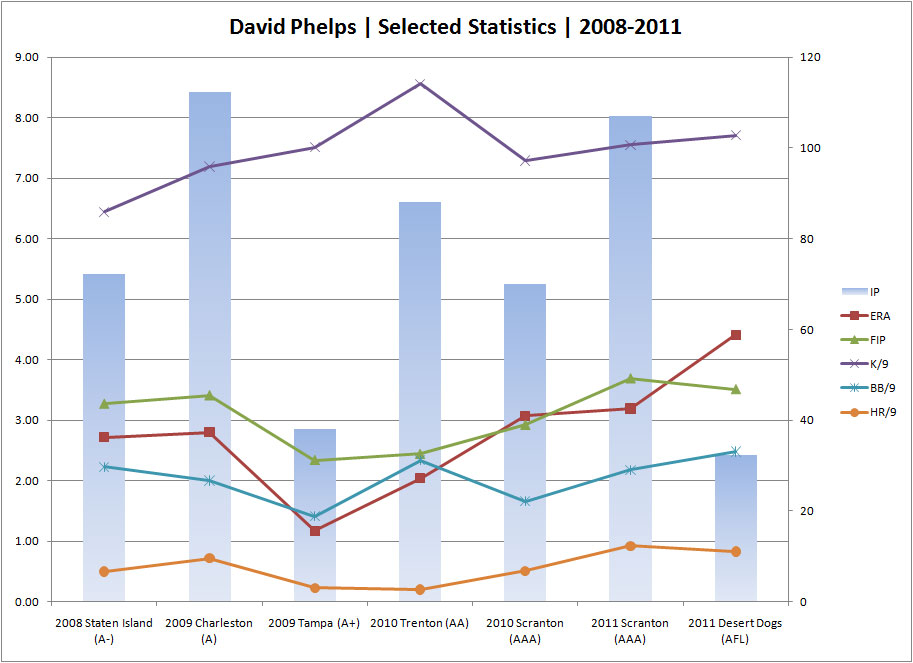 While I don't think Phelps is expected to generate an overwhelming number of strikeouts should he make it to the bigs, it's still decently impressive that he's managed to sustain a 7.00+ K/9 ever since moving up to Charleston, while never allowing his walk rate to rise above 3 men per nine. Reasonable strikeout and walk rates combined with a HR/9 that's never eclipsed 1.0 — even this past fall in the notoriously hitter-friendly Arizona Fall League — has helped Phelps keep his FIP below 4.00 every season. Based solely on his raw numbers, there's a fair amount to like from this picture.
The other reason I wanted to examine Phelps is that, by virtue of playing in the aforementioned AzFL, we have access (albeit limited) to PITCHf/x data, which is installed in two of the league's six parks. Poring through the data, I found the two games on the Phoenix Dirt Dogs' schedule that had them playing in Peoria and Surprise and also coincided with two of Phelps' eight starts.
On November 7 Phelps threw 5 innings of two-run, three-hit ball with three strikeouts, one walk and one home run. On November 17 Phelps threw 5 innings of two-run, five-hit ball with six strikeouts, no walks and no home runs.
Here's a breakdown of the 134 pitches he threw: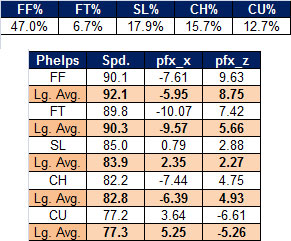 So based on this data Phelps is a fastball-slider righty, who also won't shy away from throwing a changeup ~8mph slower than his fastball, or dropping in a curve. In Mike's profile from December 2010, he noted the following about Phelps:
"Once a scrawny kid that would sit in the low-90's on a good day, Phelps has filled out his 6-foot-3 frame (190 lbs.) and now throws his fastball at 93-95 mph consistently. Minor league pitching coordinator Nardi Contreras made some minor adjustments soon after Phelps signed, leading to the improved velocity. He also throws a two-seam fastball right around 90 mph, a good curveball, and both a below average slider and changeup. The curve is the closest thing Phelps has to a strikeout pitch, but it still needs some more improvement. At the moment he's a ground ball pitcher, but that can change if one of the offspeed pitches takes that step forward."
I saw a lot of 89-91mph fastballs in the PITCHf/x data, and so I'm guessing Phelps' arm was somewhat tired by the time he got to the AFL after throwing roughly 114 innings in 2011 in both rehab and Scranton (Ed. Note: Phelps missed close to three months this summer with shoulder fatigue, so that could have contributed to the diminished velocity as well). If Phelps actually does usually sit at ~93mph with his fastball, a strong early showing at AAA could make him a valuable trade chip come July. Ultimately, I don't know that anything about Phelps screams dominance, but it also doesn't seem crazy to think that he could contribute as a starting pitcher at a league-average level in MLB.
For more on Phelps, be sure to check out TYA's Brad Vietrogoski's Top 30 Yankee Prospects capsules over at An A-Blog for A-Rod. Phelps checks in at #8.