Anytime a team wins 97 games, a lot has to go right. Some young players need to take steps forward and do more than expected, some established players have to have career years, and some other players must surprise and come out of nowhere with solid performances. It takes a total team effort to win that many games, from the nine-figure number one starter to the last guy on the bench clinging to his roster spot by the skin of his teeth.
The Yankees had a number of players provide better than expected production last year, none moreso than Bartolo Colon. He returned to MLB after the year-long hiatus and a half-decade of injury trouble to throw 164.1 innings of better than average pitching in the AL East at age 38. It was the definition of a pleasant surprise. Unfortunately, not all of those surprise performances are sustainable. Some of those guys might take a step backwards in 2012.
Freddy Garcia
The Yankees got lucky with Sweaty Freddy last year, at least in the sense that he held up all season without his surgically repaired shoulder giving out. He was a pretty extreme fly ball guy (just 36.4% grounders) who didn't give up many homers (0.98 HR/9 and 8.2 HR/FB%) because he has a serious knack for weak contract. Hitters pop-up his slop at a pretty high rate — 11.9% infield fly ball rate with a 10.7% career rate — which helps keep the ball in the park.
Garcia is a major outlier in terms of his pitching style, and he doesn't really fit under the umbrella of modern pitcher analysis. Mark Buehrle is the same way. The concern with Freddy going forward is the decreased usage of his changeup (19.9% in 2011 after 34.1% in 2010), which allowed left-handed batters to hit him harder (116 sOPS+) than they did the year before (108). If he's unable to hold down right-handers again (101 sOPS+ in 2011 after 130 in 2010), he could be in for a whole world of hurt. Garcia could stand to use the changeup a little more next season to keep lefties at bay.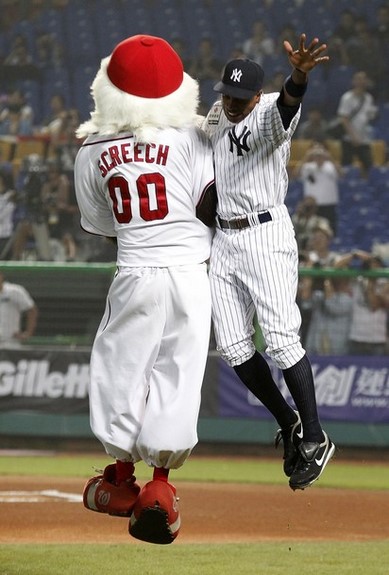 Curtis Granderson
Granderson is a very unique case. His performance improved overnight back in August 2010 (almost literally), but we have tangible evidence explaining his newfound success. Grandy overhauled his stance and swing mechanics – specifically switching to a two-handed follow through for better bat control — with hitting coach Kevin Long's help, allowing him to tap into his natural power and improve his performance against southpaws. We've seen 945 plate appearances of MVP caliber performance (including playoffs) since the overhaul, hardly a small sample.
It's easy to write off Granderson's power spike as a product of New Yankee Stadium, but that's not the case. Since the overhaul he's hit 30 homers with a .322 ISO at home and 25 homers with a .266 ISO on the road. The performance is better at home, but that's still serious power on the road. The newfound pop jumped Granderson's HR/FB ratio up over 20% (20.5% to be exact) for the first time in his career, which is rarefied air. Only eight hitters have sustained a 20%+ HR/FB ratio over the last five years (min. 2,000 PA), and they're basically the eight best pure power hitters in baseball (Ryan Howard, Mark Reynolds, Carlos Pena types). Albert Pujols, Ryan Braun, Joey Votto, and Miguel Cabrera do not make the cut.
Grandy 's power output isn't something many hitters are able to repeat these days. Only six players have put together back-to-back 35+ homer seasons over the last five years, and only two of the six have been over the age of 30. That doesn't mean Curtis won't do it again, he certainly has a lot going for him (like Yankee Stadium's short right field porch), but it's not crazy to think he'll be unable to repeat his 40+ homer effort again in 2012.
Ivan Nova
You can't say enough good things about what Nova did for the Yankees last season, particularly upon his return from Triple-A. He improved his slider and started missing some bats, which will be important for him going forward. As with every young pitcher, Nova's game could step a back next season just because he's still figuring things out, but there is a very specific reason why it's possible his performance will suffer in 2012. In fact, I'll go so far as to say his performance is likely to suffer, not just possible.
The easy answer here is that his ERA (3.70) was lower than his FIP (4.01) and he's doomed to regress, but that's not necessarily the case. The concern is Nova's performance with men on base, specifically with regards to the long ball. He faced 293 batters with men on base last year, and he allowed exactly zero homers. Not one. All 13 homers he allowed last summer were solo shots. His ground ball (54.1%) and strikeout (5.47 K/9 and 15.7 K%) rates were slightly higher with men on than with the bases empty (51.7 GB%, 5.22 K/9, and 12.7 K%), but not enough to explain the whole zero homers thing.
Avoiding homers is absolutely a skill, but avoiding homers specifically with no one on base is not. Pitchers tend to lose some effectiveness when pitching from the stretch — .318 wOBA against with men on but .313 with the bases empty — and Nova is no exception. Playing half his games in hitter friendly Yankee Stadium means he'll inevitably allow some homers with men on base. Those multi-run dingers will do a number on the ol' ERA, which is why his performance is likely to take a step back in 2012. At some point, someone will take him deep with ducks on the pond.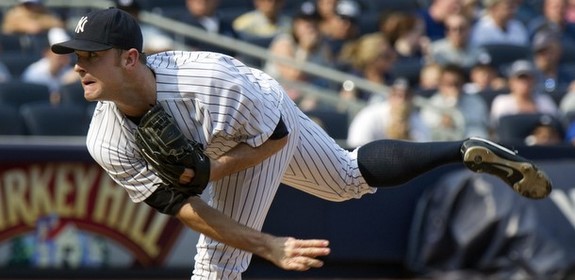 David Robertson
Robertson was out of this world good last season, using a new cutter to generate ground balls (46.3%) in addition to his usual high strikeout ways (13.50 K/9 and 36.8 K%). He allowed just one homer all season (a solo shot to J.J. Hardy in late-August), stranded a whopping 89.8% of the baserunners he allowed, and struck out 14 of the 19 men he faced with the bases loaded. The Houdini nickname certainly isn't misplaced.
With Robertson, there isn't one specific thing you can point to that would lead you to believe his performance will take a step back next year. Maybe it's his 2.3% HR/FB rate, that's probably the most obvious. Really, it's just a matter of him being so insanely good that he can't maintain the pace. Only 19 qualified relievers have managed a sub-2.00 FIP season over the last ten years, and exactly two of them did it more than once: Eric Gagne (2002 & 2003) and Hong-Chih Kuo (2008 & 2010). Mariano Rivera is not one of the 19. At 4.73 BB/9, Robertson has the highest walk rate of the group, and not by a small margin. Last year's Kenley Jansen is the only guy within one walk per nine of him. D-Rob's really really good, but my gosh, it would be something if he was that good again.
Cory Wade
The Yankees got 39.2 strong innings out of Wade last season, grabbing him off the scrap heap when injuries started to thin out the relief corps. He limits walks (1.82 BB/9 and 5.1 BB%) and strikes out just enough guys (6.81 K/9 and 19.1 K%) to remain effective despite big time fly ball (just 38.7% grounders) and homerun (1.13 HR/9) tendencies. Like Nova though, Wade enjoyed a ton of success with men on base last season. Perhaps a little too much.
Only 8.8% of the men to who reached base against Wade came around to score a year ago, well below the league average rate (27.5%). You'd expect a fly ball guy to have a lower than normal BABIP, but a .222 BABIP with men on base is lower than even the most optimistic of expectations. Once Wade gets some more opportunities to pitch with men on base — he faced just 64 batters with men on in 2011 — his performance will come back to Earth and he'll allow a few more runs, especially as someone prone to the long ball. Another near-2.00 ERA across a full year's worth of appearances would be a total shocker. Thankfully, Wade has a minor league option left and the Yankees have a number of bullpen alternatives at their disposal.