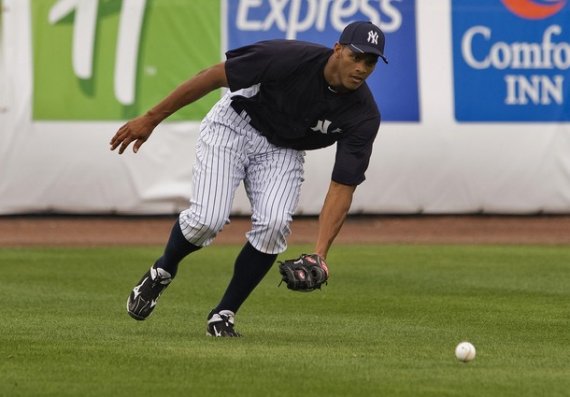 As March wears on, different needs arise for different teams. Some suffer injuries and need to trade for additional help. Others make it through the spring in relatively healthy shape and have surpluses from which they can trade. The Yankees, to this point, fall into the latter category. They not only have six starters for five rotation spots, but they also have an out of options player with some value along with a marginal player generating a little interest. That puts them in a position of strength. How far should they go in taking advantage of it?
In theory, the Yankees could trade all three players in question: Freddy Garcia, Justin Maxwell, and Ramiro Pena. But trading from a surplus isn't always the right answer. As the Yankees experienced this spring, plans can change in an instant. Holding onto those players in some way or another can work out for the better. So how should the Yankees approach the situations for Garcia, Maxwell, and Pena?
Freddy Garcia
After Garcia helped patch up the 2011 rotation, the Yankees were apparently eager to bring him back into the fold. Shortly after they offered him arbitration, they signed him to a one-year, $4 million contract. But he wasn't exactly their Plan A. After the Yankees acquired both Michael Pineda and Hiroki Kuroda, Garcia was seemingly squeezed out of a rotation spot. That appears to still be the case, despite his strong spring performances.
The Yankees reportedly offered Garcia to the Marlins, but were rebuffed. It's not clear whether the Marlins weren't interested at all, or whether the Yankees asked for too much in return. Whatever the case, it does appear that the Yankees are willing to deal Garcia to help clear up their pitching situation. If that is the case, I hope that they didn't work out a deal with the Marlins because they were asking for too much in return. Garcia can be greatly valuable to the 2012 team.
While he'll likely start in the bullpen, Garcia could very well end up in the starting rotation before long. Ivan Nova, who suffered an elbow injury in the Yankees' final game of 2011, has experienced a rough spring. He has by far the worst numbers of any Yankees starter. He does have a track record, and there appears to be little chance he'll start the season anywhere but in the rotation. But if he falters in April, the Yankees could move quickly and push Garcia into the rotation.
The problem with trading Garcia is that he's relatively valuable to both the Yankees and other teams. A No. 4 or No. 5 starter who can consume 150 to 170 innings per season is nothing to scoff at, even for a middling team. After all, those innings have to come from somewhere. While the Yankees appear to have a surplus now, and another reinforcement on the way in May, that might not always be the case. Few teams go through the season with even six starters, so the Yankees can definitely use Garcia.
On the other hand, what can they get in return for him? The 2012 team is pretty set. Maybe they could acquire a bullpen arm, but rare is that team that has a glaring need in the rotation while also having a spare, useful bullpen arm. Any bench upgrade would be marginal at best. It seems unlikely that a team would trade a legit B prospect for Garcia. That is, the Yankees probably aren't going to get back as much value for Garcia as they can potentially realize from him themselves. He might not be an ideal fit in the bullpen, but his capacity to jump into the rotation is probably more valuable than anything they'd get in return.
Justin Maxwell
Mike wrote about Maxwell yesterday, so there's no need to dig too deeply into his case. It all boils down to a lack of viable options for him. The Yankees can't send him down to AAA without first passing him through waivers, and as Mike noted it's unlikely that he'll pass through. Their only other options are to carry him on the 25- man roster or to trade him. Since they don't have room on the 25-man, a trade seems the most likely route.
When it comes to trading a player like Maxwell, urgency is the key. How badly does a team need outfield help, and where are they in the waivers order? Finding a relatively desperate team far down on the waivers list is the key. Otherwise, teams might hold onto their trade chips and simply wait for the Yankees to waive him. They can play one team off another, but for a player of Maxwell's caliber that might not be very effective. Odds are that Maxwell joins another organization and the Yankees get little to no return for him.
Ramiro Pena
Believe it or not, there is a team potentially interested in Pena's services. The Phillies will start the season without Chase Utley and Michael Martinez. With Placido Polanco also dealing with an injury, the Phillies could certainly use some infield help. We learned over the weekend that they have some interest in Pena. Unfortunately, as Mike said, he's not going to fetch much in return.
Pena does have some value to the Yankees. He's already on the 40-man roster, and can play high-quality defense. Since he's one of three players on the 40-man roster who can play shortstop, he's probably more valuable to the organization than the couple hundred thousand dollars or D-prospect he'd fetch in a trade.
Having a surplus is always a nice thing. It leaves a team with options that its competitors do not have. The Yankees could try to cash in its trade chips for prospects or other useful parts, but that just doesn't appear likely in this case. They might be forced into that position with the out-of-options Maxwell, but in the cases of Garcia and Pena they have players who provide value in their depth. That value is, in all likelihood, greater than what they'd receive in return from another trade. If the Yankees can get back a decent prospect in a Maxwell/Garcia package, so be it. But unless they find something that will significantly improve their farm system, they should hold onto their surplus. They never know when they might need it.