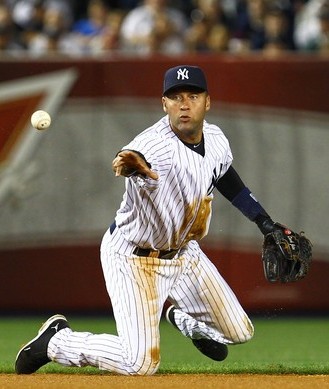 Back in April, Derek Jeter was arguably the most productive hitter in the American League. He hit .376/.421/.556 through the team's first 31 games and his first 146 plate appearances, though his season line is now down to a (still strong) .305/.355/.414 because of a prolonged slump. The Cap'n has hit just .249/.302/.302 in 183 plate appearances over the team's last 40 games, which is actual worse than his .260/.324/.324 performance before hitting the DL last summer.
Jeter's slide has, to a certain extent, coincided with the demotion of Eduardo Nunez. The defensively challenged infielder was sent to Triple-A on May 11th after starting five of the team's first 31 games at shortstop. That means Jeter had five half-days off (as the DH) during the first six weeks of the season. Since Nunez went down, Derek has started 36 of 40 games at shortstop while getting three half-days and one full day off. At one point he started 21 consecutive games at short. Scheduled days off obviously help a little, but the Cap'n hasn't been getting as much rest as he was during his torrid start.
The lack of rest and declining production could just be a coincidence, but I think it's fair to ask if all the extra time in the field is slowing Jeter down a step. He's going to turn 38 years old tomorrow and shortstop is a demanding position, it's not outrageous to think he could be worn out a bit. Jayson Nix has been fine as the utility infielder, neither great or a disaster, but he's clearly not good enough to play short even once a week to give the Cap'n some rest. He's a classic "only if I have to" shortstop, a spot start/emergency guy.
Now obviously Jeter wasn't going to maintain that insane April pace all season. We all wanted to think that 2009 Derek was back after his work with hitting coordinator Gary Denbo last season, but it was completely unrealistic. His slump has been a bit harsher than expected however and the lack of regular rest — just time off his feet at short, not necessarily full games off — maybe be contributing to the slide. I doubt the Yankees would recall Nunez even if he was healthy and since Ramiro Pena is unplayable, a utility infielder than can legitimately play shortstop should be on the team's trade deadline shopping list.