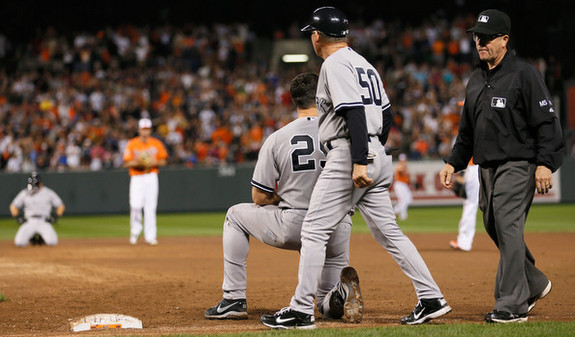 The Yankees got some bad news about Mark Teixeira yesterday, as the first baseman will miss 10-14 days after irritating his Grade I left calf strain on the final play of Saturday's game. He had missed the ten previous games, so all told the Bombers figure to be without one of their core middle of the order bats for 20 games or so. Teixeira isn't the hitter he was when he first got to New York, but it's still a big loss at an important stretch of the season.
Thankfully there are no shortage of players on the roster due to September call-ups. Following yesterday's Melky Mesa promotion, the Yankees are carrying 17 position players at the moment, not including Teixeira. I unofficially count five capable of playing first base at the drop of a hat, though the best solutions are Nick Swisher and Steve Pearce. Casey McGehee, Eric Chavez, and Raul Ibanez all have some experience at the position but aren't exactly grizzled veterans at first. Given this cast of characters, it'll take a bit of an unconventional outfield/first base platoon to replace Teixeira.
Right-Handed Pitchers
I've already written about using Chris Dickerson to replace Teixeira, which is the best thing Joe Girardi could do with his regular first baseman out. Swisher plays first, Dickerson plays right, Ichiro Suzuki plays left (or right, it doesn't really matter), and Ibanez stays at DH. That gives the Yankees their best defensive alignment without Teixeira while getting their core platoon bats in the lineup. Chavez can steal some at-bats at DH or man third while Alex Rodriguez gets a half-day off, so there's even more flexibility available. Point being, Teixeira's vacated playing time against righties should go to Dickerson because he can help on both sides of the ball and add some speed to the lineup.
Left-Handed Pitchers
Against southpaws, you really don't want Ibanez or Chavez in the lineup. Frankly you don't want Dickerson or Ichiro in there either. Pearce has apparently usurped McGehee as the primary platoon left-handed bat, and his experience at first should land him there against lefties while Teixeira is out. Swisher goes back to the outfield, obviously. If the Yankees are unwilling to turn the reigns over to Mesa, Andruw Jones will continue to play left field against lefties despite his second half futility. A-Rod can DH while Jayson Nix (or Eduardo Nunez) take over at the hot corner. That was the plan coming into the season anyway.
* * *
At this point of the season the only thing the Yankees can do is rearrange the furniture during Teixeira's absence. Dickerson steps in against righties while Pearce steps in against lefties. There's enough roster flexibility to have everyone play their best defensive position as well. Replacing Teixeira's offense will be impossible unless someone unexpectedly gets extremely hot, but using this platoon setup puts the team in the best position to succeed while he's on the shelf for these crucial upcoming games.