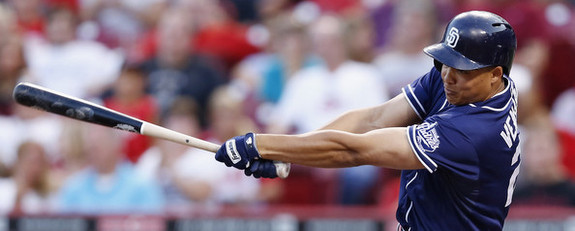 Outside of the fact that they both lost a ton of players to injury in 2012, the Yankees have Padres have very little in common. They play in different style ballparks in different divisions in different leagues on different coasts, and they're far apart on the roster age and payroll spectrums as well. Those differences also happen to make them pretty compatible trade partners, as each team's surplus matches up with the other's need.
Chase Headley is obviously the most desirable player on San Diego's roster, but you'd be buying high following his monster second half. The time to get him was at the trade deadline, and besides, I don't think the Yankees even have the pieces to swing a trade for the third baseman anyway. Instead, let's look at some lesser but still valuable Padres who make sense for New York if the free agent market doesn't swing their way in the coming weeks.
Will Venable
The 30-year-old Venable is one of those players who was so underrated that he's actually become overrated. He's been a consistent .252/.323/.411 (105 wRC+) hitter over the last three years, but his road numbers (120 wRC+) are substantially better than his homr numbers (89 wRC+). Petco Park is brutal on all hitters, but especially left-handed hitters. Venable does have a sizable platoon split (112 vs. 64 wRC+), but he plays strong defense in all three outfield spots and is a threat to steal 25+ bases. Although he will strike out some (20.0 K% in 2012), he deserves a lot of credit for working hard to get the whiffs under control in recent years…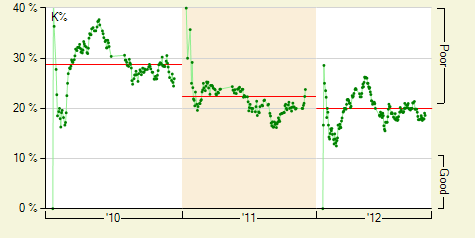 San Diego is locked into big money commitments in left (Carlos Quentin) and center (Cameron Maybin), so right field is the only open spot for Venable, the underrated Chris Denorfia, James Darnell, and down the line, top Double-A prospects Edinson Rincon and Rymer Liriano. Venable is what he is at this point, but move him out of Petco and into Yankee Stadium could turn him into a 15-homer, 25-steal guy if platooned properly. He would be a bit redundant with Brett Gardner (and to a lesser extent Curtis Granderson), but he is a fit. Venable will become a free agent after 2014 and is projected to earn just $2.5M throughout arbitration next year.
Nick Hundley
The Padres gave their 29-year-old backstop a three-year, $9M contract last offseason, and he rewarded them by playing so poorly (29 wRC+) that he had to be demoted to Triple-A at midseason. Hundley hit a solid .259/.323/.435 (110 wRC+) from 2009-2011 however, which earned him that contract. Oddly enough, his performance on the road (85 wRC+) was far worse than his performance at home (135 wRC+) during those three years. The various catcher defense rankings (2010, 2011) have rated Hundley anywhere from average to a tick above in recent years, though it's worth noting that he had minor elbow and knee surgeries in the last 18 months.
Yasmani Grandal posted a 144 wRC+ in 226 plate appearances this year to solidify his place as the team's catcher of the future, turning Hundley in a pricey ($3M in 2013 and $4M in 2014) backup. If the Yankees (or any team, really) believe Hundley is fixable — ultra-low .196 BABIP and 4.7 HR/FB% in 2012 — he might be the best trade candidate should Russell Martin sign elsewhere. They'd certainly be buying low, that's for sure.
* * *
Trading for Hundley got a little complicated yesterday because Grandal was suspended for 50 games, meaning the Padres will likely hold onto him for at least the first two months of the season. That doesn't help the Yankees all that much. Venable still could though, as could the legions of relievers on San Diego's 40-man roster if they want to expand the trade. The Yankees already claimed one Padres reliever this week, I'm sure there's another one or two they're interested in.
Anyway, by all accounts the Padres are seeking starting pitching this offseason, which is odd because usually they look for offense and just turn random arms into league average or better pitchers via their ballpark. The walls are coming though, so finding quality pitching won't be as easy. The Yankees are short on starters themselves at the moment, but surrendering a Phil Hughes or Ivan Nova or Adam Warren or David Phelps would be easier to swallow if Hiroki Kuroda and/of Andy Pettitte return for another year. There are no indications that these two clubs are talking about a trade involving any of this players — or that the Yankees are talking trades with anyone, for that matter — but they match up fairly well if they want to get together for a deal at some point in the coming weeks.