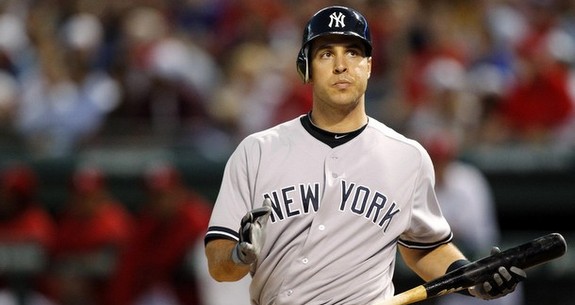 When the Yankees snuck up and signed Mark Teixeira out from under the Red Sox four winters ago, they thought they were getting an all-around switch-hitter with power, patience, and the ability to hit for average in addition to his great defense at first. They got that guy in 2009 and he helped them win the World Series, but Tex has been on a slow and steady decline since. Considering his age (32), it's very fair to say that his performance decline was unexpected. He was supposed to have a number of peak-caliber years remaining when he signed.
Teixeira did acknowledge late last year that the short right field porch in Yankee Stadium had screwed him up a bit, as he became overly pull-conscious and tried to yank everything into the seats against right-handers. He came into Spring Training this year and said he intended to get back to hitting all fields, maybe even drop down a bunt or two to beat the shift. That never materialized though. Teixeira did start hitting the ball to all fields though, the only problem was that the hits didn't fall in. He was hitting lazy fly balls to left, not line drives. In late-June, he told everyone he was going back to his pull-happy approach because going the other way wasn't working. It was too little, too late.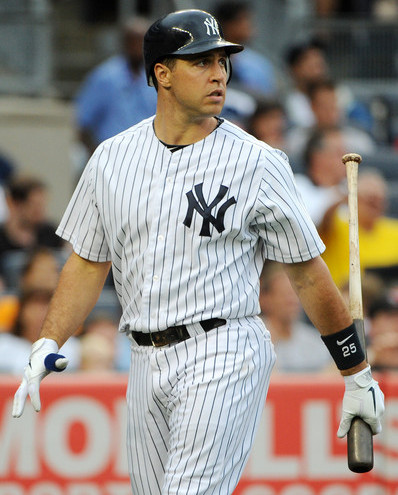 The Performance
Overall, Teixeira hit just .251/.332/.475 in 524 plate appearances this season. Not counting his rookie season of 2003, he set new career-lows in homers (24), walks (54), OBP (.332), SLG (.475), ISO (.224), OPS (.807), OPS+ (116), wRC+ (116), and fWAR (2.9). Ten qualified first baseman provided more offense (in terms of wRC+) this year. He did win a Gold Glove and a Fielding Bible Award for his still superlative defense, but the offense took another step backwards.
There are two very troubling aspects of Teixeira's decline. One is the free-falling OBP, which has more to do with his inability to hit for average than his walk rate. He did draw a walk in 10.3% of his plate appearances this year, which is below his career average (11.4%) but not insanely so. It's also still above the league average (8.0%). When all you hit is fly balls and pull the ball into the shift, a .250 BABIP and thus a low batting average isn't unexpected. A .332 OBP from a first baseman is not something you expect to find on a contending team.
Secondly, Teixeira's performance against right-handed pitchers continues to get worse. He hit just .239/.331/.438 against them this year, which is ridiculous. It's a 108 wRC+ that is far out of line with his career average (127) and expectations. It's not a fluke one-time thing either, Teixeira had a 111 wRC+ against righties last year, 116 the year before, and 143 the year before that. It's a three-year trend in the wrong direction and it ain't all BABIP luck either — his .243 BABIP as a left-handed batter this year was in line with his overall mark and again, it lines up with what you'd expect from a pull-happy fly ball hitter.
Whenever a team signs a player to an eight-year contract, they do it with the understanding that the last few years were going to be ugly. That said, I don't think the Yankees expected a .332 OBP and a career-low 24 homers in year four of Teixeira's eight-year contract when they signed him at age 28. When you see something like this…
…it's very easy to get frustrated and annoyed with Teixeira's production. He's supposed to be a switch-hitting middle of the order threat, but right now does most of his damage on the short side of the platoon and probably fits best as a six-hole hitter.
The Injuries
A huge part of Teixeira's value is his durability, especially as health has slowly become baseball's sixth tool and most undervalued asset. Like I've said before, it's not just about having the best players, it's about having the best players stay on the field for the most games. Teixeira played in at least 155 games in four straight years and six times in seven years coming into 2012, but he managed a career-low 123 contests this season due to various ailments.
First, there was the cough. The unexplained cough that nagged Teixeira throughout the first two months of the season and required Joe Girardi to sit his first baseman for three consecutive games in mid-May. After seeing a number of specialists, Teixeira was eventually diagnosed with nerve damage to his vocal cords and started receiving treatment.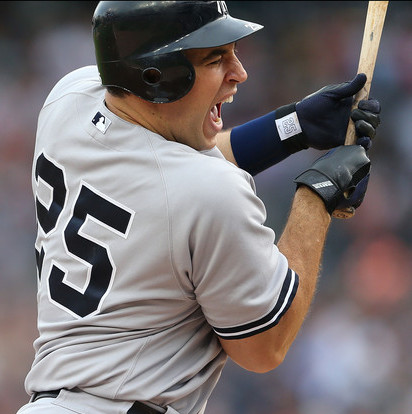 Secondly, there was the wrist. Teixeira originally hurt his left wrist on a swing in late-July but tried to play through it. That didn't last long. The next day he further aggravating the injury diving after a ball on defense, and tests revealing inflammation in the wrist. He missed three games and returned to the lineup, but two weeks later the wrist was sore again. He missed another three games.
Then, finally, there was the calf. Teixeira first felt something pull in his left calf during a swing on August 27th, though he remained in the game to run the bases before being lifted. He was diagnosed with a Grade I strain that night and was slated to miss a week or two. Teixeira returned 12 days later and lasted just one game before re-injuring the calf, which happened as he ran out the final ground ball in the Jerry Meals blown call game. He missed another three weeks and returned just in time for the final series of the regular season.
It would be foolish to think that the injuries didn't have some sort of impact on Teixeira's performance this year, but I just don't know how much. Like I said earlier, this wasn't one down year offensively. He's been trending in the wrong direction for three years now. Hopefully he can rebound a bit next year with the cough, wrist, and calf troubles behind him, but Teixeira's steady decline from an all-around hitter to an all-or-nothing slugger has become a drain on the offense as a whole.