The contract is still pending a physical (hardly a slam dunk given his recent back problems), but the Yankees agreed to sign Kevin Youkilis to a one-year contract worth $12M yesterday. The deal shores up the third base position in the wake of Alex Rodriguez's new hip injury, and it also gives the team some lineup balance after losing the right-handed hitting Russell Martin and switch-hitting Nick Swisher. Youkilis has been trending in the wrong direction the last few years, but he is just one year removed from a 126 wRC+ season.
As a right-handed batter, there's no doubt Youkilis benefited from playing in Fenway Park all those years. In fact, during his peak years from 2008-2010 (.308/.404/.560, 150 wRC+), no hitter was more productive when it came to pulling the ball. Youkilis hit .478/.476/.959 (280 wRC+) (!!!) when he pulled the ball during that three-year stretch, thanks in very large part to the Green Monster. As a right-handed batter, all he had to do was take aim for that sucker and watch routine fly balls go for doubles.
Youkilis won't have that luxury in Yankee Stadium. It's a good park for left-handed hitters thanks to the short right field porch, but left field and left-center field in particular are a different story. The park is almost exact league average when it comes to surrendering doubles and homers to right-handers according to the park factors at StatCorner, which isn't necessarily a bad thing. It just means righties don't get the same ballpark boost as lefties. Youkilis remains a pull hitter, with 47% of his balls in play going to left field this season and only 22% going the other way to right. Here's his spray chart for the season (courtesy of Texas Leaguers)…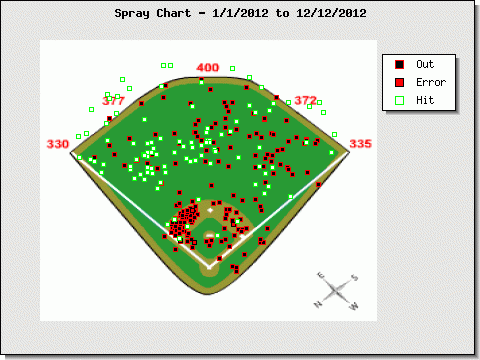 Most of his hits came to the pull side, but Youkilis did hit for some power to right field (.239 ISO) and that's what you're looking for in Yankee Stadium. His natural stroke isn't to the opposite field like say, Martin's and Derek Jeter's, but there's enough opposite field ability to allow Youkilis to take advantage of the short porch on occasion. He's a pull hitter, but not an Andruw Jones-esque dead pull hitter who couldn't go the other way if his life depended on it.
As friend of RAB Patrick Sullivan pointed out yesterday, Youkilis hit just .158/.248/.237 (!) in his 242 plate appearances outside of hitter-friendly Fenway Park and U.S. Cellular Field last season. It's not a huge sample but it is definitely a little worrisome to see a road performance that poor, especially when a guy is outside of two parks tailor-made for his swing and approach. There's some evidence that Youkilis can take advantage of the short right field porch, but for the most part Yankee Stadium will not help his offense much this season. It's not an ideal fit, but the options were limited.