The Yankees plugged their third base hole last night, agreeing to sign Kevin Youkilis to a one-year contract worth $12M. As I wrote yesterday, every win added to the team's ledger this offseason will have a big impact on their division title chances next season given how tightly packed the AL East is at the moment. As soon as Alex Rodriguez's new hip injury was announced, a deal with the former Red Sox infielder seemed inevitable.
1. I can't say I'm all that enthusiastic about the signing. I would have preferred Mark Reynolds, but the Yankees are apparently allergic to players who have yet to experience their 30th birthday. Reynolds is an awful defensive player but he's a better hitter than Youkilis, especially in terms of hitting right-handers, drawing walks, and hitting for power. He's also a much better bet to actually stay on the field. My master third base plan was a defensive platoon with Reynolds (fly ball pitchers) and Eric Chavez (ground ball guys), but that was never going to happen. Anyway, the Yankees do deserve the benefit of the doubt here given their recent track record with veterans on one-year contracts. Watch Youkilis go .280/.400/.475 next season.
2. One thing about the Youkilis signing I do like is his ability to work the count and really grind out an at-bat. That's been a Yankees trademark for the last two decades or so, but I thought the team got away from that a bit last season. A big part of that was the long-term injury to Brett Gardner and medium-term injuries to Alex Rodriguez and Mark Teixeira, but the Yankees are also losing noted count-workers Russell Martin and Nick Swisher this offseason. Youkilis will replace some (but not all) of those tough at-bats and they are the key to the kingdom. There is no argument to be made (traditional or sabermetric) against working the count and forcing the pitcher to throw more pitches than he wants to.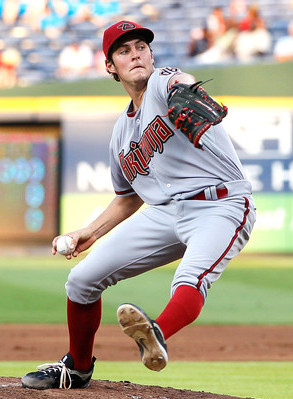 3. This has no direct tie-in to the Yankees, but man, what a deal for the Indians last night. They turned one year of Shin-Soo Choo, an up-and-down utility infielder (Jason Donald), a LOOGY (Tony Sipp), and a non-prospect (Lars Anderson) into a Trevor Bauer, a top ten overall prospect coming into the season. They also received lefty-mashing outfielder and personal fave Drew Stubbs as well as two relievers (Matt Albers and Bryan Shaw) on top of that. The Diamondbacks had clearly soured on Bauer for whatever reason, but he definitely has ace potential and the Indians deserve credit for capitalizing. They haven't made many good moves lately, but they deserve major props for this one. I wonder if they'd be willing to flip Stubbs to the Yankees? He's hit lefties better than Scott Hairston the last few years and contributes substantially more on the bases and in the field.
4. By signing all these one-year contracts, the Yankees are putting all their eggs in next winter's free agent basket. They're going to need three starting pitchers, two outfielders, a catcher, maybe a third baseman, maybe a shortstop, maybe a second baseman, maybe a DH, and various relievers and bench players next offseason. Here is next year's free agent list, which will inevitably dwindle as players sign extensions during the next ten months. Free agency is by far the most inefficient and cost ineffective way to build a team, yet the Yankees are going to have to rely on that list of players in 2014 barring any farm system surprises next summer. I wouldn't count on any and yet I fear the Yankees are.