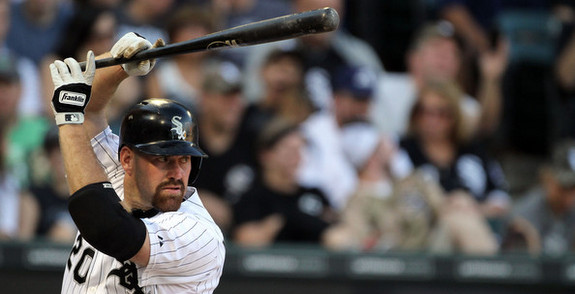 Babe Ruth, Wade Boggs, Roger Clemens, Johnny Damon, and now … Kevin Youkilis. The Yankees have agreed to sign the long-time Red Sox corner infielder to a one-year contract worth $12M according to Ken Rosenthal. The offer was made to Youkilis during the Winter Meetings after the team announced Alex Rodriguez's new left hip injury, and the Terry Francona-led Indians essentially bowed out of the race by signing Mark Reynolds. The deal is still pending a physical and a 40-man roster move will be required. The Yankees do not have to forfeit a draft pick.
Youkilis, 34 in March, hit .235/.336/.409 (102 wRC+) with 19 homers in 509 plate appearances split between the Red Sox and White Sox this past season. It was his worst full season as a big leaguer and the second straight year his production has declined. Youkilis is one year removed from a .258/.373/.459 (126 wRC+) performance though, and over the last three seasons no player in all of baseball has been more productive against left-handed pitching (174 wRC+). Check out my Scouting The Market post for more statistical minutia.
A-Rod's injury, which will keep him out until midseason, pushed the Yankees to acquire a starting caliber third baseman. Youkilis isn't much of a defensive player these days, but he can adequately handle the hot corner while also backing up first base. The big concern is his durability, or lack thereof. Youkilis hasn't played in more than 125 games since 2009 and has been on the DL five times in the last four years, including multiple times for lower back problems. The Yankees will have to thoroughly check him out during the physical and they shouldn't count on him for more than 120 games. Anything more than that is gravy.
With the third base hole plugged, the next item on the agenda appears to be a right field replacement for Nick Swisher. The Yankees are reportedly close to a new deal with Ichiro Suzuki, which would give them three left-handed hitting outfielders. Youkilis adds some much-needed right-handed thump to the lineup, but finding a right-handed complement for the outfield will still be a necessity. Scott Hairston appears to be the only suitable free agent solution, and he'll command a multi-year contract. The Yankees are trying to get under the $189M luxury tax threshold in 2014 and have been fixated on one-year contracts this winter. Landing Youkilis without committing multiple years is a win for New York.