Three years ago, a then 36-year-old Derek Jeter looked dangerously close to being finished. He hit .270/.340/.370 (93 wRC+) across 739 plate appearances in 2010, by far the worst full season offensive performance of his career. The Cap'n rebounded in mid-2011 thanks to some mechanical work with former hitting coach Gary Denbo, and he rode those adjustments to a .316/.362/.429 (117 wRC+) showing last season. It was his best season since 2009 and second best since 2007.
An ankle fracture that may or may not be related to the bone bruise he played on for most of September ended Jeter's season during Game One of the ALCS back in October. He had surgery a few weeks later and his rehab is progressing well based on last week's update. Jeter has yet to do any baseball activities such as swing a bat or field some grounders, but he's riding a bike and running in a pool. So far, so good, so right now he's on track to be ready for Opening Day.
Great players tend to age differently than others, but no matter how iconic he may be, Jeter is 38 years old and Father Time is lurking. The number of full-time shortstops who qualified for the batting title at that age (or older) and managed to be above-average offensively is three, and only one has done it in the last 60 years. That was Jeter in 2012. Factor in the ankle injury, the significance of which should not be downplayed, and I think it's far to say the Yankees captain is more of a question mark now than ever before, even after that disappointing 2010 season.
In a recent Insider-only ESPN piece, Dan Szymborski used his ZiPS system to look at the next three seasons of Jeter's career. The standard disclaimer goes here: projections are not predictions, they're an estimation of a player's true talent level. Szymborski notes that even high-BABIP hitters like Jeter (career .354) tend to fall off rapidly in their late-30s, to the tune of 30+ BABIP points in a single season. Based on that alone, ZiPS measures the Cap'n at .288/.338/.396 next season, which isn't far off from his 2010 effort. That does not factor in the ankle injury, however.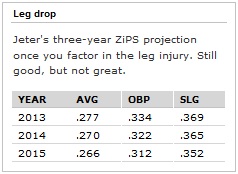 Szymborski notes that players who missed 30 or so days due to a leg injury — which Jeter would have done had he injury occurred in say, June instead of October — tend to underperform projections the following year. When he plugs the leg injury into ZiPS, it spits out a .277/.334/.369 projection for Jeter in 2013. That almost exactly matches his 2010 season, when he was close to 10% below league average. You can see Jeter's ankle-reflecting projections in the table on the right, and they aren't particularly pretty.
The league average shortstop hit .256/.310/.375 (86 wRC+) this past season, and that's atrocious. So the good news is that even an old and somewhat hobbled Jeter projects to be an above-average hitting shortstop for at least the next two years, which, coincidentally, is how long he remains under contract (assuming the player option for 2014 is exercised). The bad news is that those projections are a big step down for the Cap'n, which is not what the Yankees need at a time when they're losing offense in right field and behind the plate. Maybe at DH and third base as well.
Projections are wrong all the time, of course. ZiPS is consistently the best out there on a macro level, but on a micro level there are a ton of hilariously poor misses. The system projected a .280/.347/.393 line for Jeter last season, just as one example. I have no worries about Jeter preparing himself for the season, but I do worry about a potential setback if he pushes himself too hard. Just look at what happened to Andy Pettitte last summer. We all know Derek is going to put the necessary work in, but at some point the clock is going to strike midnight. Maybe it happens in 2013, maybe it happens in 2015. When you add the ankle problem on top of his age, the chances of Jeter's production taking a big step back becomes even greater, and that's one of the last things the club needs right now.