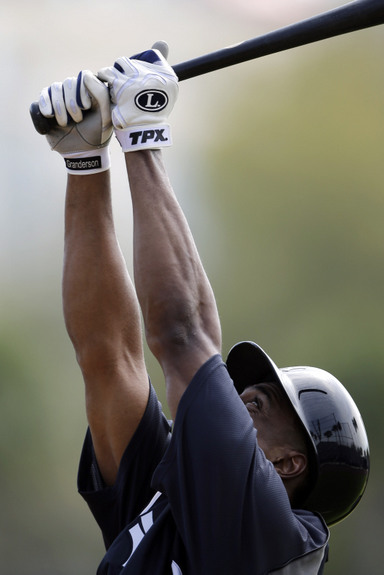 The dust has settled a little bit following the news of Curtis Granderson's fractured forearm on Sunday. The Yankees will be without their 40-homer center left fielder for the next ten weeks, meaning he will miss the first month of the season. It's a big loss, no doubt about it, but they are lucky it happened so early in Spring Training. Things would have been a lot worse had he gotten hurt on March 24th instead of February 24th.
As expected, the Yankees insist they will plug their new outfield hole from within. The Johnny Damon talk has already fizzled out while the Alfonso Soriano talk never really got going. The only unsigned free agent outfielder who is both healthy and actually capable of playing the outfield everyday is Scott Podsednik. Thanks, but no thanks. The Yankees will stick with their internal options and see if (hope?) a better alternative pops up next month as camp winds down and roster spots are finalized. Here is a quick look at those internal options, listed alphabetically.
Zoilo Almonte
Almonte, 23, is a switch-hitter who managed a power-heavy 120 wRC+ with Double-A Trenton last year. He hit a career-high 21 homers and also stole 15 bases, though his miniscule walk rate (5.6%) and strikeout concerns (22.7%) seem to make skipping over Triple-A a risky proposition. Zoilo's pop is legit, but the rest of the package is lacking.
Matt Diaz
Diaz was in the running for the right-handed outfield platoon bat role before Granderson's injury, so it seems natural that he would be among the favorites for the job now. The soon-to-be 35-year-old hasn't hit in three years (80 wRC+), due to in part to various injuries — getting stabbed in the hand by a palm tree and dealing with the subsequent infections chief among them. Diaz is on a minor league contract and was a total shot in the dark by the front office, who hopes he can recapture his 2006-2009 form (117 wRC+).
Adonis Garcia
Here's the darkhorse. The 27-year-old Garcia signed for $400k last summer and has impressed with his bat ever since, especially in winter ball (.292/.319/.481 with six homers in 39 games). As Baseball America wrote earlier this month, the right-handed hitter "is a better fit on a corner outfield spot and doesn't have an impact bat, but he's shown a knack for hitting and surprising pop for his 5-foot-9 stature." Garcia is not on the 40-man roster, which could hurt his chances.
Melky Mesa
Mesa, 26, is the best all-around player of the bunch. He can swing-and-miss from the right side with the best of 'em (career-low 23.5 K% in 2012), but he's hit at a better than average rate at each rung of the minor league ladder, including a ~125 wRC+ split between Double-A and Triple-A last year. Mesa has power and speed — at least 19 homers and 19 steals in three of the last four years — to go along with standout defense and a strong arm. Among players in the organization who could legitimately see big league time this summer, Melky2.0 is probably the second best defender behind Brett Gardner. He got his first taste of the show last September.
Ronnie Mustelier
Everyone loves the right-handed hitting Mustelier, the 28-year-old Cuban defector who has managed a ~144 wRC+ since signing for a measly $50k two years ago. His strikeout rate (13.0%) is strong, his walk rate (6.7%) slightly less so. The concern with Mustelier is his defense, which is poor and has gotten him moved down the defensive spectrum form second base to third to left over the last 20 months or so. He can hit a fastball though.
Thomas Neal
Neal, 25, seems to be the afterthought in all this. The righty swinger managed a 144 wRC+ with 12 homers and 11 stolen bases in Double-A last year, making his big league debut with the Indians in September. He has some Triple-A time under his belt (277 plate appearances) and is solid defensively. Neal is a long shot, but he shouldn't be written off completely. Like Garcia and Mustelier, he is not on the 40-man roster.
Juan Rivera
Like Diaz, the Yankees inked the 34-year-old Rivera to a minor league deal so he could complete for the right-handed bench bat role. The former Yankee is, by far, the most experienced and accomplished player in this post. He's hit to the tune of a 92 wRC+ over the last three seasons and despite being a strong defensive player once upon a time, he's now comfortably below-average. Rivera's best attribute is his ability to put the ball in play (12.9 K% since 2010).
* * *
Ramon Flores is on the 40-man roster, but I have no reason to think the Yankees will jump him from High-A to MLB just to plug a one-month hole. Same goes with top prospects/non-40-man players Slade Heathcott, Mason Williams, and Tyler Austin. If you want some projections for the players mentioned in this post, SG has you covered. Otherwise, time to vote…
Who should be the regular left fielder while Granderson is on the DL?