Starting this week and continuing through the end of the Spring Training, we're going to preview the Yankees position-by-position and on a couple of different levels.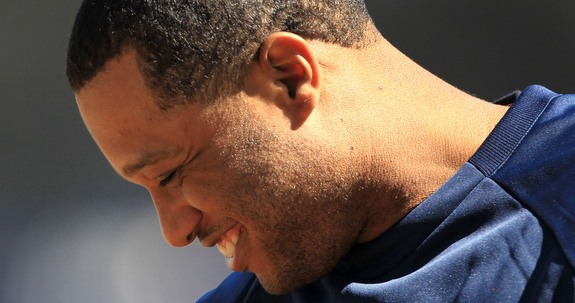 Second base is one of the four premium up-the-middle positions, but it is the fourth-most important of those positions. It doesn't require the athleticism of shortstop or center field or the pure toughness of catcher, nor does it require the arm strength — second baseman have the most time to make the routine play of any infielder. Don't get me wrong though, it's a rough position because of the blind double play pivot, but it sorta is the black sheep of the up-the-middle spots. That said, second base is the highlight of the Yankees' organization for a number of reasons.
The Starter
Robinson Cano isn't just the best player on the Yankees, he's the best second baseman in baseball and one of the very best players in the game period. The 30-year-old has hit .311/.370/.539 (142 wRC+) over the last three seasons and put up career-highs in doubles (48), homers (33), extra-base hits (82), ISO (.238), SLG (.550), walks (61), walk rate (8.8%), wOBA (.394), wRC+ (150), fWAR (7.8), and bWAR (8.2) last summer. It was his third consecutive MVP-caliber season and there's really no reason to expect his performance to suddenly fall off a cliff in 2013. He might not be as amazingly awesome again, but there's no obvious reason why he would be anything less that excellent.
In the field, Cano is dynamite gloveman in the eyes of DRS (+17 career), Total Zone (+43) and FRAA (+45.1), but not so much UZR (-30.2). Robbie doesn't have the greatest range going to his left, but c'mon. That UZR stands out like a sore thumb because it doesn't jibe with the eye test. He might not be as good as Total Zone and FRAA say, but Cano is clearly above-average defensively in my opinion. His range to his right is very good and his arm is a rocket, and when you add in the fact that he plays pretty much every single game year after year, you've got a two-way threat who is among the most dependable players in the world.
Cano's performance in 2013 will be very important and not just to the Yankees given all the offense they lost over the winter. Robbie will be a free agent after the season and is in line for a mammoth nine-figure contract, and in fact Brian Cashman confirmed the club has already extended a "significant offer." Scott Boras won't go down that easily though, so expect contract talks to linger pretty much all season long. It will be the cloud hanging over the team all summer, kinda like CC Sabathia's opt-out clause two years ago. The off-field issue doesn't diminish Cano's on-field awesomeness or importance, however.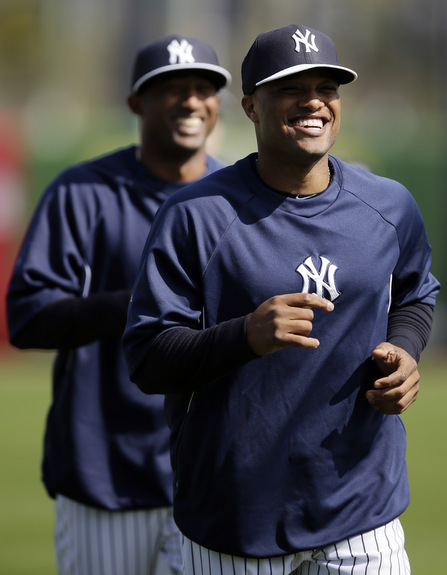 The Backup
The bench is still a few weeks away from being finalized, but the two obvious candidates are Eduardo Nunez and Jayson Nix. The 25-year-old Nunez is a defensive nightmare who has been working out at shortstop exclusively since last May, though Cashman did say he would return to a utility role if he makes the team. The speed and contact ability are certainly useful tools, useful tools that are negated (and then some) by the unusable defense.
Nix, 30, was solid in a limited role last year, mainly by hitting lefties (97 wRC+) and playing all over the field. He's a second baseman by trade and a much better defender than Nunez, but no better than average overall. I don't think it would be a surprise if either guy made the team as a reserve infielder, and heck, there's even a scenario in which both make the team. Either way, the step down from Cano to either Nix or Nunez is enormous. Maybe the biggest drop-off from one player to their replacement in all of baseball.
Knocking on the Door
The Yankees are blessed with very good second base depth, including at the Triple-A level. Both 25-year-old David Adams and 24-year-old Corban Joseph are slated to begin the season with Triple-A Scranton and they're cut from a similar cloth: bat-first players who are below-average defenders at second. Adams, a right-handed hitter, used to be a solid defender at the position but has lost a few steps following the massive ankle injury he suffered in 2010. Joseph, a left-handed hitter, has always been a below-average defender. Both guys can hit and are willing to walk though, making them very good depth pieces (and trade bait). Adams is dealing with a back injury and could miss the start of the season, which I guess makes Joseph first in line for a call-up.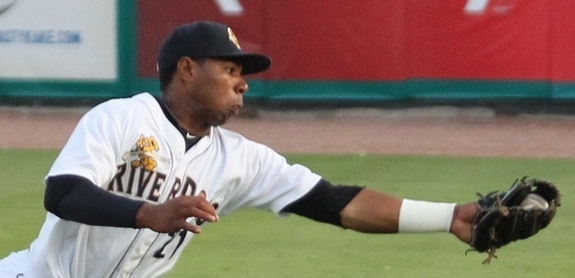 The Top Prospect
One of New York's best and most exciting prospects is second baseman Angelo Gumbs, who placed ninth on my preseason top 30 list. Still just 20 years old (with an October birthday!), the right-handed hitter signed for $750k as the team's second round pick in 2010 and hit .268/.317/.428 (102 wRC+) with seven homers and 26 steals (in 29 attempts) in 278 plate appearances for Low-A Charleston last season. His season ended prematurely due to a partially torn elbow ligament, but he's 100% healthy and even managed to squeeze in a few winter ball games. Gumbs stands out of his electric bat speed — best in the organization and among the best in minor league baseball — and athleticism, so he's a premium breakout candidate for 2013 if healthy given his age. The Yankees will bump him up to High-A Tampa this year, so he won't be a big league factor this summer unless he's traded for an actual big leaguer.
The Deep Sleeper
Gumbs, Adams, and Joseph are exceptions — there just aren't many true second base prospects throughout baseball. There aren't as rare as true first base prospects, but most second base prospects are failed shortstops (like Cano). The Yankees don't have a deep second base sleeper prospect, but they do have 2012 sixth rounder Rob Refsnyder. The 21-year-old followed up his College World Series Most Outstanding Player performance by hitting .247/.324/.370 (95 wRC+) with four homers and 11 steals (in 12 chances) in 182 plate appearances for Charleston last year. Although he played the outfield in his pro debut, the Yankees announced him as a second baseman at the draft and are expected to move him back there going forward. Refsnyder played the position in high school and would raise his long-term profile quite a bit if he shows he can handle second adequately. He's not as good a prospect as the other three guys but he's definitely interesting, hence his inclusion in my not top 30 prospects post.
* * *
The Yankees have more quality depth at second base than at any other position, and it starts right at the top with Cano. He's the team's best and most important player heading into the 2013 season, after which he will sign a gigantic contract to either remain in pinstripes or leave the only organization he's ever known. Adams and Joseph give New York legitimate alternatives in Triple-A if needed, and Gumbs boasts breakout potential despite already being one of the team's better prospects. Second base is a major bright spot for the organization from top to bottom.
Other Previews: Catchers, First Basemen