Our season preview series wraps up this week with a look at the bullpen, the bench, and miscellaneous leftovers. Opening Day is one week from today.Manny Banuelos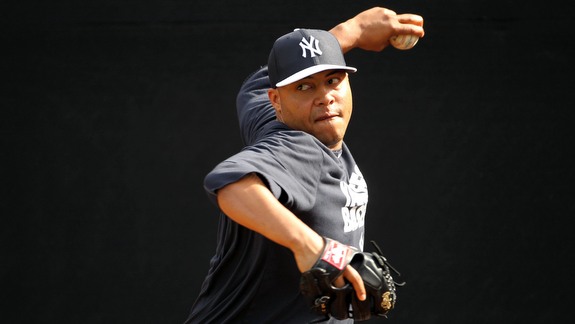 Every team deals with injuries, but it feels like the Yankees have dealt with a full season's worth of injuries just during Spring Training. They lost three of their best four hitters to new injuries or setbacks in the last few weeks on top of some carry-over injuries from last year and the offseason. All of the injuries have led to a whole bunch of scrap heaping, forcing the Yankees to grab guys like Brennan Boesch, Ben Francisco, Lyle Overbay, and Vernon Wells these last few weeks.
Some of the team's injured players will be back sooner than others, and some injuries figure to have more long-term impact that others. As always, expected return dates should be taken a grain of salt. Setbacks and lingering effects have a way of changing plans in a hurry. Let's run down the team's walking wounded heading into the 2013 campaign.
LHP Manny Banuelos
New York's top prospect at this time last year, the 22-year-old Banuelos made just six starts for Triple-A Scranton last year due to a minor back issue and a major elbow issue. He was originally diagnosed with a bone bruise in that left elbow, but at some point during his rehab he wound up blowing out the ligament and requiring Tommy John surgery. Banuelos had the procedure in October and is expected to miss the entire season, meaning he'll lose basically two full years to injury at a crucial age in his development. For shame.
LHP Cesar Cabral
It's easy to forget that Cabral, 24, had all but won a job out of Spring Training last year before suffering a fractured elbow near the end of camp. He has been rehabbing for the last 12 months and in fact he faced hitters for the first time since the injury earlier this week, throwing a round of live batting practice. The Yankees have indicated he is expected to return sometime in May or June.
Because he's a Rule 5 Draft pick who missed all of last season due to injury, the Yankees have to keep Cabral on their active 25-man roster for at least 90 days this year. That's basically half the season. Once they satisfy that requirement, he'll is theirs to keep (and option to Triple-A). I'm sure the team will take their time with his rehab and everything, but at some point it will be decision time.
RHP Phil Hughes
Joe Girardi announced yesterday that Hughes will indeed start the season on the DL after missing a few weeks with a bulging disk in his back. He's been starting minor league games and has a few more outings to go before rejoining the rotation, possibly as soon as the second time through. The 26-year-old Hughes has a lengthy injury history, but the back issue appears to be in the rear-view mirror.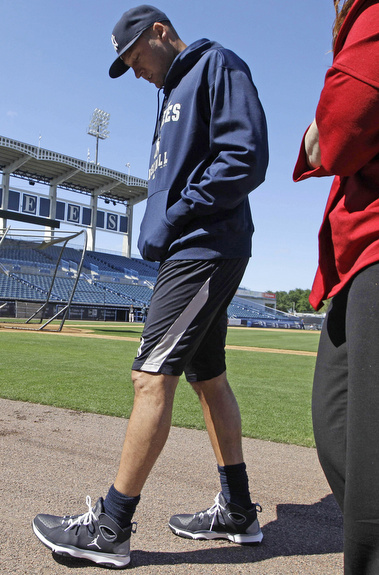 SS Derek Jeter
The Cap'n played on a bone bruise in his left ankle last September and it wasn't until Game One of the ALCS that the joint finally gave out and fractured. He had surgery in October and spent the winter rehabbing, but he was recently setback by some inflammation and soreness. He received a cortisone shot and will start the season on the DL, yet the targeted April 6th return date sure seem optimistic since he won't resume baseball activity until at least Monday.
Given his age, position, and the nature of the injury, there's a pretty good chance Jeter and the Yankees will have to deal with nagging soreness and tightness and all that all throughout the season. Players who suffered similar injuries (Stephen Drew, Jason Kendall, even Ravel Santana) needed months to get back to where they were before the injury, and time is a luxury the Yankees don't have. They need Jeter in the lineup soon and if this thing lingers, it will be a huge problem. Eduardo Nunez has the chance of a lifetime in front of him and is suddenly an extremely important player for the 2013 Yankees. That is not ideal.
CF Curtis Granderson
The fifth pitch Granderson saw this spring broke his forearm. The 32-year-old is expected to be out until early-May, but anytime you have an arm or hand or wrist injury, there is the potential for it to linger. Granderson is the team's top power hitter and he really doesn't offer much else (besides walks), so anything that compromises his pop will severely impact his game. Everything is going well as far as the healing process, but I'm anxious to see how he returns and whether that forearm gives him trouble going forward.
RHP Michael Pineda
Even though he has yet to throw a single meaningful pitch in his 14 months as a Yankee, the 24-year-old Pineda is one of the most important players in the organization. The Yankees are in desperate need of a young impact player to build on going forward, and Pineda has the type of arm and power stuff to anchor a rotation. Or at least he had that type of stuff before blowing out his labrum last spring.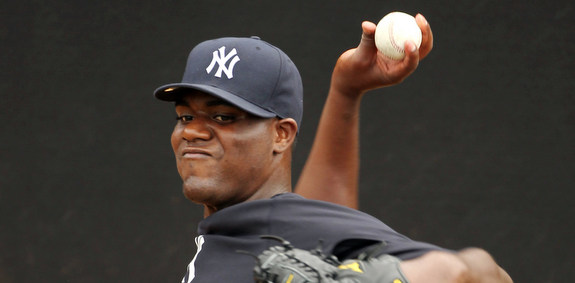 The long road back from shoulder surgery has Pineda to throw live batting practice in two weeks. It'll be his first time facing hitters since having the procedure. So far he's rehab has gone well — he's throwing 45-pitch bullpens, including changeups and sliders — and everyone says he looks great, but what he looks like in the bullpen and how he performs against hitters are different matters entirely.
As encouraging as it is to know his rehab is going well, we have absolutely no idea what Pineda will be capable of when he gets back on a mound in a competitive game. It was a major injury and although there are some notable success stories — Curt Schilling, Rogers Clemens, Anibal Sanchez — there are countless guys who never got back to their previous form. The Yankees need Pineda and need him to be very good going forward. He's expected to return sometime in late-May or June, and I bet they option him to Triple-A Scranton for a few weeks just to delay his free agency a year (after losing an entire pre-arbitration year to injury in 2012).
LHP Clay Rapada
A bout of shoulder bursitis has landed the 32-year-old Rapada on the DL to start the season and there is no timetable for him return. He's been sidelined for about three weeks now and has yet to resume throwing in the bullpen, so it's safe to say his return is not imminent. Rapada is the team's most effective left-on-left reliever, but as a true specialist, he isn't the most critical or irreplaceable part in the world. The Yankees are a worse team without him, but not much worse.
3B Alex Rodriguez
The second hip surgery — this one the left after hurting the right in 2009 — of A-Rod's career will have him out of action until at least the All-Star break. He has a cyst removed, a bone impingement corrected, and a torn labrum repaired in January and has yet to resume baseball activities. He's not even close to resuming baseball activities.
The Yankees knew A-Rod, now 37, would miss a big chunk of the season back in December, which is why they dropped $12M on Kevin Youkilis. Alex was both the healthier (529 vs. 509 plate appearances) and more productive (114 vs. 102 wRC+) player last season, so the Yankees downgraded this winter. No one has any idea what A-Rod will be able to do after the surgery, so there's really no point in speculating. He could be an all-arms hitter incapable of using his lower half, he could be healthier than ever and see his performance rebound, he could be something else entirely. Either way, the lineup will miss his bat from the right side.

1B Mark Teixeira
Teixeira, 32, hurt the tendon sheath in his right wrist while taking batting practice with Team USA in advance of the World Baseball Classic, so if nothing else the Yankees won't have to pay his salary while he's on the DL — the WBC's insurance covers that. The wrist injury is expected to keep him out until late-May/early-June, but wrist injuries have a knack for lingering. In fact, Brian Cashman acknowledged there's a 30% chance he will need season-ending surgery at some point.
Even if he comes back healthy, Teixeira has become increasingly injury prone in recent years after being an iron man earlier in his career. He suffered a major hamstring strain during the 2010 postseason, and last year he battled a cough, a minor wrist issue, and a calf strain (plus a setback). The right wrist is his power wrist as a left-handed batter, which could be a problem because power is his primary source of value. Teixeira has declined as a hitter these last few years because he's become increasingly pull happy, so anything that hurts his ability to hit the ball out of park could be a production killer.