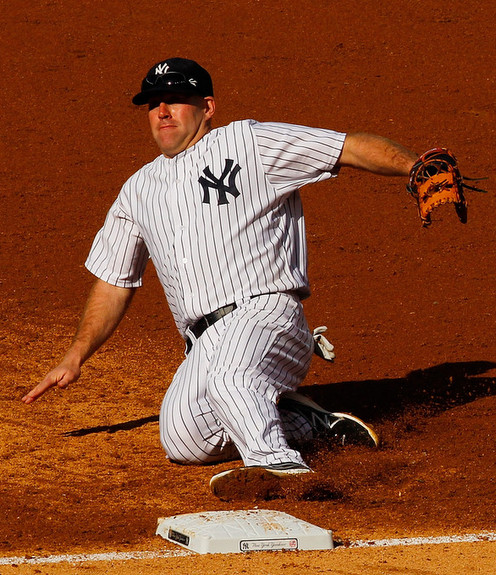 The Yankees have dealt with more than their fair share of injuries already this year, but Kevin Youkilis' recent back trouble takes an especially big bite out of the team's roster. After all, he was originally signed as the replacement for another injured player, Alex Rodriguez. New York placed Youkilis on the DL yesterday, meaning they will be without their replacement third baseman for at least the next two weeks.
Because of the timing of the injury, the Yankees were left without a suitable roster fill-in. Corban Joseph got the call, but Brian Cashman made it clear they view him as a right-side infielder and emergency option at the hot corner only. Since Robinson Cano never takes a day off, it's unclear how exactly the left-handed hitting Joseph helps the team right now. He's one notch above a dead spot on the roster at the moment, a square peg forced into a round bench hole.
In a perfect world, the Yankees would have called up David Adams instead of Joseph. The 25-year-old would have given the team a legitimate option at third base and because he's a right-handed hitter, he also would've helped with their struggles against southpaws. Theoretically, anyway. Unfortunately Adams can not be called up to the show until May 15th because he signed a minor league deal with the club after they released him last month. For whatever reason, those guys are forced to wait 30 days before returning to the show. Clay Rapada is in the same boat. The injury-prone Adams is perfectly healthy, but the rulebook keeps him in Triple-A.
Adams wasn't the only right-handed option though, the Yankees also could have gone with 28-year-old Ronnie Mustelier instead of Joseph. He plays third base and left field, meaning he would have added some usable versatility and been an option to replace Ben Francisco once Youkilis did return. Mustelier is out with an injury though, specifically some kind of bruise suffered right at the very end of Spring Training. He was scheduled to play in his first minor league rehab game with High-A Tampa last night, but Mother Nature got in the way and the game was rained out.
There is never a good time for an injury, especially one to a player as important as Youkilis. The timing of this injury was particularly bad because the team's best internal replacements are non-options. Adams is still two weeks away from being big league eligible and Mustelier still has an entire rehab assignment ahead of him before being ready for meaningful games. By the time Adams or Mustelier become legitimate options for the big league team, Youkilis will hopefully be ready to come off the DL. Given the way things have gone for the team health-wise this year, I guess we shouldn't be surprised the latest injury comes at a time when the team's best replacements aren't even truly available.