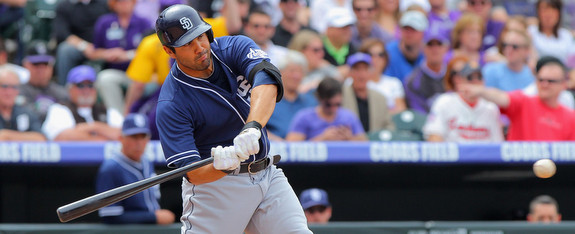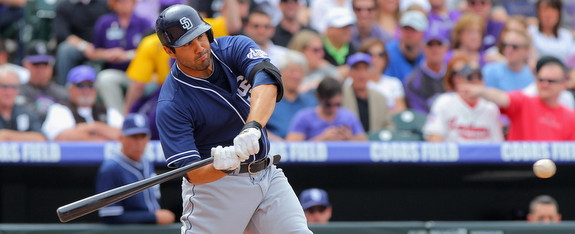 Last week, I scoured through some of the RAB comments (bold!, I know), and wrote a post on a few potential trade candidates. Since then, we've received several trade suggestions. So, what was initially expected to be a two-part series has now become a four-part series. With that said, let's dive into part deux.
Carlos Quentin
A former Diamondbacks first round draft pick (2003), Carlos Quentin, has done fairly well this season, batting .262/.364/.482 (.367 wOBA, 143 wRC+) over 195 plate appearance heading into last night's game. He's spent time throughout his career at both outfield corners, and would represent a noticeable upgrade over the cumulatively less-than-stellar production of Ichiro Suzuki, Vernon Wells, Thomas Neal, Brennan Boesch, and former Yankee, Ben Francisco.
Eventually, Curtis Granderson will return, though who knows how he'll do after having sustained injuries to both the wrist/forearm and the hand. Zoilo Almonte has been a feel good story thus far, though I think it's unrealistic to expect him to be a productive full-time starting big leaguer right away. Much to Carlos' credit, he takes a fair amount of walks (9.2 BB%) and doesn't give up a ton of strike outs (15.5 K%).  He also fits the Yankees hit-for-power mantra (.237 ISO). On the surface, Quentin (who'll be turning 31 years old in August), makes for a sensible choice in trade targets. As an added bonus, the Yankees would never have to wonder who'd be willing to fight Zack Greinke should he get mouthy on the mound again, so there's that.
Just as with all players, there are some concerns though. For starters, Quentin's never been particularly consistent. He had a really solid season in 2008 (4.7 fWAR) in which he ended fifth on the MVP balloting. Other than that though, he's been very mediocre through limited play (just twice in his career has he amassed over 500 plate appearances). Why the limited exposure, you may ask?  Well, the answer is simple — injuries, injuries, and more injuries. Here's the run down:
2003 — Tommy John Surgery
2007 — Partial tear of left labrum
2008 — Injured wrist after slamming bat in frustration (later reported that he had a fractured wrist and would undergo season-ending surgery).
2009 — Plantar fasciitis
2011 — Sprained left shoulder on a diving catch (would make only two more plate appearances the rest of the season)
2012 — Opened the season on the DL after undergoing arthroscopic surgery on his right knee to repair a torn meniscus (his knee bothered him again later in September which resulted in another season-ending surgery)
2013 — Sore left shoulder, sore right knee, sore right wrist (all have kept him day-to-day this season)
Quentin is also currently signed to a three-year, $27M contract (with a mutual option for 2016) with the Padres, though he has expressed a willingness to waive his no-trade clause for an AL club if he could take on a designated hitter role. These last two points are what make this scenario challenging. The team would be taking on a defensively limited guy for a couple seasons who's not only injury prone, but also earns an average of $9 million a year. Moreover, we're talking about a guy who is realistically only capable of playing in the lineup as a DH on any sort of regular basis (if at all). To make matters worse, over the past few seasons, Quentin has also shown an increased tendancy of not hitting lefties.
Quentin wouldn't necessarily resolve the outfield concerns, nor would he help with the inevitable log jam at DH. It's also difficult to say what this would cost the Yankees in terms of prospects. Perhaps San Diego requests a couple mid-level prospects and some salary relief. Or maybe they ask for more given the lack of options available by the trade deadline. Basically, I think this is one of those ideas that's kind of nice in theory, but isn't the most practical in reality.
Mike Morse
My gut reaction to Morse was "Here's another guy that I have absolutely no interest in." He's been generally regarded as sub-par defensively and on the bases. While he does showcase some power (career .197 ISO), he doesn't take walks at all (career 6.1 BB%) and strikes out often (career 22.2 K%).
So with proper bias in place, I visited FanGraphs. To Morse's credit, he's actually produced relatively well the past few seasons, basically since getting the opportunity to play full-time (148 wRC+ in 2011, 113 wRC+ in 2012, and 115 wRC+ so far in 2013), though he too has been limited in exposure throughout his career overall (only one season with 500+ at bats). Oddly, this season Morse has had some difficulty with righties despite being a .284 career hitter against them (through 138 plate appearances in 2013, he's batting .225). I don't think that that would be a deal-breaker by any means, but it would be something to keep an eye out on.
The Mariners owed Morse $7 million this season so the Yankees would only be on the hook for about $3.5M or so at most, depending on when the deal is done — granted that's not really cheap for a rental. He's also a free agent next season, so I don't think the Yankees would be necessarily forced to give up a whole lot despite Morse's solid start to the season, especially if the Mariners are expecting any salary relief. Again, maybe a middling prospect and some cash gets it done. As an added bonus, Morse can also play first base, which would alleviate some of the burden currently being caused by a cooling Lyle Overbay and an injured Mark Teixeira. In other words, I actually give this proposal a relunctant thumbs up. I think it may make sense now given the overall lack of power production, and wouldn't hinder the team too much down the road.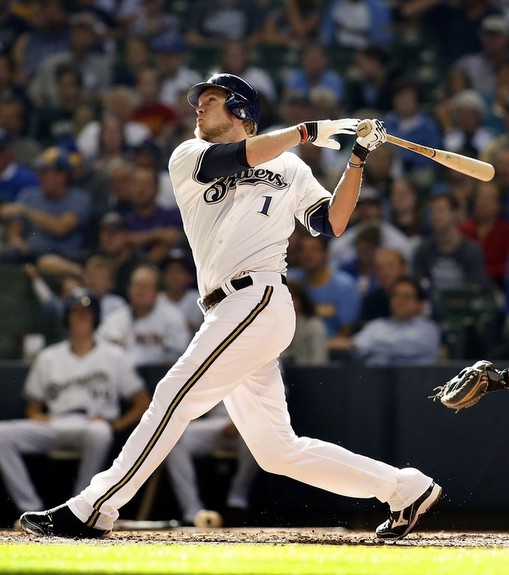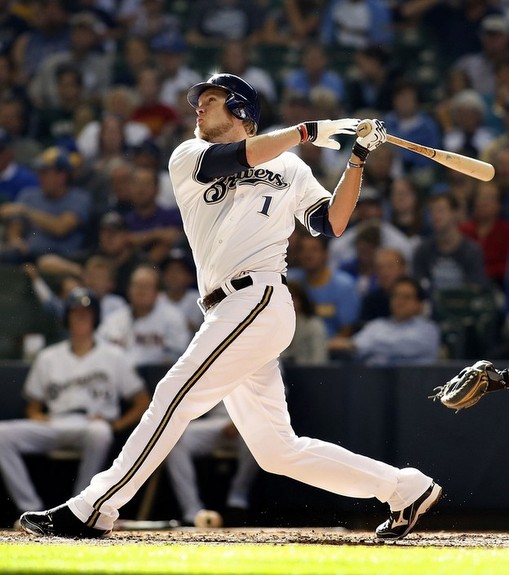 Corey Hart
 A guy like Hart sure is tempting, huh?  We're talking about a guy who's been pretty good offensively the past few seasons (career .276/.334/.491, .354 wOBA, 117 wRC+), has hit over 25 home runs in each of the past three seasons, and who is only 31 years old. Hart's concluding his three-year commitment with the Brewers (owed $10.3M this year) and is expected to be a free agent after the season. Better yet, we're talking about a guy who plays Right Field and First Base — a guy kind of like Nick Swisher.  The Brewers are currently sitting in last place in the N.L. Central at 31-43, so they may even be sellers by the deadline (or perhaps before).
So what's the catch?  Well for starters he's been sidelined all season recovering from knee surgery. He was supposed to be back in May initially. Then he was expected to return in June. Now he's not going to be back until after the All-Star break at the earliest. Knee injuries are a pain (literally) and they take time to recover from. It'll be interesting to see how he does when he returns. He may go back to being his old self, or he may struggle at the plate if he's unable to deal with the impact of pivoting through the swing. Hart is the kind of guy who wouldn't necessarily come cheap either.  Aside from some salary relief, I'd imagine the Brewers would be looking for an above-average prospect despite the injury.
That said, Hart would be the type of player who I would hope the team seroiusly considers in the offseason if he has a strong second half of this season. Who knows, maybe another short-term deal is plausible if enough teams question his durability heading forward.
Alex Rios
Mike discussed Rios briefly in last Friday's mailbag. He hit on my two biggest gripes against Rios, age 32. He's been very inconsistent throughout his career and would cost quite a bit (he's owed $13M this season and next, so the Yanks would presumably be on the hook for up to as much as $20M). Frankly, it was viewed as an act of brilliance when the Blue Jays managed to dump both Rios' and Wells' contracts onto other teams; I'm not sure I want to be cheering on the team that intentionally acquires both after having already committed two years too many to Ichiro. That's a lot of cash for a potentially disasterous outfield.
To be fair, Rios was pretty solid last season, and has been pretty good this season so far (.280/.340/.465, .348 wOBA, 116 wRC+ with 11 home runs), and would certainly mark an upgrade over what the team's been marching out into right field. On the plus side, Rios has been relatively healthy throughout his career, has some speed on the bases, and can handle pitchers of either handedness (which is a nice change of pace given all the platoon players the team currently employs). One interesting tidbit is that almost all of Rios' home runs are hit to left field (he's a dead pull hitter). When I checked out his home run trajectories and then overlaid Yankee stadium, they all would have been Home Runs. The point is, maybe Death Valley in left-center wouldn't be that much of a hindrance to Rios despite less-than-ideal dimensions for his swing.
I guess what it comes down to is whether you think Rios will continue his production for another season and a half. He seems to have figured it out these last couple seasons with the White Sox. Given that it's not my money (or my ass on the line), I'd be tempted to take this gamble assuming the cost of acquiring Rios is reasonable beyond the dollars and cents. The White Sox also currently stink (31-43), so they very well could be realistic sellers by the trade deadline.


Aramis Ramirez
The first thing I'll say about Aramis is that I didn't realize he was already 35 years old. I forget that he's been in the league since 1998 having spent time with the Pirates, Cubs and Brewers. The second thing I'll say about Aramis is that he's a Third Baseman, which by default, makes him appealing to me given the nonsense the Yankees are currently fielding at the position.
As it turns out, Ramirez has actually been pretty good too. After posting a strong season last year (5.8 fWAR), he's continued to swing the bat well this season (.267/.347/.413, .336 wOBA, 113 wRC+). He provides some power (.151 ISO) and patience (10.2 BB%). He doesn't strike out a ton either (18.1%), and has been pretty effective throughout his career when it comes to hitting for average (.285 BA) which is fueled by a career .292 BABIP. And as mentioned above, the Brewers will be a team likely to sell.
So, time to bring him on board, right? Well, not so fast. There are some hurdles. First, Alex Rodriguez could potentially return to the roster not too long after the All-Star break. This creates a bit of a lineup logjam. I assume they would try to to keep both Ramirez's and Rodriguez's bat in the lineup which means one will have to play DH — a spot already occupied by Travis Hafner, and eventually shared with Derek Jeter and probably Teixeira (should he not go the season-ending surgery route).
Secondly, Ramirez wouldn't be going anywhere anytime soon if the Yankees did acquire him. He's owed $10M this season and $16M next season, with a $14M dollar mutual option ($4 million buyout) in 2015. So what else is new with the expensive 35-year-old you might ask? Well, he's also recovering from a knee injury. I'm not sure he's the type of guy you want to break the bank on when it comes to rejuvenating an already severely injured lineup. I assume the Brewers will look for at least a couple decent prospects in addition to salary relief. Right idea, wrong timing here maybe. Then again, that seems to be the case for a lot of trade candidates, really.