Thanks to their five-game winning streak, the Yankees come into Tuesday only 2.5 games back of the second wildcard spot with 33 games left to play. FanGraphs puts their postseason odds at only 12.8%, but the Yankees have a knack for outperforming expectations and projections and run differential and all that. Two and a half games with 33 games to go is a sneaky big deficit but it's hardly insurmountable.
The non-waiver trade deadline was four weeks ago now, but the real trade deadline is midnight this coming Sunday. Players must be in the organization by 11:59pm ET on August 31st to be eligible for the postseason roster and there are no exceptions. No injury loopholes, no waiver tricks, nothing. If the player is not in the organization by midnight Sunday, they can not play in the postseason, end of story. It's a hard deadline.
The Yankees swung four trades leading up to the July 31st deadline but they still have some holes to fill. They dumped Matt Thornton on the Nationals a few weeks ago and have yet to reinvest his salary — this is despite reports saying they were working on other things — though it's unclear exactly how much wiggle room the team has financially. That's up to Hal Steinbrenner, of course. Here are some last minute trade targets who could help the Yankees in the final five weeks of the season.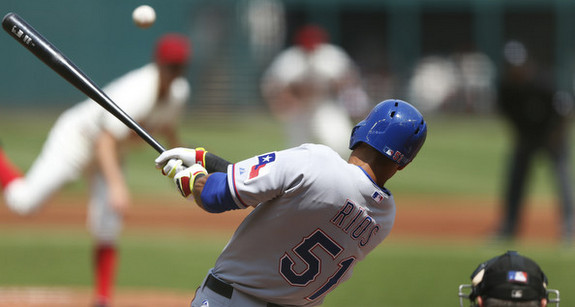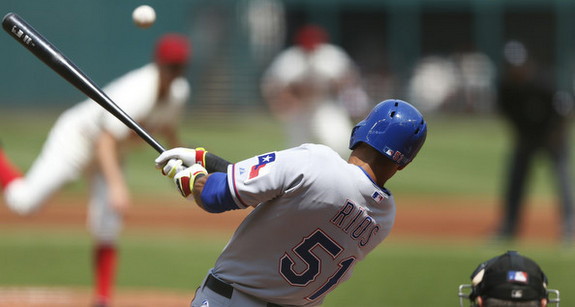 OF Alex Rios, Rangers
New York reportedly had interest in Rios prior to the trade deadline, but instead they opted for the more versatile Martin Prado. The 33-year-old Rios went into last night's game hitting .283/.313/.401 (91 wRC+) with four homers and nine steals in 122 games this year, so his production has dropped off quite a bit from last year (104 wRC+) and the year before (126 wRC+). Even his usually strong outfield defense has slipped according to the various metrics.
Even after making those deals at the trade deadline, the Yankees are still short a right-handed bat or two in the lineup. I mean, Zelous Wheeler has started four times in the last five games, and as long as that continues to happen, the Yankees are short a righty bat. Rios has put up a .343/.374/.581 (155 wRC+) batting line against southpaws this year, so he'd fill a definitely need, especially now that Carlos Beltran is locked back in at DH following his recent elbow problem and Prado seems to have taken over at second base.
Rios is owed approximately $2.5M through the end of the season with a $13.5M club option ($1M buyout) for next season, so he's essentially a pure rental at $3.5M. Calvin Watkins reported Rios cleared trade waivers earlier this month, meaning he can be traded to any team at any time. The Rangers traded Geovany Soto over the weekend and they failed to move Neal Cotts after he was claimed off waivers, so, if nothing else, they're active on the August market. Rios is available and would address a need.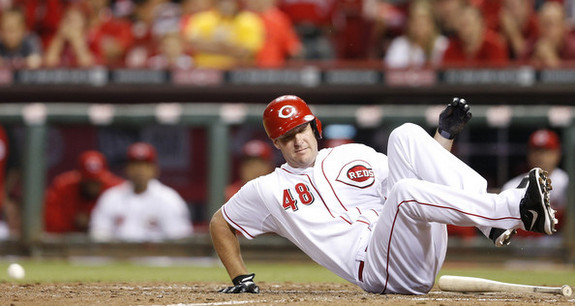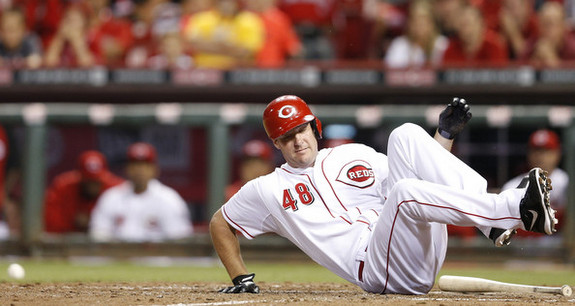 OF Ryan Ludwick, Reds
Not thrilled with Rios? The lower profile Ludwick is hitting .250/.310/.390 (94 wRC+) with eight homers in 97 games overall, plus he has a .253/.318/.506 (124 wRC+) line against lefties. He was once a really strong defender but his glovework isn't quite what it once was — Ludwick has a bunch of experience in right but also hasn't played there since 2011 — but he's not a butcher either. Besides, acquiring Ludwick is about adding another right-handed bat, not upgrading an already strong outfield defense.
Bob Nightengale reported the Reds were letting teams know Ludwick was available before the trade deadline, though it's unclear if he has cleared or even been placed on trade waivers yet. He is owed roughly $1.6M through the end of the season, and his $9M option for 2015 comes with a pricey $4.5M buyout. The total investment (~$5.1M) is quite a bit more than Rios' ($~3.5M). Ludwick is very available — the Reds have fallen out of the playoff race this month — and might be easier to attain, however.
DH Adam Dunn, White Sox
If Beltran is eventually going to return to right field, the Yankees will have an opening at DH, at least in the sense that there won't be one dedicated player for the position. (Joe Girardi tends to rotate players in that spot whenever possible.) Dunn, 34, has a .220/.343/.429 (114 wRC+) line with 19 homers this year, though he won't help the team's right-handed bat problem. He does offer made for Yankee Stadium left-handed power though, and there is no such thing as too much of that. There is roughly $3M left on Dunn's contract through the end of the season and he'll become a free agent this winter. He only makes sense if Beltran can play the outfield regularly and right now there is no evidence that is the case. It's a less than perfect fit.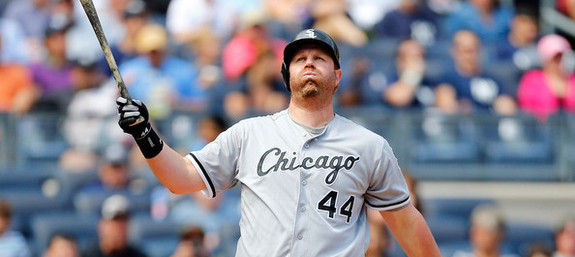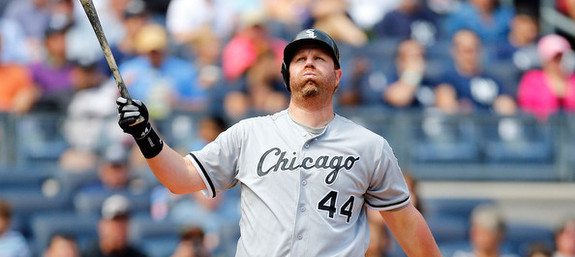 RHP Matt Lindstrom, White Sox
I feel like I write about Lindstrom as a trade target every August. The 34-year-old has a 5.09 ERA (5.05 FIP) in 23 appearances and 23 innings this year, though that is inflated by two disaster outings earlier this month (six runs in one inning). Lindstrom missed three month with an ankle injury — he just returned two weeks ago — and at this point he's just a ground ball pitcher (50.0%) who doesn't miss many bats (5.48 K/9 and 13.6 K%). He's owed about $800k through the end of the season and, given all the late-game experience he's built up over the years, he could be a decent complement in the sixth or seventh inning as he gets further out from ankle surgery. If it doesn't work out, then who cares? They can bury him in the back of the bullpen with expanded rosters in September.
* * *
As always, the key to these late-August trades is the price. You're only getting five weeks of the player, and in the cases of Ludwick and Dunn, their teams would be motivated by dumping salary and not necessarily acquiring a real live prospect. If the Yankees have to give up anything more than a nondescript prospect for these guys, then forget it. They can only have so much of an impact at this point of the season. If they can get Rios or Ludwick for next to nothing to add another right-handed bat for the rest of the year, then they should be all over it. The Yankees only have six more days to make any additional moves and have that player potentially be available in October.