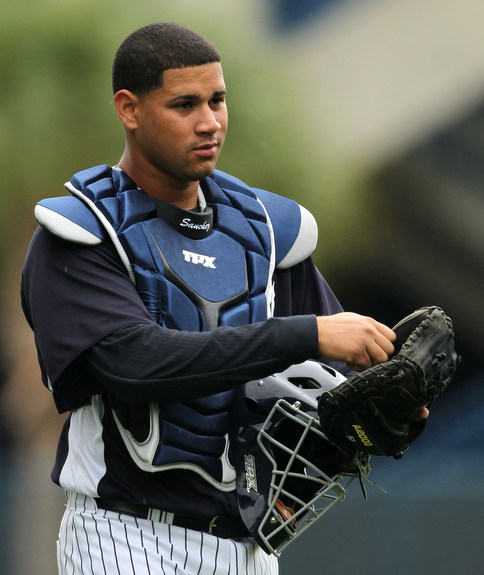 Baseball America continued their look at the top 20 prospects in each of the 16 minor leagues with the High-A Florida State League today (no subs. req'd). The list was topped by OF Byron Buxton (Twins), the consensus top prospect in all of baseball. 3B Miguel Sano (Twins) and SS Javier Baez (Cubs) round out the top three and complete the holy trinity of position player prospects. They're three of the very best in the game.
The Yankees had two players make the list, starting with C Gary Sanchez at #7. He was sandwiched between two brand names: RHP Noah Syndergaard (Mets) and OF Jorge Soler (Cubs). "Sanchez's best tools are his plus-plus raw power and his throwing arm, which rates at least as a 70 [on the 20-80 scouting scale] … His blocking and receiving remain suspect, however," said the subscriber-only write-up. "[He] should produce .260 averages and 20-25 homers annually."
OF Mason Williams, who had a poor year overall, was further down the list at #19. "Scouts report his swing looked good in batting practice but changed in games to a more slashing approach, costing him power … When he played with energy, he turned in plus running times and showed the easy range to be an asset defensively in center field, with a strong throwing arm," said the write-up. That whole "played with energy" part has reportedly been a bit of an issue for Williams in recent years.
The Yankees landed six players on the Rookie Gulf Coast League list but only one apiece on Short Season NY-Penn League and Low-A South Atlantic League lists. The Double-A Eastern League is scheduled to be posted next Monday and the league champion Trenton Thunder should be represented by a few players, specifically OF Slade Heathcott and OF Tyler Austin. Sanchez definitely wasn't with the team long enough to qualify for the list. LHP Nik Turley has a (very) outside chance of making it as well.