The 2013 season is over and we've had a week to catch our breath. It's time to review the year that was, starting with the Yankees' significant injuries. They pretty much defined the season.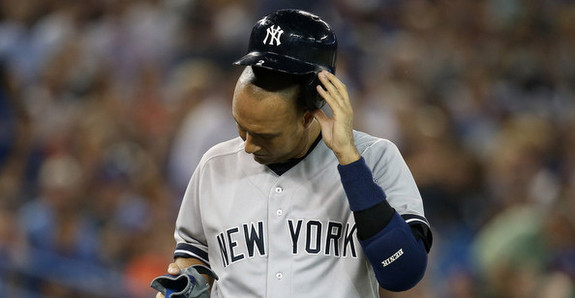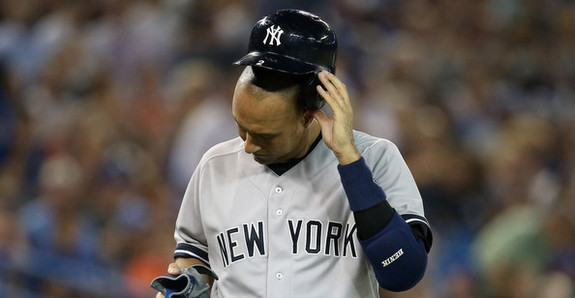 Every single team deals with injuries every single year. It's impossible to make it through the full 162-game season without losing players to injury, either nagging or severe. Injuries come with the territory and the Yankees had a lot of them in 2013. They didn't use a franchise record 56 players out of the kindness of their heart — they lost roughly 1,400 man games to injury and used the Major League DL a ridiculous (and MLB-high) 28 times this season. If you wore pinstripes this summer, chances are you got hurt at one point or another.
For the most part, we can fit every injury into one of two categories: predictable and unpredictable. A player rolls his ankle running through first base? Unpredictable. Not necessarily surprising, it happens, but not something you'd expect. But a pitcher with a history of arm problems blowing out his elbow? Yeah that's predictable. Some guys are so injury prone it's a matter of when they'll get hurt, not if. You want to think this is the year they'll stay healthy — remember when being a full-time DH was supposed to keep Nick Johnson healthy? — but it very rarely is.
The Yankees had a ton of injuries this year, some more devastating than others. We're not going to focus on the nagging day-to-day stuff or quick 15-day DL stints in this post. We're going to look at the long-term injuries — both the predictable and unpredictable ones — meaning the guys who missed most or all of the regular season. I'm leaving Alex Rodriguez (left hip) out of this because we knew coming into the year he would be out until at least the All-Star break. I want to focus on the players everyone expected (or hoped) would be on the roster come Opening Day.
Predictable Injury: Derek Jeter
It all started last September, when Jeter fouled several pitches off his left ankle/foot and played through a bone bruise late in the season. In Game One of the ALCS, the ankle finally gave out and fractured. The Cap'n had surgery in October and the initial timetable had him on track for Spring Training and the start of the season. He's Derek Jeter and he works harder than everyone, so he'll make it back in time, right? Wrong.
Jeter's progress in camp was deliberate as he nursed the ankle, and it wasn't until mid-March that he appeared in his first Grapefruit League game. He played five exhibition games before needing a cortisone shot in the ankle and being ruled out for Opening Day. Here's the timeline that followed:
March 31st: Yankees place Jeter on 15-day DL.
April 18th: Yankees announced Jeter suffered a setback — a second (and smaller) fracture in the ankle. He was not expected to return until the All-Star break.
April 27th: Jeter is transferred to the 60-day DL to clear a 40-man roster spot for Vidal Nuno.
July 11th: Yankees activate Jeter off DL. He goes 1-for-4 in his first game back but suffers a calf strain running out a ground ball.
July 23rd: Jeter is retroactively placed on the 15-day DL after the calf doesn't respond to rest and treatment.
July 28th: Yankees activate Jeter. He plays five games before the calf starts acting up again.
August 5th: Jeter is retroactively placed on the 15-day DL (again) as rest and treatment doesn't do the trick (again).
August 26th: Yankees activate Jeter. He plays 12 games before his surgically-repaired left ankle becomes sore.
September 11th: For the fourth time, Jeter is placed on the 15-day DL. The moved officially ends his season. Three days later, the Yankees transferred him to the 60-day DL to clear a 40-man roster spot for David Phelps.
Four DL trips for what amounts to three different leg injuries. Jeter appeared in only 17 of the team's 162 games and looked pretty much nothing like himself, with little impact at the plate and close to zero mobility in the field. He was never the rangiest defender, but it was especially bad this season. When a 38-year-old shortstop — Jeter turned 39 in June — has a major ankle surgery, you have to expect there to be some delays and complications during the rehab process, even when he has a full offseason to rest.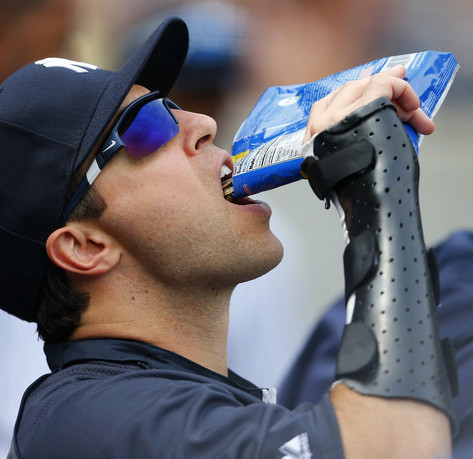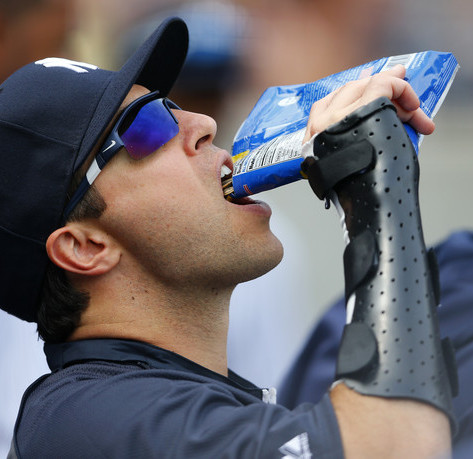 Unpredictable Injury: Mark Teixeira
Up until last season, Teixeira was an iron man. He was good for 155+ games played a year every year, but various injuries (cough, wrist, calf) limited him to only 123 games in 2012. With the cough behind him and an offseason of rest for the calf, Teixeira was expected to be as good as new for this season. Then, while with Team USA preparing for the World Baseball Classic, he felt some discomfort in his right wrist and had to be shut down.
The soreness turned out to be a tendon sheath injury, which can be pretty severe if not allowed to heal properly. Teixeira and the Yankees opted for rehab because there was no reason not to — surgery, which was always a realistic possibility, would have ended his season anyway, so might as well try the rehab route first. He did the rest and rehab thing before rejoining the team on the final day of May. Teixeira appeared in 15 games before the wrist started acting up again. On July 3rd, he had the season-ending surgery. No one saw the wrist problem, which was described as a "wear-and-tear" injury, coming.
Predictable Injury: Kevin Youkilis
When it became official that A-Rod needed his hip surgery in early-December, the Yankees had to find a replacement everyday third baseman. The free agent market had little to offer, especially once Eric Chavez decided to move closer to home in Arizona. New York signed Youkilis to a one-year, $12M contract to replace Rodriguez despite his history of back problems.
Not counting four separate day-to-day bouts with spasms from 2008-2010, Youkilis spent time on the DL with back problems in both 2011 and 2012. That doesn't include some nagging day-to-day stuff between the DL stints either. Sure enough, 17 games in the season, Youkilis' back started barking. He missed a handful of games with tightness before aggravating the injury on a feet-first slide into first base on a defensive play. That sent him to the DL with a bulging disc. Youkilis returned in late-May and managed to play another eleven games before needing season-ending surgery to repair the damaged disc. For their $12M investment, the Yankees received 118 mostly ineffective plate appearances. Backs don't get better, then just get worse.
Unpredictable Injuries: Curtis Granderson
Aside from Jeter and A-Rod having surgery in the offseason, the parade of injuries started in the first home game of Spring Training. On the fifth pitch of his first Grapefruit League at-bat, Granderson took a J.A. Happ fastball to the right forearm. Just like that, the Yankees had lost their top power hitter for three months with a broken arm. They're lucky (in a sense) that the injury occurred so early in Spring Training and Granderson was able to return in mid-May, not much later in the season.
After returning from the DL in the team's 39th game of the season, Granderson appeared in eight games before another errant pitch sent him to the sidelines. This time it was Rays left-hander Cesar Ramos who did the deed. The pitch broke Granderson's left hand and would keep him out ten weeks even though the initial diagnosis called for a six-to-eight week recovery time. Curtis returned to the team in early-August and wound up playing in only 61 of the club's 162 games. Hit-by-pitch injuries are the definition of unpredictable injuries.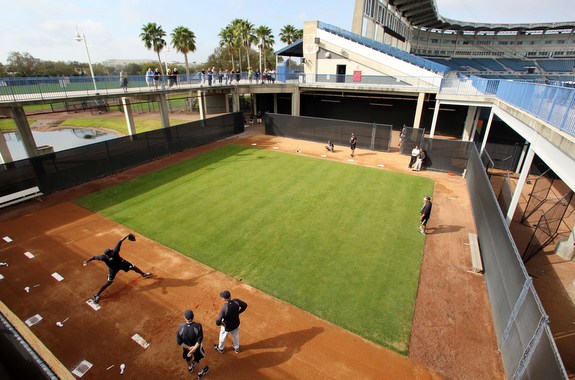 Predictable Injury: Michael Pineda
Thanks to last May's labrum surgery, Pineda was expected to miss the start of the 2013 season but be a factor in the second half. He started an official minor league rehab assignment in early-June and exhausted the full 30 days before the Yankees determined he was not big league ready. They optioned Pineda to Triple-A Scranton in early-July and less than a month later, he came down with shoulder tightness. Although tests came back clean, the tightness all but assured we wouldn't see him in pinstripes for the second straight season. For what it's worth, Brian Cashman said during his end-of-season press conference they shut Pineda down as a healthy player after more than a year of rehab and pitching just to get him rest. Given the nature of the injury, it was no surprise the right-hander was slow to return and ultimately a non-factor in 2013.
Unpredictable Injury: Frankie Cervelli
Thanks to some throwing improvement in Spring Training and the fact that Chris Stewart can't hit, Cervelli took over as the team's everyday catcher early in the season. He started 16 of the team's first 22 games, but in that 16th start, Rajai Davis fouled off a pitch that hit Frankie square in his exposed right hand. His suffered a fracture and was expected to miss at least six weeks … until he suffered a stress reaction in his elbow during rehab. The stress reaction supposedly stemmed from a change in his throwing motion to compensate for the hand injury. Cervelli was suspended 50-games for his ties to Biogenesis in August but that really didn't matter; the elbow injury had ended his season anyway. Catching is brutal, but a broken hand on a foul tip is still not something you can see coming.
Predictable Injury: Travis Hafner
You name it, and chances are it sent Hafner to the DL at some point in recent years. Most notably, he missed almost the entire 2008 season due to right shoulder surgery. The same shoulder started barking this summer, first in mid-May and then again mid-July. It's probably not a coincidence his production completely tanked after the first bout with soreness. Hafner was placed on the DL in late-July and missed the rest of the season, for all intents and purposes. He was activated for the last few games of the season but only played in one. Pronk visited the DL seven times from 2008-2012, so it's no surprise he wound up there in 2013.