The 2013 season is over and now it's time to review all aspects of the year that was, continuing today with a player whose season was sabotaged by fluky injuries.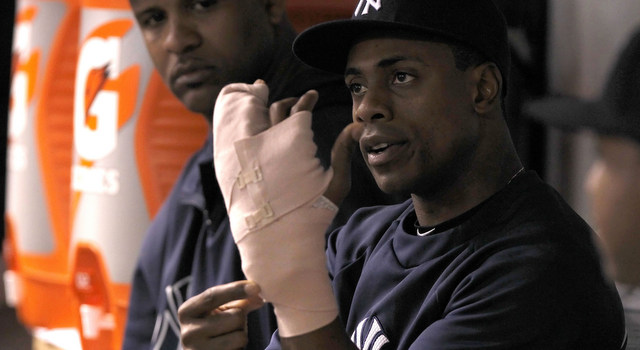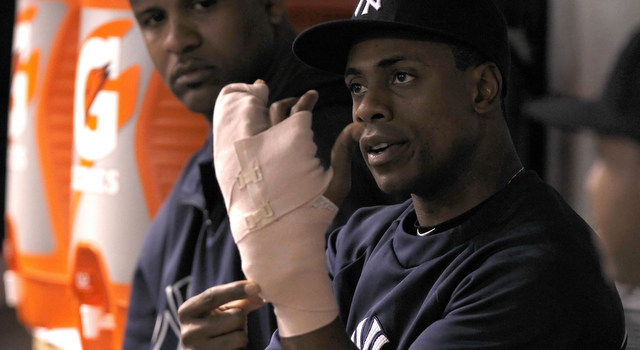 As the Yankees went through last offseason with nary an offensive upgrade, there were two things Yankees fans could count on in 2013. We all knew with damn near certainty that Robinson Cano would be an elite all-around player with high-end production at the plate. It was pretty much a given and Cano delivered.
We also knew Curtis Granderson would hit a ton of dingers and be the team's primary power source. Ever since revamping his swing with hitting coach Kevin Long in August 2010, Granderson has been one of baseball's preeminent homer hitters, going deep 40+ times in both 2011 and 2012. Maybe he wouldn't do that again in 2013 — that's an frickin' ton of homers, I have a hard time expecting almost anyone to do that in a given year — but 30+ homers seemed like a lock.
Instead, Granderson's season was derailed before it even got a chance to start. Five pitches into his very first plate appearance of Spring Training, he took a J.A. Happ fastball to the right forearm and suffered a fracture. The injury was expected to sideline him for three months, so in a sense the Yankees were lucky it happened so early in camp. The first half of that three-month recovery time took place before Opening Day.
On May 14th, after three months on the sidelines and a week's worth of minor league rehab games, Granderson finally made his season debut for the Yankees. He took an 0-for-4 in the first game but had a hit the next day and three hits the day after that. A few days after that he had three more hits, including a double and a homer. Curtis missed all of Spring Training and it made sense that he would start a little slow, but he was starting to show signs of life and the Yankees desperately needed offense.
Then, just ten days after returning from the DL, Granderson took a Cesar Ramos fastball to his left hand. He stayed in the game to run the bases but was eventually lifted and sent for tests. The result: a fractured pinky and hand and a six-to-eight week recovery timeframe. He didn't need surgery, but just like that, Curtis was back on the DL and the Yankees were woefully short on power.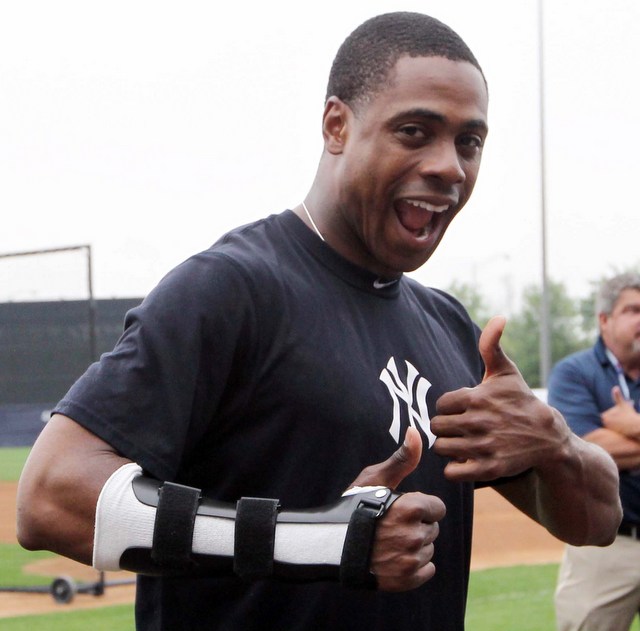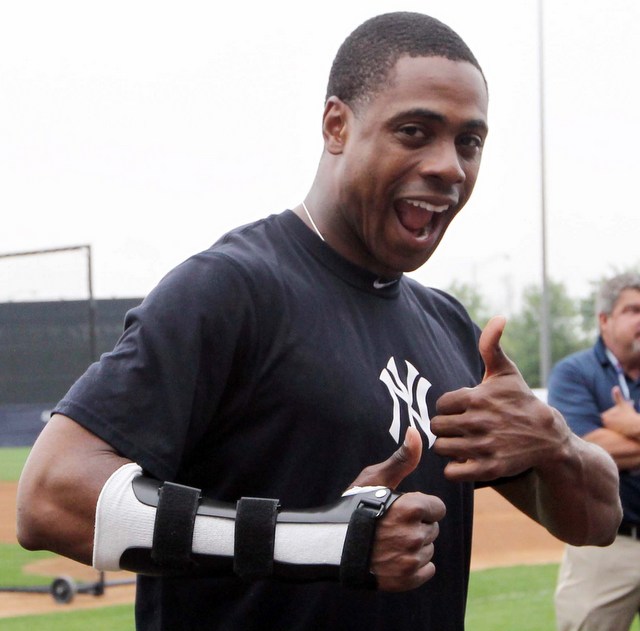 That six-to-eight week recovery time turned into ten weeks for no apparent reason — Granderson was just slow to heal, I suppose. He didn't return to the team until August 2nd, and in his second game back he hit a two-run homer at spacious Petco Park in San Diego. By then the Yankees were well out of the AL East race and only on the fringes of the wild-card race.
In his first month off the DL, Granderson hit .278/.394/.444 (132 wRC+) with three homers in 109 plate appearances. He wasn't hitting for the kind of power we're used to seeing, but he was certainty having an impact at the plate. In his second month off the DL, Curtis hit .177/.233/.375 (60 wRC+) with three homers in 105 plate appearances. Suddenly he wasn't having an impact. Not coincidentally, the Yankees faded right out of the postseason picture.
Overall, Granderson hit .229/.317/.407 (97 wRC+) with seven homers and eight stolen bases (in ten attempts) in 245 plate appearances around the injuries this year. His power production took a big step back from last season, but there's really no way to tell if he was still suffering the lingering effects of the injuries — hand/wrist injuries are notorious for hurting a player's performance even after he's been cleared medically — or if this was a sign of age-related decline or if he just had 245 substandard plate appearances. Could be all or that or none of that. Who knows?
The Yankees had planned to shift Curtis to left field and install Brett Gardner as their regular center fielder before the season started — they never committed to it and called it an experiment in Spring Training, but it was pretty obvious a change was being made — a plan they implemented when Granderson came off the DL (the first time). He bounced between left field, right field, and DH before Gardner's oblique injury forced him back into center. I thought Granderson actually look pretty good defensively in the corners. Maybe not above-average, but pretty solid. That was a plus.
"There's no getting around [it], missing 100 games the year you're becoming a free agent isn't great," said Matt Brown, Granderson's agent, earlier this month. The 2013 season was disastrous for Granderson due to two unpredictable fluke injuries and the shift to a less valuable defensive position. Maybe the Yankees will be able to bring Curtis back on a one-year pillow contract — his "first choice" is to return to New York, reportedly — but I suspect he'll wind up with a multi-year contract elsewhere. The Yankees were power-starved this summer and losing Granderson for so much time was a huge reason why. He brings a power element to the team that is damn near impossible to replace these days.