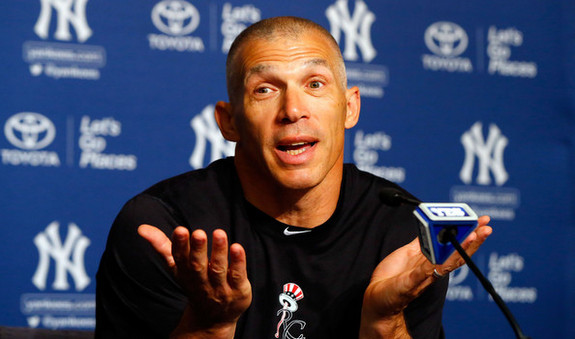 The Yankees have taken care of their first (and arguably the most important) piece of offseason business. The team announced on Wednesday that they've re-signed manager Joe Girardi to a four-year contract that will keep him in pinstripes through 2014. Jon Heyman and Howie Rumberg say the deal is worth $16M guaranteed plus another $4M in bonuses, making Girardi the second highest paid manager in baseball behind Mike Scioscia.
"We decided this is where we wanted to come back," said Girardi to reporters during a conference call. "There were some things I wanted to make sure — in my home (with my family) — that people were okay with what I want doing. My kids love what I do. [My wife] Kim is still extremely supportive and continues to love what I do. I had to make sure everyone was still on board."
Girardi, 48, just completed his sixth year as the team's manager. His previous managerial contracts with the Yankees were both three-year deals, but Girardi confirmed his side pushed for a four-year contract this time around. The team made it clear they wanted to bring him back — "We're going to give him a real good reason to stay," said Brian Cashman during his end-of-season press conference — so they tacked on the extra year.
"I think stability is important," added Girardi when asked about the four-year term. "That was something we brought up to them. It is more stability for all of us involved in my household. It was something we brought to them and they were okay with it … It's good for both sides."
The Yankees are 564-408 (.580) all-time under Girardi, including 85-77 (.525) this past season. I thought 2013 was his finest year as the team's manager given all of the major injuries and, of course, the Alex Rodriguez circus. Girardi handled the A-Rod situation well and the club remained in the hunt for a wild-card spot far longer than I think anyone expected. Still, the team's future is up in the air and is something Girardi considered before returning.
"It was something I definitely thought about," said Girardi when asked about the state of the franchise going forward. "What will the New York Yankees look like in 2014? I don't think you can necessarily expect to have everything you want every year … To me, I want to be a part of this. I want to get us back on track. That is important to me."
Girardi's contract didn't expire until October 31st and the Yankees did not grant him permission to speak to other clubs in the meantime for obvious reasons. His hometown Cubs reportedly made it clear through back channels they were willing to top any offer, plus the Nationals had interest as well. It's not hard to argue those two clubs are better set up for success over the next four years than New York, but Girardi returned anyway.
Assuming Girardi sticks around for the full four years, the Yankees will have had just two managers over the previous 22 years. That's after having 12 different managers for a total of 21 different stints in the previous 22 years. Yeah, the days of the late George Steinbrenner hiring and firing people on a whim are long gone. The Yankees are going through a rather delicate transitional period at the moment and Girardi has done a pretty good job of getting them through the early stages. Now they can move forward and start focusing on other stuff.
"[There is] a lot more work to do this offseason than there has been in the past," added Girardi. "It's a special place to manage. Just to be able to put on the pinstripes as a coach, a player, a manager is special. I've always thought about it that way. I wouldn't have come back if I didn't think we could win a championship."