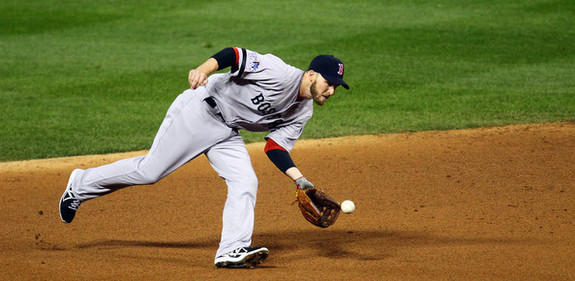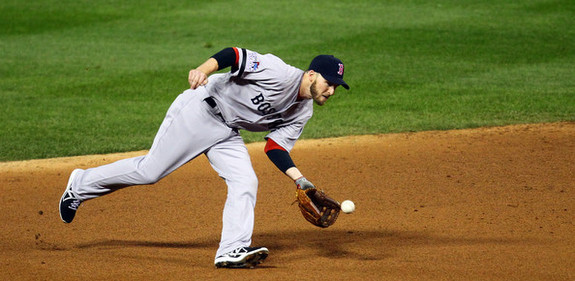 When position players reported to Spring Training yesterday, the competition for the final bench spot officially got underway. We all know Mark Teixeira and Derek Jeter will start if healthy, and earlier this week the Yankees and Joe Girardi declared Brian Roberts and Kelly Johnson the starters at second and third base, respectively. The competition is for the backup infield spot alongside Brendan Ryan.
Needless to say, an infield built around Roberts and Johnson doesn't inspire much confidence. The Yankees are said to be done signing Major League free agents, but even if they were open to signing another player, there aren't many available who fit what they need. Stephen Drew is pretty much the only option at this point and they don't have interest in him. They did earlier this winter, however. From Joel Sherman:
Early in the offseason, the Yankees – with so many holes to fill – used a strategy of making many offers at one time, letting agents know that with each signing, they would re-assess and pull some bids. The Yankees actually made Drew an offer at that time, believed to be for two or three years, when the shortstop was still looking to do considerably better – four or five years.

And, as it happened, the Yankees spent more than they anticipated on players such as Brian McCann, Jacoby Ellsbury and Masahiro Tanaka and, at some point, rescinded the offer for Drew. And once Tanaka was signed and the $189 million dream was crushed, Hal Steinbrenner put a clamp on going any further. That means they are not bending for Drew, a decision they believe is made a tad easier because they were worried about the condition of his ankles and hips anyway.
The Yankees basically put a bunch of offers out there and said first come, first serve. The first player to say yes got the contract. Maybe that's how they wound up with Jacoby Ellsbury instead of Shin-Soo Choo, who they offered seven years and $140M. Same thing with Matt Thornton over Javier Lopez, who they also had interest in. I'm not sure if they could have used the same strategy with Masahiro Tanaka and Brian McCann though. Whatever.
Anyway, Sherman goes on to say Scott Boras' current asking price for Drew is a two-year contract with an opt-out after the first year. So it's basically a one-year contract unless he has a really bad year, in which case you're stuck with him for 2015 as well. The Yankees have already forfeited three top draft picks, so signing Drew would only cost money and a second round pick, which might turn into a supplemental first rounder if he opts out and rejects a qualifying offer next winter.
The Yankees do not want to pay that money and surrender the pick for Drew right now, but in all likelihood they're going to have to pay for infield help at some point this year. If they don't give up money and a pick for Drew now, they'll have to surrender prospects (and probably take on salary) to trade for someone at midseason. Roberts is a huge health risk and the chances of Johnson getting exposed as an everyday player are high enough that an in-season trade feels like an inevitability. Heck, they might have to make a trade even if they sign Drew.
"There are areas of concerns and we're going to keep plugging away, but we've got to see how big of a concern they are," said Hal Steinbrenner to Bryan Hoch yesterday. "They're not problems yet because we haven't even started playing. They're areas of concern; I get it. Every team has them and every team works through them. We're going to do the same thing. We got pretty good at it last year, I thought."
Of course, the problem with standing pat and waiting for a midseason trade is that the Yankees will play a ton of games with a weak infield. Signing Drew or making a trade now improves the team on Opening Day, not on July 31st or whenever. Considering how tight the race for a postseason spot figures to be, the longer New York waits to get infield help, the tougher their road to October will be. The Yankees don't want to pay for infield help now and that's fine, as long as they understand they'll have to pay for it later if they want to have the best possible chance to contend.