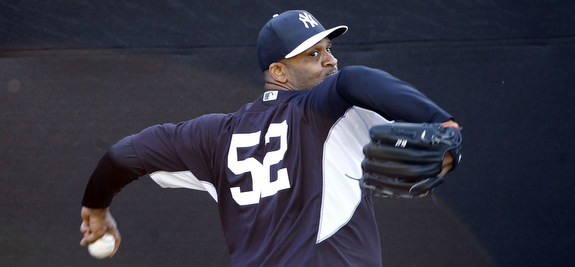 It is in no way an exaggeration to say CC Sabathia was one of the worst pitchers in baseball last season. Out of the game's 81 qualified starters, he ranked 76th with a 4.78 ERA and 72nd with 0.3 bWAR. He also led the league with 112 earned runs allowed. Last season was the worst of Sabathia's career by a large margin and it was a big reason why the team failed to qualify for the postseason for only the second time in 19 years.
Why did Sabathia struggle so much in 2013? There is no shortage of theories. He lost too much weight, he lost too much velocity, he had offseason elbow surgery, all the innings are catching up to him, his mechanics were out of whack … on and on we could go. Sabathia never made excuses and pitching coach Larry Rothschild blamed it on inconsistent mechanics that led to too many pitches out over the plate. My guess? All of it. All of that stuff and more contributed to his poor year.
That disastrous 2013 season is in the past now. Sabathia is now more than a full year out from elbow surgery and he remade his body this winter, shedding bad weight and adding muscle in hopes of building power and stamina. He looks marvelous and in better shape than he's ever been as a Yankee, but that was also true last spring, just not to the same extent. Physical condition is not going to be excuse, not that it ever was. CC is always going to be a big guy, that's just his body type, but now he is slightly less big.
In his first Spring Training outing on Saturday, Sabathia came out firing 88 mph bullets that raised a little red flag but are not really freakout worthy yet. It was his first Grapefruit League start and we'll re-evaluate his fastball when he builds up some more arm strength and gets another start or two under his belt. Sabathia's velocity has steadily declined in recent years …
… and there is little reason to think that will stop. That's the reality of being a 33-year-old workhorse who will top the 3,000 career innings (regular season and postseason) mark this summer. Once the fastball starts to go, it tends to continue going. Reversing the velocity decline is just not something that happens. The best the Yankees and Sabathia can hope for is halting the decline and maintaining this level of velocity for a little while longer.
Lefties who can pump 94-96 mph consistently — like Sabathia a few years ago — are the exception. Lefties who sit right around 90 are the rule. That's Madison Bumgarner (91.2 mph in 2013), C.J. Wilson (90.9), Cliff Lee (90.4), and Mike Minor (90.4) velocity, and that foursome combined for a 3.06 ERA and a 3.12 FIP in 841 innings last year. Sabathia averaged 91.3 mph with his fastball last season and even if he loses another mile an hour this year, it should still be enough.
At his peak from 2007-12, CC maintained an ~8 mph separation between his fastball (93.7 mph) and changeup (86.0 mph). Last year it was only a 6.5 mph separation and that's a big difference. That's the difference between squaring a pitch up and hitting it off the end of the bat or flat out swinging and missing. Linear weights reflect the reduced effectiveness of his changeup (-8.3 runs saved in 2013 after +35.6 from 2007-12), a pitch that his been one of his most dangerous weapons the last seven years or so.
Of course, velocity and separation between the fastball and changeup is only one small piece of the pitching pie. Sabathia's location flat out stunk last season, anecdotally because his arm slot wavered (he admitted as much) and his pitches cut back over the plate. According to Baseball Heat Maps, a whopping 39.2% of Sabathia's pitches were over the heart of the plate last season, up from 30.7% in 2012 and 31.7% from 2011-12. That's a big, big deal. He averaged 104.25 pitches per start last season, so we're talking an extra nine pitches (!) over the heart of the plate per start on average. Big deal. Really big deal.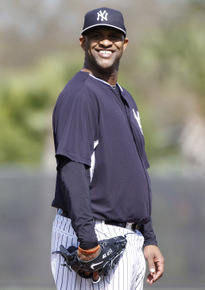 Improving on last season's performance will require a number of things. Sabathia's not finding more velocity so just forget about that. He needs to improve his location first and foremost. I'm not sure there is any way you can improve performance quicker than by not throwing the ball in the hitter's wheelhouse. If Sabathia can get back to living on the corners and at the knees, it doesn't really matter if he's throwing 85 or 95. Easier said than done, obviously. Regaining that 8-ish mph separation between the fastball and changeup is another key.
How does Sabathia go about improving his location and the effectiveness of his changeup in 2014? Damned if I know. That's up to Sabathia and Rothschild to figure out. The problems could be mechanical or the result of the elbow surgery — he underwent a biomechanical analysis over the winter and things checked out okay, for what it's worth — or they could be the result of muscling up and trying to manufacture velocity. Overthrowing is a great way to miss spots. Again, it's probably a little of everything.
Maybe I'm just a raging homer, but I truly believe Sabathia can rebound and be an effective starter for the Yankees this summer. He has to make several adjustments first and even if he does, I still think it's unlikely he'll ever get back to peak CC form, that Cy Young caliber ace. Simply being not one of the worst pitchers in baseball like last year seems reasonable to me though. A guy who can give the team 200+ innings of 3.70-ish ERA ball is still really valuable, even if it is not what we're used to seeing from Sabathia.
I don't know if the Yankees can make the postseason in 2014 with a good but not great performance from Sabathia, but I do know they have almost no chance of going to the playoffs if he pitches like he did a year ago. Even with Masahiro Tanaka and Hiroki Kuroda around to anchor the rotation, I believe a rebound from the club's erstwhile ace is a necessity for contention this season.