Over these next two weeks we're going to subjectively rank and analyze every player on the Yankees' 40-man roster — based on their short and long-term importance to the team — and you'll inevitably disagree with our rankings. We've already covered Nos. 3-5, 6-10, 11-14, 15-16, 17-19, 20-25, 26-31, and 32-40.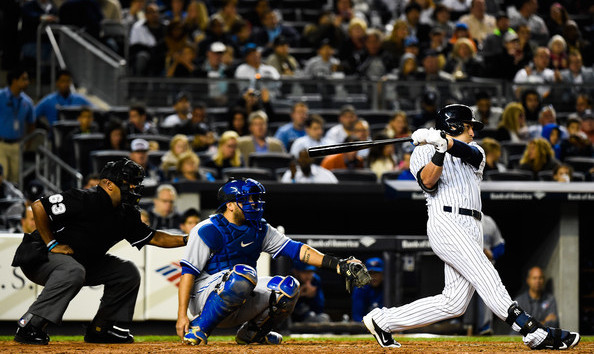 We can finally see the light at the end of the tunnel. We're down to the final two players in our 40-man roster rankings. The actual process of ranking the players was pretty difficult — tougher than I thought it would be when I came up with the idea for the series — though I felt the top two spots were pretty easy. When you have two guys only one year into massive nine-figure contracts, of course they're the most important players on the roster.
No. 2 in our rankings is the Yankees' de facto star position player. The Derek Jeter era is now over and the Robinson Cano era ended last year, so the team has neither an iconic ex-star nor a bonafide present day star. Someone has to take over as the face of the franchise though, and our next player seems most likely to do that, at least on the position player side. On to the next player in our rankings.
No. 2: Jacoby Ellsbury
2015 Role: Everyday center fielder and upper-third of the order hitter. Ellsbury is a leadoff hitter by trade and I expect him to start this coming season atop the lineup, but, as we saw last year, Joe Girardi is open to using him as his number three hitter if no better options exist. Ellsbury is greatly miscast as a number three hitter but that's the way it goes.
Either way, Ellsbury is going to hit in the top three spots of the lineup. He is arguably the best hitter on the team, at least in the sense that he's an above-average hitter and his performance is fairly predictable. This isn't Brian McCann trying to come back from a down year or Carlos Beltran coming back from a bone spur in his elbow. Ellsbury has no such questions. Last year was a typical Ellsbury year (107 wRC+ in 2014 and 109 wRC+ career) and it's easy to forecast the same thing for 2015.
In the field, Ellsbury is an impact player thanks to his good reads and incredible range. He's a game-changer in center even though the defensive stats weren't a fan of his work in 2014. (That seems to happen with all Yankees' center fielders whenever Brett Gardner is in left.) Ellsbury's arm is laughably weak but he makes up for it with superior ball-hawking skills. He's a key component in the team's renewed emphasis on defense.
Simply put, the Yankees will count on Ellsbury to be a two-way impact player. Someone who drives the offense and leads the up the middle defense. The Yankees lack a true star-caliber performer and Ellsbury is the closest thing they have to one.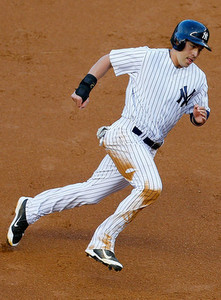 Long-Term Role: Considering the Yankees signed Ellsbury to a seven-year contract worth $153M just last offseason, it better be "two-way impact player" for the next several years. I thought the contract was way out line with his value as a player at the time of the signing — Gardner is the same damn player and look at his deal — and nothing I saw in year one has changed my opinion. But what's done is done.
There are six years left on Ellsbury's contract and that guarantees he will remain a focal point in the offense going forward. Just look at Mark Teixeira. His offense has been steadily declining for years yet he remains in the middle of the order because that's what he was signed to do. Ellsbury will inevitably wind up hitting in the top third of the batting order longer than he deserves. He's signed through age 36. At some point the skills will start to erode.
I think the best case scenario for the rest of Ellsbury's contract is Johnny Damon. They're similar players but not exactly the same — Ellsbury steals more bases and is better in the field, Damon had more pop and pure on-base ability, plus he was much more durable — but they had similar roles. They were the top of the order table-setters and center fielders. Damon was an above-average hitter from age 31-36 (114 wRC+) and it wasn't until his age 33 season that he had to start the transition over into left field.
Hopefully Ellsbury follows the same career path as Damon and remains a solid, above-average contributor for the bulk of his contract. That would make it all worth it for the Yankees. His long-term importance to the team is created by that contract — Ellsbury is under contract longer than any other position player on the roster (by two years!) and at premium dollars. When you make that sort of commitment to a player, you need him to be a difference-maker.
Coming Friday: No. 1. You know who it is. You've known since the start.