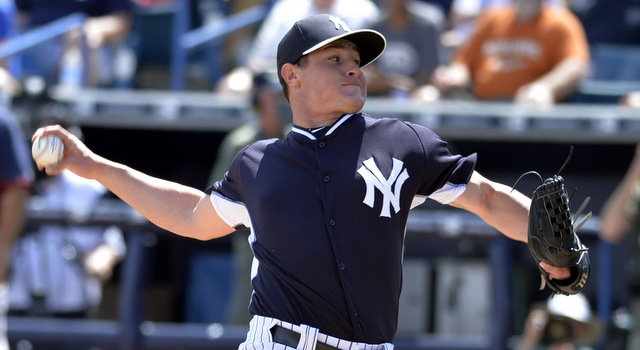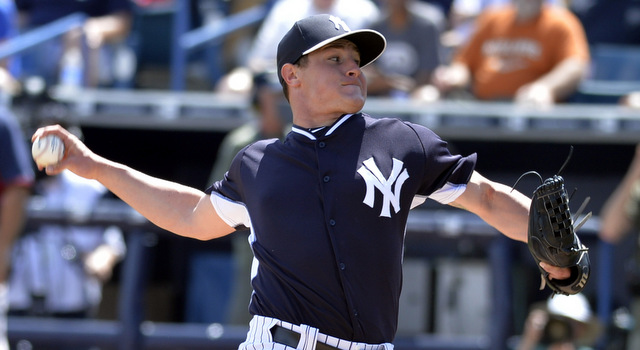 Following this afternoon's game, the Yankees announced they have optioned righty Danny Burawa and lefty Jose DePaula to Triple-A Scranton. Both made their MLB debuts this afternoon and, uh, they did not go well. The team says they anticipate calling up righties Diego Moreno and Nick Rumbelow on Monday.
Moreno, 28, was originally acquired in the A.J. Burnett trade with the Pirates a few years ago. He has a 2.27 ERA (2.61 FIP) with decent strikeout (21.2%) and walk (5.8%) rates in 35.2 innings with the RailRiders this season. Moreno is a classic fastball/slider reliever and the Yankees seem to like him. Brian Cashman has mentioned him as a call-up candidate a few times the last two years.
The 23-year-old Rumbelow was New York's seventh round pick in 2013 — he'll be the first player from their 2013 draft class to reach MLB — and he has a 3.31 ERA (2.58 FIP) in 35.1 Triple-A innings this year. His strikeout (28.7%) and walk (4.9%) rates are good, though he fanned more batters (34.1%) while climbing from Low-A to Triple-A last year. Rumbelow is a fastball/curveball guy.
Neither Moreno nor Rumbelow is on the 40-man roster but that's not much of a problem. The Yankees currently have one open 40-man spot and they say they'll transfer Sergio Santos (elbow) to the 60-day DL to clear the other spot. They can can slide Jacob Lindgren (elbow) to the 60-day DL when Ivan Nova is ready to return, whenever that is. Probably sometime within the next few days.