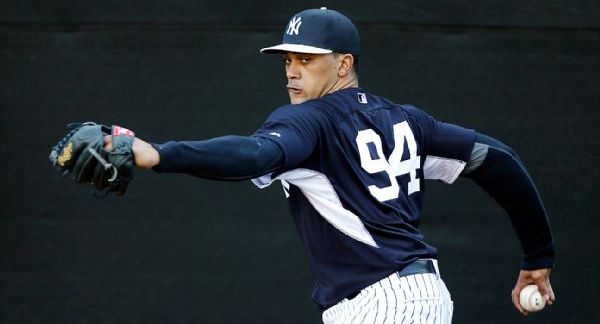 According to Joel Sherman, Brian Cashman confirmed right-hander Vicente Campos could again be added to the 40-man roster after the season as long as he holds up physically. Campos had Tommy John surgery last spring. He has been pitching in minor league games for a few weeks now.
Campos, 22, was the other player the Yankees acquired in the Michael Pineda-Jesus Montero trade, back when he used to go by Jose Campos. He had a 3.55 ERA (3.23 FIP) with a 22.3% strikeout rate and a 5.2% walk rate in 111.2 innings with Low-A Charleston from 2012-13 before blowing out his elbow last year. Campos missed time in 2012 with elbow problems as well.
So far this season Campos has a 6.04 ERA (2.85 FIP) with 25 strikeouts and five walks in 25.1 inning split between High-A Tampa and the Rookie Gulf Cost League. He's had his ups (nine strikeouts in five scoreless innings on June 27th) and downs (eight runs in 1.2 innings on July 8th), which is not uncommon after elbow reconstruction. It's also his first stint at High-A.
Campos was a highly touted prospect back in the day — I had him as the team's fifth best prospect prior to the 2012 season — thanks to his mid-90s fastball, good command, and promising secondary stuff. Obviously he's fallen off the map since then, though Cashman says Campos is sitting in the low-90s now and touching the mid-90s. All the lost development time (only 137 innings from 2012-15) could mean his future lies in the bullpen.
The Yankees added Campos to the 40-man roster in November 2013 to protect him from the Rule 5 Draft. They non-tendered him last offseason to get him off the 40-man roster then re-signed him to a minor league deal. Campos has two minor league options left (by my unofficial count) and can become a minor league free agent after the season if he's not added to the 40-man.
I'm not sure whether using a 40-man spot on a potential reliever yet to pitch above High-A is a smart move, but it might be the only way the Yankees can keep Campos in the organization. Another club might be willing to give him a 40-man roster spot should he become a free agent.