The following is a guest post previewing tonight's wildcard game umpires from Adam Moss, who you know as Roadgeek Adam in the comments. He's previously written guest posts on Tim McClelland, Frankie Crosetti, the No. 26, Casey Stengel, Leo Durocher, and Miller Huggins.

Well, here we go. The first postseason since I started these umpire reviews in the comments of River Ave. Blues. Major League Baseball Communications tweeted out the roster of umpires for the Wild Card games and the American/National League Division Series last night. Generally, in the postseason, we have six umpires, including one in left and right fields. Famously the right field umpire in 1996 came into play with the Derek Jeter/Tony Tarasco fly ball-home run incident in the 1996 American League Championship Series with Jeffrey Maier. The right field umpire that day was Richie Garcia (American League – No. 19) who called it a home run and dealt with Tarasco, Davey Johnson and Armando Benitez at the same time.
The Wild Card game and outfield umpires also reared their ugly heads in the 2012 National League Wild Card game when Andrelton Simmons popped up to left field and the infield fly rule was called by Sam Holbrook (No. 34), which caused poor behavior by the fans of the Atlanta Braves. The left field umpire, Holbrook, decided the IFR was needed despite Pete Kozma being out 75 feet into left field. The call, before the days of review, basically was upheld.
That being said, let's take a look at who will be umpiring tonight's game at Yankee Stadium.
Eric "Car Wreck" Cooper (No. 56 – HP)
The Des Moines, Iowa native, Eric Cooper, is our home plate umpire for tonight's game. Cooper, who was with the crew run by Gary Cederstrom (Crew Q), called home plate for 17 games in the 2015 season, logging a 3.79 umpire's ERA and a 1.20 umpire's WHIP. The former is good enough for 46th of the 89 umpires in Major League Baseball this year. Hitters with Cooper behind the plate have had 8.1 hits per 9 innings, a 2.7 walk per 9 innings, and 7.8 strikeouts per 9 innings rate, numbers that would lead you to believe he is a hitter's umpire. However, his tendency is to have a large strike zone and it shows. Cooper has called three no-hitters, including Hideo Nomo's 2001 over the Orioles and both of Mark Buerhle's in 2007 and 2009. Hitters are hitting a mere .241/.296/.401 with Cooper behind the plate and only a 1.04 HR per 9 innings, which also corresponds well to the size of the zone.
As for his ejection tendencies, Cooper is a hothead. His most famous incident comes in 2013, when A.J. Burnett and Russell Martin were arguing with him over a call, and Cooper got out from behind the plate, charged toward Burnett and point at him for warnings about his "behavior," leading to Pirates manager Clint Hurdle coming in and arguing with Cooper. No one was ejected that day, but that being said, Cooper has a grand total of 61 ejections since he joined MLB on June 17, 1996 as an umpire for the American League. Somehow, in that time period, none have been of the Yankees, but there have been couple for the Mets (Bobby Valentine in 1999 and Mike Piazza in 2005).
Finally, the "Car Wreck" nickname comes from Cooper's World Series assignment last year, when Joe Torre called from New York to tell Cooper he would be umpiring the Fall Classic. He and his wife were in West Des Moines coming back from a showing of Gone Girl, and he nearly wrecked his car in amazement with his wife in it. They ended up switching positions in the car after the call. He ended up calling one of his fellow veteran umpires, and one of my favorites, the great Tim McClelland about the decision, who told him to "soak it all in."
Paul Emmel (No. 50 – 1B)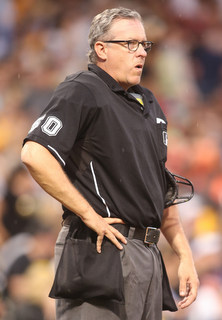 Ergh, we go from a car wreck to another hothead. Paul Emmel also is a massive hothead. However, we will get to that later. Emmel worked on Jerry Meals' crew in the regular season and had to manage 19 games behind the plate, logging a 4.02 ERA (best for 27th of 89 in the league). Hitters are also hitting at a 1.26 WHIP (higher than Emmel). The 4.02 ERA would open the door to a hitter's umpire, as well as the rest of the numbers: 8.3 hits per 9, 3.0 walks per 9 and 7.5 strikeouts per 9. Those are all absurdly hitters umpire numbers, but yet, the .244/.309/.386 slash line would care to disagree, as well as the 0.87 home runs per 9 innings. Emmel averages a large strike zone from time to time and sometimes might find a small strike zone.
As for the ejection rate, Emmel, the Midland, Michigan native, has a grand total of 56 ejections since his hiring in July 1999. Most famously for Yankee fans, he threw out Joe Girardi (his 9th as Yankee manager at the time) and Brett Gardner on back to back days in July 2010. That Brett Gardner ejection led to Colin Curtis inheriting the at-bat with an 0-2 count and taking Anaheim's Scot Shields deep for his first big league home run on a full count. There was much enjoyment out of that home run wasn't there? Emmel, who started wearing glasses this year, also had the honors of ejecting Brian Matusz in May for illegal substance during a game with the Miami Marlins.
Ted Barrett (No. 65 – 2B/CC)
Did anyone hear a buzz behind plate? Oh, so no one is shaving behind home plate. It is just Ted Barrett's strike call. Ted Barrett is our second base umpire and crew chief for this series. He was the crew chief for Crew C (Angel Hernandez, Scott Barry and Chris Conroy) and is one of the tallest umpires in MLB at 6ft 4in. A general rule to keep in mind with taller umpires is that they tend to have a hard time with lower strike calls, but Barrett is definitely not that type, as he's a pitcher's umpire true and true. He has a 3.22 ERA (best for 81st of 89!) and a 1.21 WHIP (pretty average actually). However, also weird is the 8.1 hits per 9, 2.9 walks per 9 and 7.8 strikeouts per 9, the latter of which support the idea of tall umpire issues. Here's the kicker however, hitters are slashing a pathetic .237/.298/.359 with Barrett behind the plate. To make things even more blatant, Barrett is the only MLB umpire in history to call two perfect games (Matt Cain's in 2012 & David Cone's in 1999). He also has the Ervin Santana no-hitter in 2011 to his credit.
As for his temper, Barrett is one of the best umpires in baseball when giving players, coaches and managers time to vent. Since hired by the American League on May 27, 1994, the Pasco, Washington native has only 58 ejections and one of the few this season with none! This marks the 4th season Barrett has not thrown anyone out (1995, 2009, 2010 and 2012 being the others). He has only ejected one Yankee in 21 years, and that was Ivan Rodriguez on September 8, 2008 for fighting with Torii Hunter when the latter played for Anaheim. The Umpire Ejection Fantasy League, which I am a member of, rated Barrett the best umpire in the league in 2014, and I wouldn't be surprised if he's up again in 2015 for the same award. He's that good.
Bill Miller (No. 26 – 3B)
If you see a ball from Bill Miller, you best take it, because you probably won't see it again before the at bat is over. Miller is notorious for possibly having a strike zone and a half, and I mean a half. There's almost 2 strike zones when Miller is behind the plate and it's not unknown that he'll call ANYTHING a strike. Just ask Brett Lawrie in 2012 about that one. Miller worked 19 games behind the plate as a crew chief for Crew P (Doug Eddings, Jim Wolf, & Adrian Johnson) and somehow managed a 3.55 ERA and 1.23 WHIP (both very average numbers). That said, he has an 8.5 hits per 9 rate, a 2.5 walks per 9 rate and a 8.2 strikeouts per 9, the latter two are pitcher's umpire. Hitters are slashing a pure .249/.304/.375 with him behind the plate and not hitting home runs at all (0.67 per 9). If you're going to enjoy 0-0 games, enjoy Bill Miller, if not, yuck.
As for his temper, he's definitely not the worst out there, and you can see how he got to crew chief status. That said, lord does he have ejections around everywhere for balls and strikes and called third strikes. Since being hired by the AL on July 28, 1997, Miller has 45 ejections, most of which are for the strike zone. His only one with the Yankees is Johnny Damon on September 18, 2006 against the Toronto Blue Jays, in which Damon was ejected for balls and strikes from the on deck circle. It is absurdly rare that the on deck player gets ejected, so Damon accomplished quite a feat. But those who know Miller well know the escapade in Toronto with Brett Lawrie, in which Miller called 2 strikes in the 1.5 strike zone and Lawrie threw his helmet at Miller. A fan got revenge later by throwing a beer at him.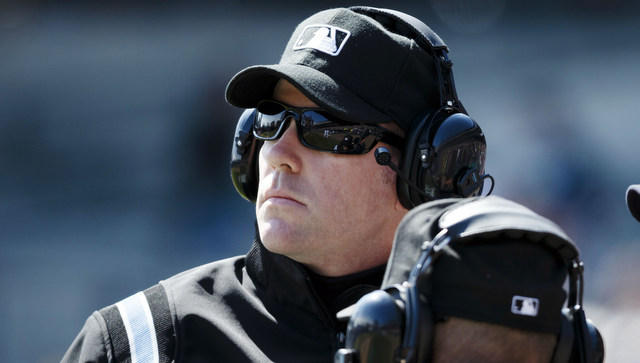 Chris Conroy (No. 98 – LF)
Now that the veteran umpires have been tackled, we get to deal with the two who will be working the left field and right field positions, and honestly, I wish we had veteran umpires here, because the newbies for postseason work are doing them. The first is the North Adams, Massachusetts native Chris Conroy, who was promoted to the full-time staff in June 2013 after Brian Runge failed a drug test. (Yes, umpires get tested too!) Conroy has only been in the league since 2010 and I don't have much to say. This season, as part of Ted Barrett's crew, Conroy worked 18 games behind the plate, and came to a 3.70 ERA (52nd of 89 in the league) and a 1.31 WHIP (higher end). The rest of the numbers scream hitter's umpire however, with a 9.1 hits/2.7 walks/7.2 strikeouts per 9 innings this season, as well as a .263/.318/.387 slash line. He is basically a hitter's umpire.
Conroy, having only been in the majors since September 29, 2010, has a low ejection total, with a grand total of 9, including 3 this season. He has not ejected anyone in the city of New York and only one in the NL East (DeMarlo Hale) for bench jockeying on April 28, 2013. Not much to see here, move on.
Manny Gonzalez (No. 79 – RF)
Finally, we get the other youngin' for this crew and that is Manny Gonzalez. The Caracas, Venezuela native is our right field umpire and is quite possibly one of the biggest hitter's umpire in the game, with an insane 4.51 ERA (8th of 89) and a 1.48 WHIP (highest in the league for anyone worked at least 10 games). These numbers speak for themselves in his 22 games behind home plate as a member of Crew O (Fieldin Culbreth's). Hitters have a 9.9 hits/3.4 walks/7.7 strikeouts per 9 innings slash line and that alone screams tight zone with the propensity to hit. Hitters average 1.05 home runs per 9 and a .280/.347/.438 slash line. If you want a slugfest, this is your man, because he'll produce one real quick with those numbers.
As for Gonzalez's temper, there's not much detail to work with. He only has four ejections since his hiring on May 17, 2010. His very first ejection was of Ike Davis on September 26, 2012 on a call at first (which I remember quite clearly); the others are of Jhonny Peralta, Jeff Banister and Ian Kinsler, the latter two of which were this year. He's had ejection free seasons three times now (2010, 2011 and 2014) and this season will be his first with two ejections.
Conclusion
I mean, the hitting stats are pointless in the fact that only Eric Cooper's is whose matters, but the ejection rates matter, and while the Commish usually asks umpires to be more reasonable in the playoffs, it's not like they don't eject people in the playoffs either. We have the tale of two crews (3 hitter's umps and 3 pitcher's umps, including Lord deStrike, Bill Miller) and hopefully there's no blasphemous calls that requires Barrett, Torre and [insert umpire here] to hold a press conference after the game, which has been in the case in recent years.