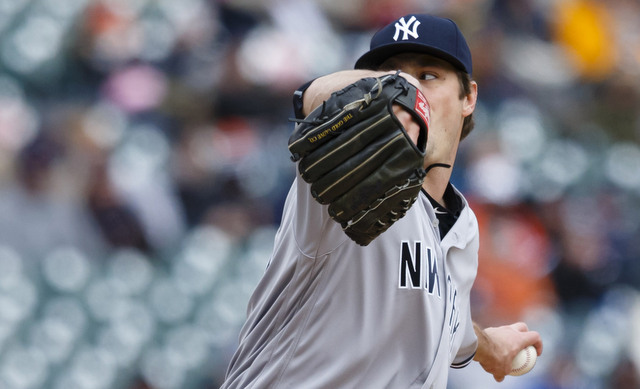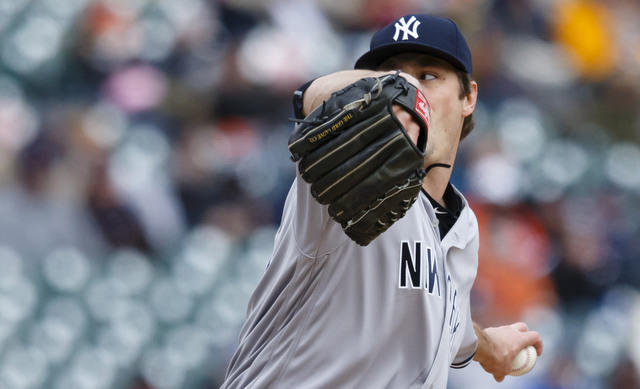 The trade deadline is now only six weeks away, and unless the Yankees get hot and go on an extended run between now and then, they're going to have to seriously consider selling. The Yankees are four games back of the second wildcard spot with four teams ahead of them. FanGraphs pegs their postseason odds at 13.8%.
According to Ken Rosenthal (video link), five contending teams are already showing interest in ace lefty reliever Andrew Miller: Cubs, Giants, Nationals, Dodgers, and Rangers. We've already heard that the Giants and Nationals want Miller, and that the Cubbies have been scouting New York's bullpen. The Dodgers and Rangers are obvious fits too. I have some thoughts on this.
1. Push Chapman on the Nationals. Because Aroldis Chapman will be a free agent after the season, there should be a greater sense of urgency to trade him than Miller, who has two years left on his deal. The Nationals don't have a history with Chapman but they kinda do. Dusty Baker was his first manager with the Reds and Washington reportedly tried to trade for him this offseason, even after the domestic violence incident. The Yankees just beat them to it. Hopefully the Yankees can exploit that interest, send Chapman to the Nats for a big package, then look to move Miller elsewhere.
2. The Rangers have more to offer than anyone. To me, no team has as much to offer for Miller (or Chapman) as the Rangers. They have both high-end young big leaguers (Jurickson Profar, Nomar Mazara) and high-profile prospects (Joey Gallo, Chi Lewis Brinson, Luis Ortiz) to trade, though obviously some are more available than others. I'd be stunned if Texas traded Mazara, and I think it would take a lot to pry Profar loose. Certainly more than a reliever, even a great one like Miller.
That said, Rangers GM Jon Daniels has a history of being aggressive and paying big at the trade deadline. He gave up a lot to get Ryan Dempster and Matt Garza a few years back, most notably. Texas has the best record in the AL (45-25), a huge lead in the AL West (8.5 games), and an awful bullpen (4.76 ERA). I can't imagine Daniels will not address his relief crew at the deadline. The Yankees have great relievers to offer and the Rangers can offer a lot in return. It's a really great match.
3. A bidding war between the Giants and Dodgers would be sweet. The Giants have won eight straight games to open a 6.5-game lead in the NL West, and while that is hardly insurmountable in mid-June, it sure is better than being neck-and-neck. You know the Dodgers don't want to fall behind any further. Both teams have some bullpen issues and, of course, they're big time historic and intradivision rivals.
Creating a bidding way between the Giants and Dodgers could be awfully beneficial to the Yankees. The Dodgers have more to offer if you look at prospect lists and whatnot, but I wouldn't rule out the Giants cobbling together enough to beat them out for Miller (or Chapman). Either way, the best possible thing for the Yankees would be the Dodgers closing the NL West gap a bit in the next few weeks. If the San Francisco bullpen could blow a few games during that time, that would help too.
4. More teams will get involved. The Cubs, Giants, Nationals, Dodgers, and Rangers are the most notable contenders looking for bullpen help, but they're far from the only teams in need of relievers. The Orioles, Red Sox, Blue Jays, Indians, and Mets all figure to be in the market for bullpen arms at the deadline. Would the Yankees trade with another AL East team? I doubt it but they shouldn't rule it out. If that's the team that offers the best return, why not take it? In theory, an intra-division trade means you'd be improving your organization and making a rival's worse, right? Just go into the deadline with an open mind. There will be plenty of suitors. Listen to them all.