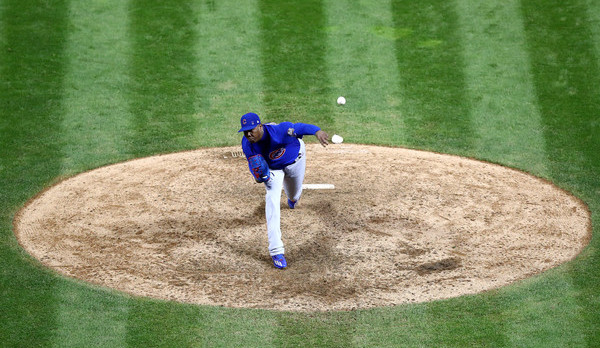 At the GM Meetings yesterday, Brian Cashman acknowledged the Yankees have already reached out to Aroldis Chapman and a number of other free agents. We know they're looking for "pitching, pitching, pitching" this offseason. "I've started making my phone calls to free agents. I've reached out to a number of them," said the GM to Brendan Kuty.
Interestingly enough, the exclusive negotiating period did not expire until 12:01pm ET this morning. Cashman admitted reaching out to free agents during the exclusive negotiating period. Whoops. I'm sure there's some kind of loophole or technicality that makes this okay, or maybe Cashman just misspoke, otherwise he might get a little slap on the wrist from MLB. The commissioner's office doesn't take too kindly to tampering.
Anyway, I can't find exactly where I wrote this, but a week or two ago I said I get the feeling the Yankees will try to act quickly this offseason and get deals done before bidding wars begin. That's a little risky because the new Collective Bargaining Agreement is coming and we don't know what that means for free agency. The Yankees could roll the dice and assume nothing major will change.
Checking in with Chapman as soon as possible makes sense. The Yankees seem dead set on signing him and Chapman said he enjoyed his time in New York, so it's good to reconnect early. This isn't a CC Sabathia situation though. The Yankees put a mammoth offer in front of Sabathia on Day One of free agency back during the 2008-09 offseason. They let other clubs know they shouldn't even bother.
Unlike Sabathia eight years ago, free agency offers alternatives to Chapman. There's Kenley Jansen and Mark Melancon, most notably, but maybe Greg Holland works out, or the underrated Brad Ziegler finally gets some well-deserved respect. Also, this sort of stuff happens all the time. Teams reach out to free agents early in the offseason to let them know they're interested. That doesn't mean serious contract talks are underway.
Either way, I'm not surprised to hear the Yankees are already talking to Chapman and other free agents. That's exactly what they should be doing. The wait for the new CBA might slow the hot stove down a bit — teams are going to want to know the rules before spending any serious money — but that doesn't mean nothing happens behind the scenes. Now's the time to get your foot in the door and start talks.
"I just want to bring in more talent," said Cashman to Kuty. "It's too early to say who's going to do what. It depends how the winter goes. (Dellin Betances) finished the season as our closer. So until or unless I find something better, which is pretty hard to do, but so right now he'd be the closer if the season was starting today. But it's not."