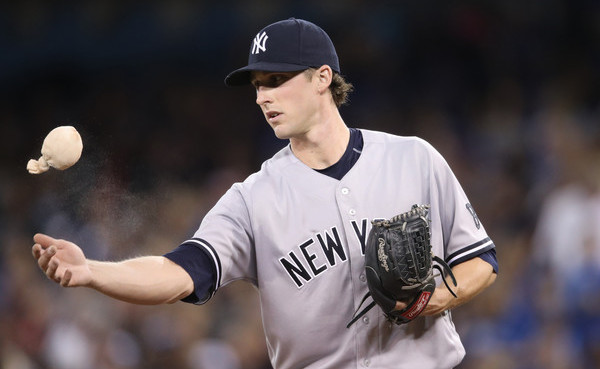 At this very moment, with pitchers and catchers still eleven weeks away from reporting to Spring Training, the Yankees have three rotation spots accounted for. Masahiro Tanaka, CC Sabathia, and Michael Pineda will occupy the top three spots in whatever order. The other two spots? Those are up in the air right now, and Hal Steinbrenner indicated both could go to young pitchers.
"There's going to be competition in the starting rotation (in the spring), we know that," said Hal during a recent YES Network interview (video link). "We've got (Adam) Warren. We've got (Chad) Green, (Luis) Cessa, (Luis) Severino, (Bryan) Mitchell. We've got good options for two spots. That's going to be pretty fun to watch, I think."
The Yankees are going young wherever possible, so much so that they've been trading productive veterans for prospects since the trade deadline. The Brian McCann trade is the most recent reminder. Going young in the rotation is slightly different than going young in the lineup because of innings limits and things like that, but it is doable. Anyway, I have a few thoughts on this.
1. Hal is probably just posturing. The Yankees would say they're planning to go young in the rotation even if they were dead set on acquiring another starter. There's nothing to be gained from broadcasting your free agent and trade intentions. The Yankees have been connected to a few free agent starters this year, most notably Rich Hill and Jason Hammel, and I don't think Hal's statement changes anything. The fact the team has gone young and put their money where their mouth is these last few months makes what Hal said even more believable, and that's good. It's never good to appear desperate during free and trade talks.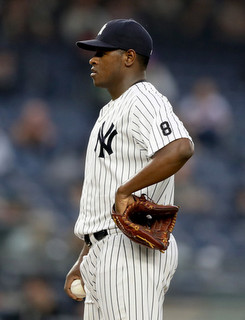 2. Severino isn't locked into a spot. Steinbrenner mentioned Luis Severino among the pitchers set to compete for a rotation spot and that's reassuring. I don't think Severino should be considered a lock for the 2017 rotation by any means. Not after what happened this year. Let Severino come to Spring Training and earn a rotation spot by showing he has faith in his changeup and can consistently locate his secondary pitches. And if he does that, great. Put him in the rotation. If not, send him to Triple-A to keep working on things. Severino would be far more valuable to the Yankees in relief than in Triple-A, but this is about the big picture here, and the team shouldn't give up on him as a starter yet. Patience, yo.
3. The competition isn't limited to Spring Training. Spring Training competitions are overblown. They happen every year in every camp, so they are worth following, but the competition doesn't end on Opening Day. Whoever wins the roster spot — in this case two rotation spots — has to perform well to keep the job, otherwise someone else will get a chance. The Yankees have some nice rotation depth at the moment — in addition to guys Hal listed, there will also be Chance Adams, Dietrich Enns, and Jordan Montgomery in Triple-A — so if they give someone a few starts and he's not cutting it, they can make a change quickly. You don't win a roster spot in Spring Training and automatically get to keep it all season. The competition never ends.
4. How will the 26th roster spot come into play? Reports indicate MLB will adopt the full-time 26th roster spot with the upcoming Collective Bargaining Agreement, which will change how teams build their roster at least somewhat. My guess is most teams, including the Yankees, will use that roster spot on an extra pitcher. Teams would much rather run out of position players than run out of pitchers.
The extra roster spot would give the Yankees the flexibility to do something unconventional like, say, a six-man rotation or tandem fifth starters. They could have their fifth starter go through the lineup twice, then the tandem reliever comes in to go through the lineup twice as well. That's an entire post for another time, but the 26th roster spot could definitely impact the way the Yankees build their rotation. Heck, maybe Hal meant they're going to use a six-man rotation, sign a starter, then let the kids compete for the fifth and sixth spots. Who knows?