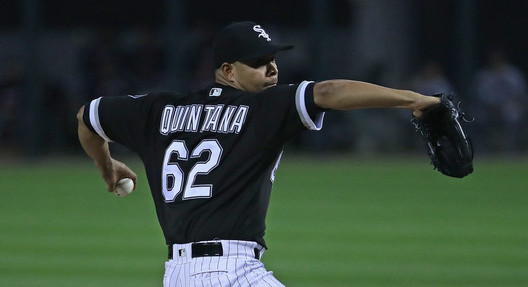 From the no duh department: the Yankees have some level of interest in White Sox lefty Jose Quintana, according to Jon Morosi. How serious is their interest? Who knows. Could be minimal, could be serious. The White Sox are very much in sell mode at the moment and Quintana is their top trade chip now that Chris Sale and Adam Eaton have been traded away.
Here is my Scouting The Market post on Quintana from earlier this month. The short version: he's very good with a great contract, and there are no obvious reasons to believe his performance is about to decline. Every team in baseball wants Quintana in their rotation. Not every team has the wherewithal to acquire him though. Anyway, I have some thoughts on this.
1. The Yankees definitely have the prospects to make the trade. The Yankees have a dynamite farm system right now, arguably the best in baseball, so they have the prospects to acquire Quintana. Heck, they could offer the White Sox a package of three top 100 prospects and still have no fewer than three top 100 guys left in the system. Does Chicago want outfielders? Shortstops? Pitchers? Whatever it is, the Yankees have it. The trade chips are there.
2. The Yankees should be open to trading prospects. I know the Yankees are in the middle of a youth movement and all these prospects are important to their long-term future, but they should not be averse to trading a few of them either. Not all these prospects are going to work out. That's baseball. Some of them will end up having zero MLB value and the Yankees will regret not cashing them in as trade chips. The tricky part is figuring out which prospects are worth keeping and which should be traded.
3. The price is going to be very high. After the Sale and Eaton trades, White Sox GM Rick Hahn said he focused on acquiring the best talent possible and not filling specific needs. That's what the Yankees did at the deadline and what every rebuilding team should do, really. Hahn traded Eaton for three pitching prospects even though he needs long-term second base and outfield help, for example.
Sale is the bigger name but his trade value shouldn't be much higher than Quintana's. Strip away their names and your preconceived notions of each, and they're pretty damn similar. Check out their 2014-16 performances:
| | Ages | IP | ERA | FIP | bWAR | fWAR |
| --- | --- | --- | --- | --- | --- | --- |
| Pitcher A | 25-27 | 609.1 | 3.03 | 2.96 | +14.8 | +16.6 |
| Pitcher B | 25-27 | 614.2 | 3.29 | 3.19 | +12.6 | +14.7 |
Pretty much indistinguishable. The difference between the two is +2 WAR across three seasons, which a) isn't much at all, and b) doesn't matter because you're not acquiring the 2014-16 version of either pitcher. You're getting the 2017 and beyond versions. Quintana, who is Pitcher B in the table, is under control one more year than Sale, which is pretty big.
Point is, the Yankees are smart to have interest in Quintana, even after letting him go for nothing as a minor league free agent however many years ago. If they want him though, it's going to hurt. They're going to have to give up multiple top prospects to add this guy to the rotation.
4. Quintana is exactly the kind of pitcher the Yankees need. The Yankees have basically no established big league starters under control beyond 2017. CC Sabathia and Michael Pineda will be free agents next winter, and if Masahiro Tanaka is still around after next season, it means something went wrong and he didn't opt-out. Maybe one of the kids will emerge as a reliable starter next summer. Maybe two will. That'd be cool.
Either way, the Yankees have a clear need for long-term rotation help, and when you put together a checklist for the type of pitcher they'd like to acquire, it probably looks something like this:
Young
Track record of excellence
No injury history
Affordable long-term contract
Preferably left-handed for Yankee Stadium
That's it, right? That's the kind of pitcher the Yankees want to acquire. Well, Quintana is all of those things. He's only 27, he's never been hurt, he's signed through 2020 for about what the Diamondbacks will pay Zack Greinke in 2017 alone, and he's a southpaw with a history of success in the DH league.
The Yankees are probably hesitant to dip into their farm system and trade multiple top prospects for an established big leaguer, and I get it. But, if they're going to make a move like that, Quintana is the type of player you do it for. He checks every box.