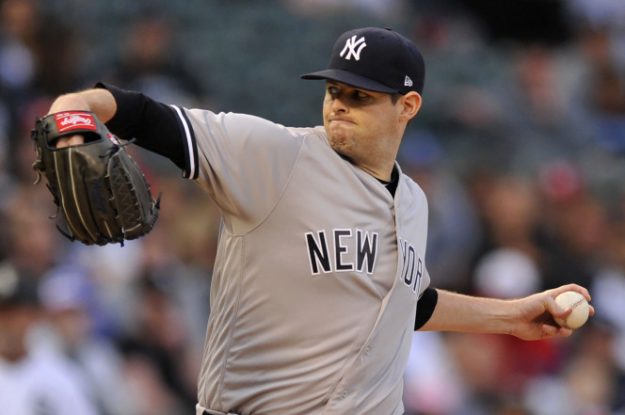 Too close for comfort
The Yankees started their seven-game road swing with a win over the White Sox on Monday night, a game that nearly became an epic disaster thanks to this month's recurring nightmare – The Bullpen Meltdown. The Yankees took a 6-1 lead into the ninth inning, but Chasen Shreve and Aroldis Chapman combined to surrender four runs before escaping with the 6-5 victory.
Getting back to the positives … Jordan Montgomery played the role of Streak Stopper with seven strong innings, eight strikeouts and one run allowed.
That performance capped off his best month in the big leagues, going 4-0 with a 2.59 ERA and 31 strikeouts over five June starts. He is just the sixth Yankee lefty under the age of 25 to put together a month with a sub-2.60 ERA and at least 30 strikeouts. The most recent guy to do it was Andy Pettitte in September 1996. The rest of the list: Dave Righetti (three times), Al Downing (August 1963), Whitey Ford (August 1953) and Lefty Gomez (twice).
Breaking news: Aaron Judge did not hit a homer in this game. But he was still a key offensive sparkplug with his 48th, 49th and 50th walks of the season. The only other Yankee age 25 or younger with at least 25 homers and 50 walks before the All-Star break (since 1933) was Mickey Mantle in 1956.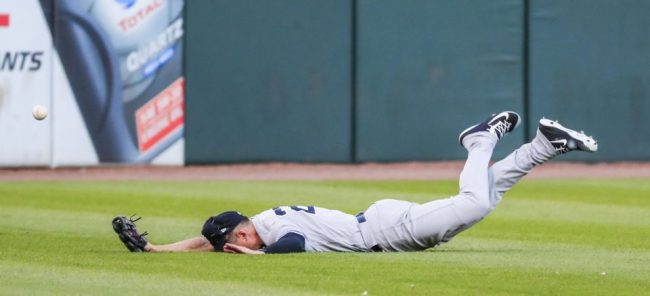 Rock bottom
We have a new contender for W.L.O.T.S. (Worst Loss Of The Season). Tuesday's gut-wrenching loss established new levels of bullpen frustration and dreadfulness, as the Yankees snatched defeat from the jaws of defeat with an epic meltdown in the bottom of the ninth inning.
The Yankees entered the game as one of six teams this season without a loss when leading at the start of the ninth inning, and ended the game with their unfathomable 14th blown save of the season.
To put that into context, they had five (!) blown saves through 75 games last year – and nearly the same number of save opportunities: 28 in 2016 and 30 in 2017. So, yes, the state of the bullpen is as bad as the numbers say.
Dellin Betances got tagged with the loss and blown save, surrendering a walk-off single with the bases loaded and two outs in the ninth inning. Before the game-losing hit, batters were 3-for-36 (.083) with the bases loaded against Betances in his career, the lowest mark among active pitchers that had faced at least 35 guys in that situation.
The most excruciating part of the loss is that the dumpster-fire relief corps ruined yet another Luis Severino gem. It was the sixth time this season that Severino was in line for the win but the game was blown by the bullpen. That's the most such games for any pitcher in baseball through Tuesday's slate.
Severino was dazzling and dominant, striking out 12 batters with no walks while giving up just one run in seven brilliant innings. At age 23 and 127 days, he became the youngest Yankee ever with at least 12 strikeouts and no walks in a game.
He is also one of just two pitchers this season to have 12 or more strikeouts, no walks, one or fewer earned runs allowed in a game, and not get the win. The other? His teammate, Masahiro Tanaka, on May 26 against the A's. The Yankees are the first team in major-league history with two such games pitched in a single season. Welp.
Welcome to the bigs, Miggy
Less than 24 hours after suffering one of their most devastating losses of the season, the Yankees bounced back with one of their most enjoyable wins, a 12-3 romp in Chicago on Wednesday night.
The star of the show was 22-year-old Miguel Andujar, who re-wrote the record books with an unforgettable major-league debut. Let's go through it plate appearance-by-plate appearance: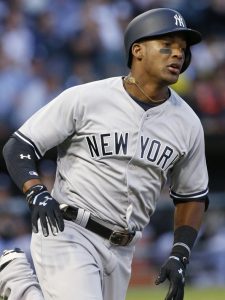 No. 1: two-RBI single. Youngest Yankee (22 years, 118 days) with an RBI in his major-league debut since a 21-year-old Deion Sanders in 1989.
No. 2: single. Youngest Yankee with a hit in each of his first two plate appearances of his MLB debut since Billy Martin did it in 1950.
No. 3: groundout. Booooooooooo.
No. 4: walk, stolen base. Joined Marv Throneberry (1955) as the only Yankees age 22 or younger with multiple hits, multiple RBIs and a steal in his first career game.
No. 5: two-RBI double. Became the first Yankee ever with four RBIs in a major-league debut, surpassing the previous record of three set by Martin in 1950 and Throneberry in 1955.
But that's not all. We've got some bonus fun facts!
He is just the second major-league player since RBI became official in 1920 with at least three hits, four RBIs and steal in his first career game. The other was Roy Weatherly (Indians) in 1936.
And, finally, Andujar is the youngest Yankee with at least three hits, four RBIs and steal in any game since a 19-year-old Mickey Mantle on June 19, 1951 against the White Sox.
Aaron Judge also took his turn in the spotlight when he crushed his 27th homer of the season, a 115-mph laser over the left-field fence. It was his sixth home run of at least 115 mph this season, an astonishing number considering that:
every other player in baseball this season combined to hit just 10 such homers through Wednesday
no player in either 2015 or 2016 hit more than five such homers for the entire season
Before that homer, he walked in the fifth inning, extending his on-base streak to 30 games. Judge is just the third Yankee rookie since 1913 to reach base safely in 30 straight games, along with Truck Hannah (38 in 1918) – yes, a real person! – and Charlie Keller (40 in 1939).
Judge also finished the night with some nice round-number totals for the month of June: 30 runs, 10 homers and 25 walks. The most recent Yankee to reach those numbers in a single month was Mickey Mantle in July 1958. Besides Judge and Mantle, only two others in franchise history have ever put up those stats in a calendar month: Lou Gehrig (four times) and Babe Ruth (13 times, LOL).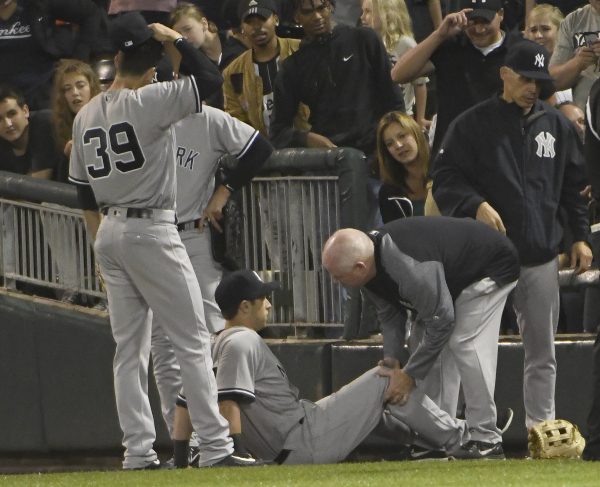 Let's forget this one and go to Houston…
The buzz at the start of Thursday's game was yet another Baby Bomber coming-out party, the third in three games here in Chicago. This time it was outfielder Dustin Fowler, who became the ninth Yankee to make his big-league debut in 2017. That's the third-most MLB debuts this early into the season (77 games) for any Yankee team since 1913 — the only years with more were 2015 (10) and 1944 (11).
Unfortunately, Fowler's showcase ended in heart-breaking fashion as he suffered a ruptured patella tendon on the very first play he was involved in, crashing into the wall in right field trying to catch a foul ball in the first inning, before he even got an official major-league at-bat. Awful, just awful.
As for the rest of the game … the Yankees lost 4-3, their 15th one-run defeat of the season and three more than they had in all of 2016.
So that we don't have to end this on a depressing note, let's finish it off with an Obscure Yankeemetric of the Series, featuring our human highlight film, Aaron Judge.
He was walked three times, including once intentionally with the bases empty in the seventh inning. Judge became the third Yankee in the Divisional Era (since 1969) to be walked intentionally with nobody on base, joining Jason Giambi on July 7, 2003 against the Red Sox, and Reggie Jackson on August 29, 1980 against the Mariners.
At age 25, he's the youngest Yankee ever — or at least since intentional walks became an official stat in 1955 — to get the "Barry Bonds treatment." That last player as young as Judge on any team to get an intentional free pass with the bases empty was a 24-year-old Prince Fielder in 2008 against the Cubs.