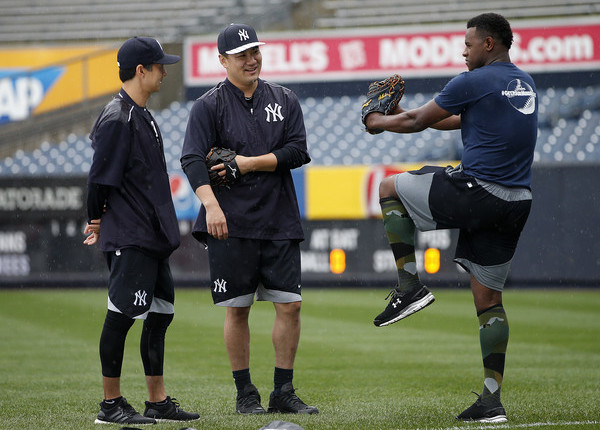 At the moment the Yankees have six viable big league starting pitchers for five rotation spots, which is pretty amazing considering the state of the rotation coming into the season. Masahiro Tanaka, Michael Pineda, and CC Sabathia formed a solid yet fragile front three. The last two spots were very much up in the air. Luis Severino and Jordan Montgomery grabbed them and ran.
The Sonny Gray traded added another high-end arm and, if nothing else, the Jaime Garcia trade added depth. So, even after losing Pineda to Tommy John surgery, the Yankees are still six deep with starting pitchers in the season's final month. And following tomorrow's off-day, the Yankees plan to use all six starting pitchers. They're going to a six-man rotation.
"You have a guy like (Severino) getting into an (innings total) he really hasn't much passed. Sometimes it might help a Tanaka and it might help a CC so that is why we are doing it," said Joe Girardi to George King and Pete Caldera last week. "… Some is the physical part of it, and we feel they might perform at a higher level on a sixth day."
The Yankees will play 13 games in 13 days following tomorrow's off-day, so they'll be able to go two full turns through the six-man rotation. It's September and rosters have expanded, so carrying six starting pitchers is no problem. Rolling with six starters and either a six-man bullpen (nope) or a three-man bench (yep) from April through August is where it gets tricky. That's not the case now.
The six-man rotation comes with pros and cons like everything else. Or, really, it's one big pro and one big con. The pro: giving pitchers rest late in the season. Severino's and Montgomery's workloads are an obvious concern — Severino (169.1 innings) and Montgomery (142.2 innings) have both already eclipsed their previous career high workloads — and something the Yankees need to monitor. They have to protect those young arms.
The four veteran guys could probably use the rest too. Tanaka just spent ten days on the disabled list with what was essentially a dead arm, plus there's the whole partially torn elbow ligament thing. Sabathia had a knee flare-up recently. Gray has had some injury issues the last 18 months and Garcia's injury history is as ugly as it gets. All four of those guys could benefit from a little extra rest now and then. Everyone could.
As for the downside of the six-man rotation, the Yankees would potentially be taking starts away from their best pitchers and giving them to their worst. The postseason races, both the AL East and wildcards, are awfully close. Taking even one start away from Tanaka or Severino and giving it to Montgomery or Garcia hurts the team's postseason chances, at least in theory. (Montgomery or Severino could always come out and throw a gem, I suppose.)
Generally speaking, starters perform better with extra rest, which would maybe mitigate some of that "getting fewer starts from your best pitchers" thing. Here are the numbers quick:
MLB average on normal rest: 4.55 ERA (4.35 FIP)
MLB average with an extra day of rest: 4.38 ERA (4.32 FIP)
There is such a thing as too much rest — the MLB average with two or more extra days of rest is 4.51 ERA (4.48 FIP) — and that's something Girardi acknowledged. "I don't want guys having seven days (between starts)," he said. The numbers suggest an extra day of rest could improve performance, but those are league averages culled from thousands of innings and hundreds of pitchers. Anything could happen in one individual game, or a handful of individual games in this case.
For the Yankees, using a six-man rotation seems more about controlling Severino's and Montgomery's workloads, and giving the four veterans with injury histories a little breather late in the season. The Yankees could always call an audible depending on the postseason races. If things get too tight, they could scrap the six-man rotation and go with their five best. Here's the possible rotation:
Wednesday, Sept. 6th at Orioles: Gray (on normal rest)
Thursday, Sept. 7th: off-day
Friday, Sept. 8th at Rangers: Tanaka (on one extra day of rest thanks to off-day)
Saturday, Sept. 9th at Rangers: Severino (on one extra day of rest thanks to off-day)
Sunday, Sept. 10th at Rangers: Garcia (on five extra days of rest)
Monday, Sept. 11th at Rays: Sabathia (on one extra day of rest thanks to off-day)
Tuesday, Sept. 12th at Rays: Gray (on one extra day of rest thanks to off-day)
Wednesday, Sept. 13th at Rays: Montgomery (on four extra days of rest)
Thursday, Sept. 14th to Sunday, Sept. 17th vs. Orioles: Tanaka, Severino, Garcia, Sabathia all with one extra day of rest
Monday, Sept. 18th to Wednesday, Sept. 20th vs. Twins: Gray, Montgomery, Tanaka all with one extra day of rest
Thursday, Sept. 21st: off-day
The Yankees have, essentially, skipped one Garcia start already when Montgomery got the ball Monday. That doesn't mean he'll sit around for nine days and do nothing between starts. He's a veteran guy and knows what he needs to do to stay sharp. I'm sure he'll throw extended bullpens and all that between starts.
Clearly, the Yankees are more concerned about Montgomery's workload than the raw innings totals would lead you to believe. Only once in his last eight outings has he thrown more than 85 pitches. That was 92 pitches against the Indians last week. Five times in those eight outings he threw fewer than 80 pitches. The Yankees are trying to keep his workload down and that's why I think they'll essentially skip his next start.
A rainout tonight would throw a wrench into things, though the rotation outline above allows for some flexibility. That Twins series could end up being awfully important. If the wildcard race is tight, the Yankees could easily skip Montgomery entirely that series, and go with Tanaka and Severino on regular rest instead. We'll see. Every so often I sketch out these possible rotation plans and they're never right. Injuries and playoff races have a way of changing things.
For now, we know Girardi said the Yankees will use a six-man rotation following tomorrow's off-day, which makes sense given the workload and injury concerns that exist. Extra rest this late in the season is good. But, at the same time, getting fewer starts from your top pitchers in the middle of a postseason race is not ideal. The Yankees very well might have to change their rotation plans if the race gets tighter in the coming days.