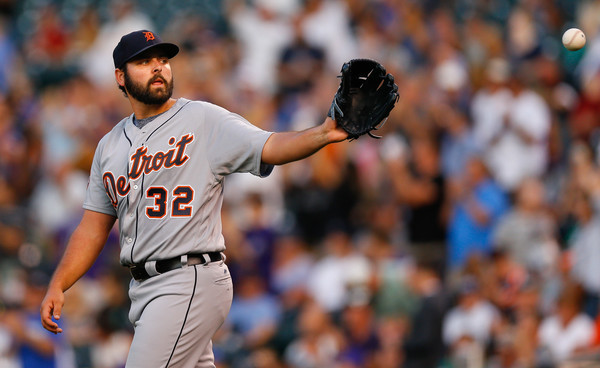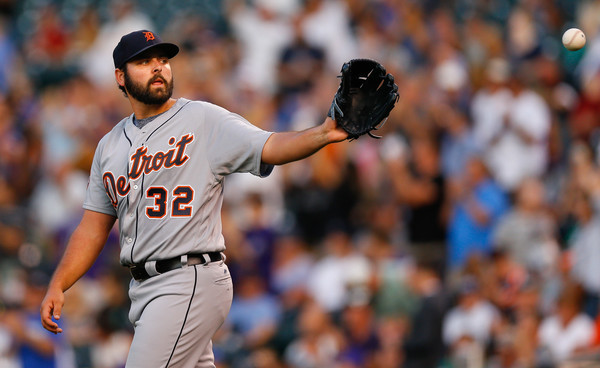 Within the last week the Yankees have added the reigning NL MVP, traded away their starting second and third basemen, and freed up some payroll space under the $197M luxury tax threshold. It's been a busy few days. And the Yankees aren't done either. Yesterday's Chase Headley salary dump was so very clearly a precursor to something else. The Yankees cleared that $13M in salary obligation so they could use it elsewhere.
Starting pitching was a priority coming into the winter and, even after these busy few days, it remains a priority. Luis Severino, Masahiro Tanaka, Sonny Gray, and Jordan Montgomery are a quality top four. The best top four in the AL East, I'd say. But the fifth spot is open and the Yankees might want to handle that top four carefully given their big 2017 workloads. There's even talk the Yankees could acquire two starting pitchers this offseason, not just one.
One name floating around over the last 24 hours or so is Tigers righty Michael Fulmer, who beat out Gary Sanchez for the 2016 AL Rookie of the Year award, not that I'm still bitter or anything. The Tigers are dreadful — they went 64-98 in 2017 and went 13-41 of their final 54 games, if you can believe that — and they're just now starting their rebuild, so keeping Fulmer means hoping he stays healthy the next few years before they're ready to contend. That's risky.
The Yankees certainly have the prospects to trade for Fulmer — "There are a handful of teams out there that have the players to do it," said Tigers GM Al Avila to Jason Beck earlier this week about the possibility of a trade — plus they have the motivation. He's good, he's young, he's cheap, and he's under control for a while. Fulmer would help the Yankees win now and later. Let's break him down as a trade candidate, shall we?
Current Performance
Fulmer's sophomore season was not quite as good as his 2016 debut, though he was still effective and a quality starting pitcher. Here are the overall numbers the last two seasons:
| | IP | ERA | FIP | K% | BB% | GB% | HR/9 | RHB wOBA | LHB wOBA |
| --- | --- | --- | --- | --- | --- | --- | --- | --- | --- |
| 2016 | 159 | 3.06 | 3.76 | 20.4% | 6.5% | 49.1% | 0.91 | .295 | .276 |
| 2017 | 164.2 | 3.83 | 3.67 | 16.9% | 5.9% | 49.2% | 0.71 | .268 | .292 |
| Total | 323.2 | 3.45 | 3.71 | 18.6% | 6.2% | 49.2% | 0.81 | .281 | .284 |
Very good overall. Fulmer is more of a ground ball guy that a strike out guy, and while the Yankees tend to seek out pitchers who can get both, I think they'd be willing to bet on Fulmer being able to increase his strikeout rate going forward through various tweaks and pitch selection changes, things like that. His quality of contact rates held steady from 2016 to 2017:
2016 hard contact rate: 30.4% (31.4% league average)
2017 hard contact rate: 30.0% (31.0% league average)
2016 soft contact rate: 19.2% (18.8% league average)
2017 soft contact rate: 18.1% (18.9% league average)
2016 average exit velocity: 87.0 mph (87.7 mph league average)
2017 average exit velocity: 85.7 mph (86.6 mph league average)
The biggest difference between 2016 Fulmer and 2017 Fulmer is strand rate. He had a 79.0% strand rate in 2016 and a 65.6% strand rate in 2017. The league average is 72.6%. Strand rate is a pitcher skill but only to a certain degree. A lot of is tied to sequencing and general baseball randomness. Sometimes you give up a walk, a bloop, and a blast. Others you give up a blast, a bloop, and a walk.
Strand rate can fluctuate wildly from year-to-year, like it did for Fulmer. Chances are his true talent strand rate is somewhere between 2016 and 2017, which would put him at basically the league average. The decline in strikeout rate could certainly explain the strand rate drop to some degree — fewer strikeouts means more balls in play, and inevitably more hits falling in — but a 3.5 percentage point drop in strikeout rate and a 13.4 percentage point drop in strand rate? Nah. The strikeout rate doesn't explain all that.
The tools are there for Fulmer to be successful and he has been successful in his MLB career to date. He doesn't walk many batters and he gets an above-average number of ground balls. That's a pretty great starting point for a guy who doesn't turn 25 until March. Fulmer did strike out hitters at a below-average rate in his two seasons, though not so far below-average that it's a big red flag. It's not like he was running a 10.6% strikeout rate like Ty Blach, you know?
Current Stuff
Fulmer is a no nonsense pitcher. He throws everything hard. His four-seamer and sinker both sit in the mid-90s, and both his slider and changeup sit in the upper-80s. He's not unlike Severino in terms of velocity. Everything is hard. And Fulmer throws all four pitches regularly.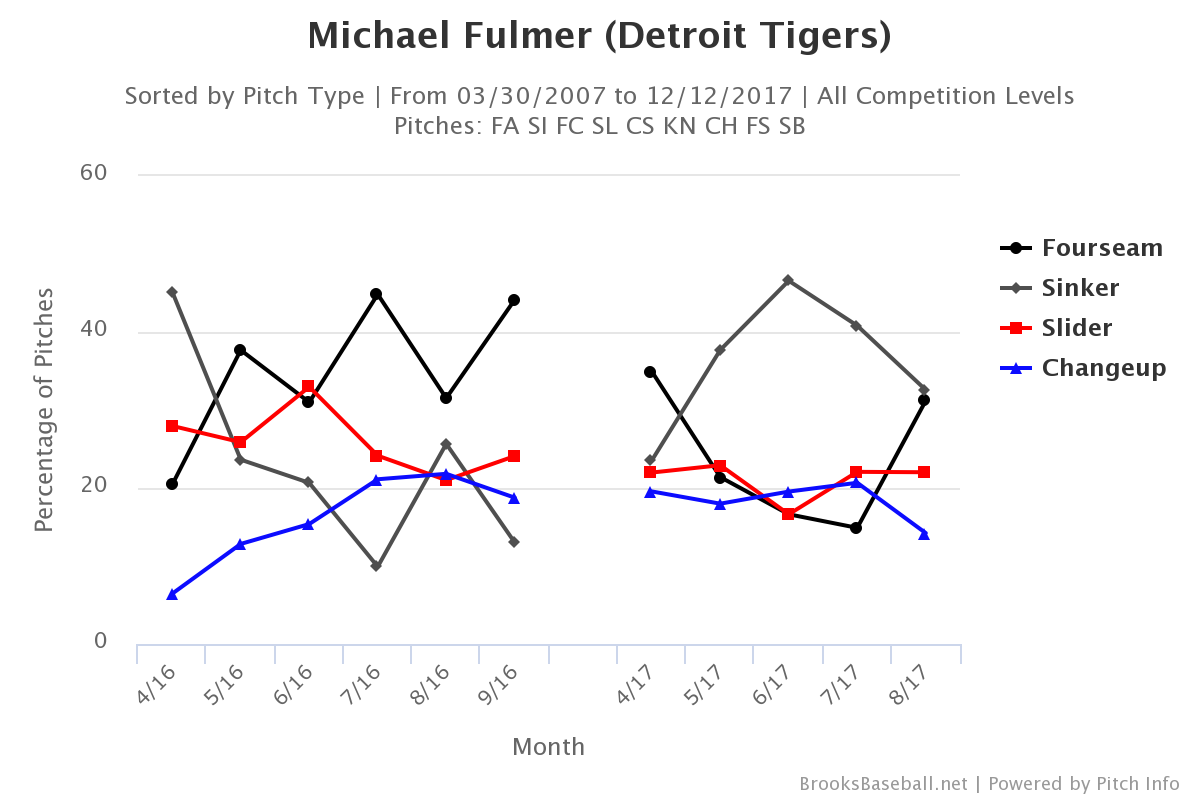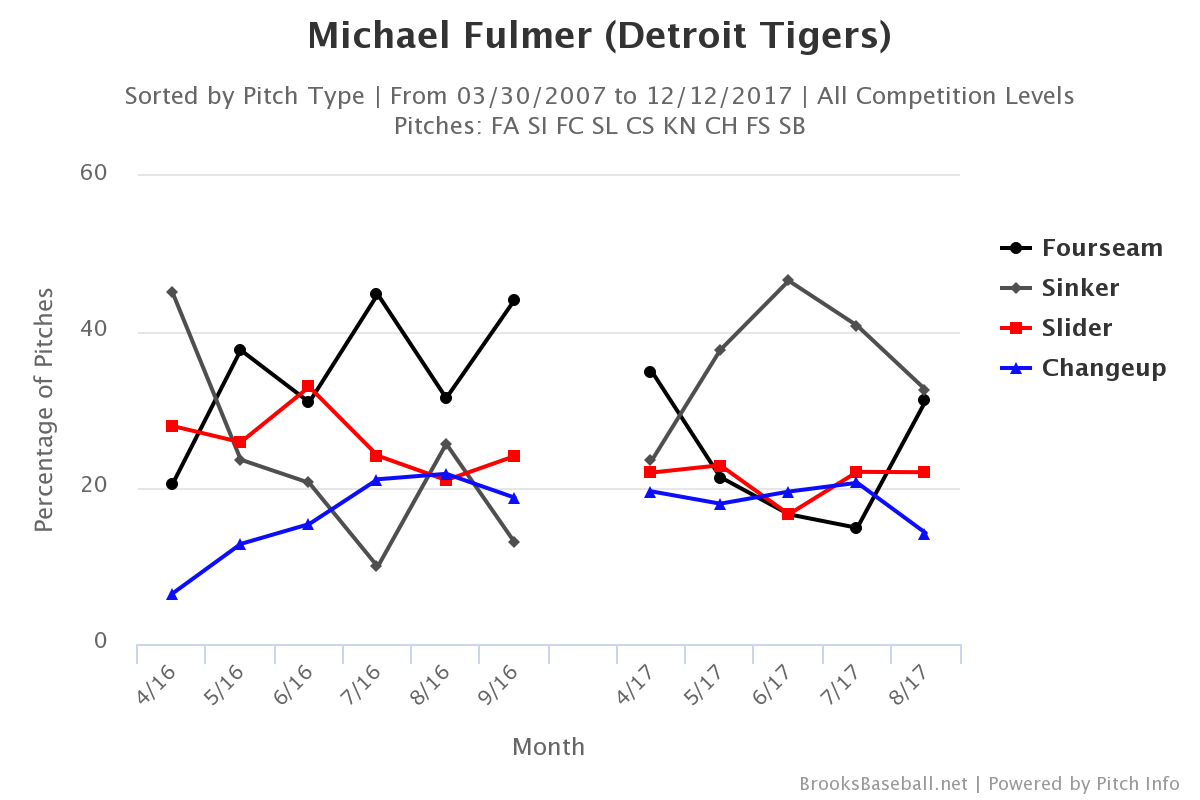 That pitch mix is why Fulmer has had success against both righties and lefties in his career. He has a quality slider for righties and a quality changeup for lefties, and there's plenty of velocity on the two fastballs for everyone. Here's some video from his past season, just so you can see what Fulmer's stuff looks like:
Given his fastball velocity and the way he likes to bury his slider and changeup in the dirt, I can't help but wonder whether Fulmer would be able to increase his strikeout rate by climbing the ladder with two strikes and getting hitters to chase heaters up at eye level. Here are the pitch locations of all his swings and misses in 2017: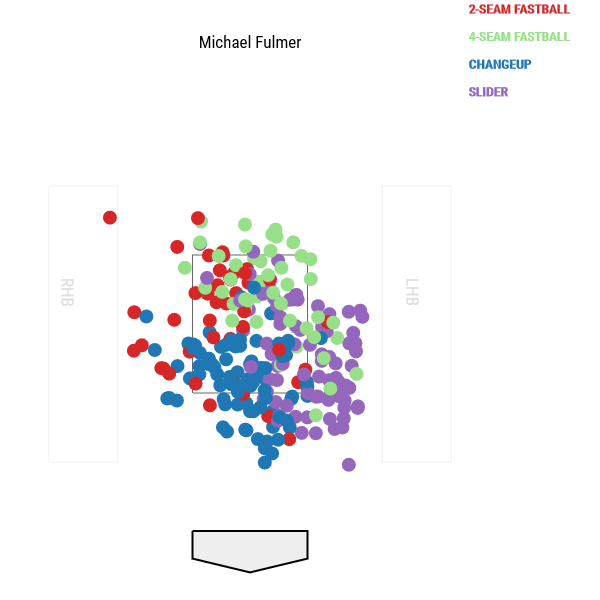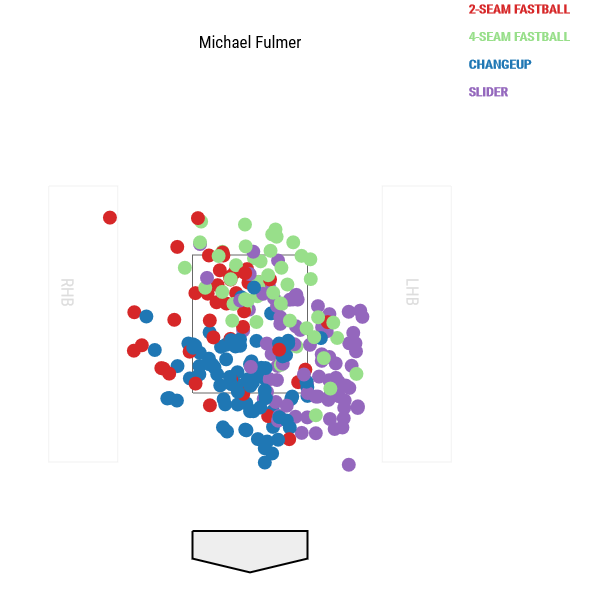 Most of Fulmer's swings and misses came on sliders and changeups down in the zone. There aren't many on fastballs up in the zone or even up and out of the zone. Fulmer generally pounds the bottom of the strike zone with everything, hence the ground balls. There's something to be said for elevating and changing eye levels though. The Red Sox helped Rick Porcello win a Cy Young (lol) by getting him to elevate his heater, so there is precedent for acquiring a talented young Tigers pitcher, making that adjustment, and reaping the rewards.
Injury History
Fulmer does have a bit of an injury history, including a pair of elbow surgeries. Neither was Tommy John surgery though. Here are his injuries:
2013: Surgery for a torn meniscus in his knee.
2014: Surgery to remove a bone spur from his elbow after the season.
2017: Missed a week with shoulder fatigue, then missed two weeks with elbow irritation, then had season-ending ulnar nerve transposition surgery in early-September.
I suppose the good news is Fulmer's elbow is structurally sound. They ran all the tests when his elbow starting barking and everything came back clean. The ulnar nerve transposition surgery means they literally moved a nerve to a different spot to avoid irritation. Jacob deGrom had the same procedure last offseason and was ready for Opening Day, and had a great season. Fulmer is expected to ready for Spring Training. Still though, there are a few too many arm injuries in there for such a young guy.
Contract Status
The Tigers called Fulmer up late last April, which was late enough to push his free agency back a year, so that's cool. He is under team control for another five seasons, so through 2022. Fulmer will be a Super Two — he'll be arbitration-eligible for the first time next year — so his arbitration years will be more expensive than usual, but the most important thing is those five years of control. You're getting this guy for five seasons before he can become a free agent.
Also, Fulmer has two minor league options remaining, so he can be sent to Triple-A, if necessary. Then again, if you trade for him and need to send him down, something went wrong. You don't want to have to use those options.
What Would It Take?
Acquiring five years of a young and very good starting pitcher is going to cost you, no doubt. You're not getting Fulmer for some 40-man roster scraps, even with him currently on the mend from elbow surgery. Not too many guys like Fulmer get traded, so I had a tough time coming up with trade benchmarks. I found two.
Max Scherzer: Traded with a lefty reliever (Daniel Schlereth) for Ian Kennedy and Edwin Jackson in a three-team deal way back in the day. This was a few years before he became three-time Cy Young award winner Max freaking Scherzer.
Michael Pineda: Traded for a top five global prospect (Jesus Montero) with some other players (Vicente Campos and Hector Noesi) involved. You remember this trade.
I'm not sure those trades help us much. Then Mariners GM Jack Zduriencik was supposedly fixated on getting Montero. He went to the Yankees asking for Montero, and the Yankees named their price. The Yankees didn't go to Zduriencik asking for Pineda. Simple supply and demand will control Fulmer's market. The more teams in the mix, the more expensive he'll be.
Avila will surely ask for Gleyber Torres. That's what I'd do. Ask for Gleyber, see what happens, and if you have to negotiate down from there, so be. The Giancarlo Stanton trade likely makes Clint Frazier very available. Can the Yankees build a trade package around Frazier and some lesser secondary pieces? Or will the Tigers push for that strong secondary piece, like Justus Sheffield or Chance Adams? Whatever they want, it'll hurt. Guys like Fulmer should be hard to get.
Does He Make Sense For The Yankees?
For sure. Fulmer is young, he's very good, and he's under control for five more years. Five more years! He's also received positive reviews for his work ethic and competitiveness throughout his pro career. The arm injuries are an obvious red flag, though at least his recent elbow woes are not structural, and involve a procedure with recent precedent for a pitcher quickly coming back at full strength (deGrom).
I get the decline in strikeouts is a concern, though I think that is something can be solved with tweaks to Fulmer's pitch selection and approach, namely using that fastball up in the zone more often. His power stuff is great. The tools to get strikeouts are there. It's just a matter of a young pitcher gaining experience. That sort of thing. Fulmer is not a Nathan Eovaldi type who throws hard and gets hit hard. He's been quite successful doing what he's been doing.
Now, the elephant in the room is the brawlgame with the Tigers this summer. That all started when Fulmer drilled Sanchez in the third game of a three-game series in which Sanchez was whacking monster home runs all over the park. Was it intentional? Maybe not. But it sure seemed fishy. If the Yankees were to make a trade for Fulmer, I would think they'd go to Sanchez first, and see what he thinks. If there's a grudge there, it might be a problem.
The J.D. Martinez, Justin Verlander, and Justin Upton trades were widely panned this summer because pundits did not believe the Tigers received enough, especially for Martinez and Verlander. Will Avila try to make up for that by knocking it out of the park with an Fulmer trade, or is there is a disconnect somewhere? Do the Tigers value their players less than everyone else, or are they overrating everyone else's prospects? Does anyone know anything or anything, or all we all just faking it?
If nothing else, Brian Cashman and the Yankees have shown they are pretty excellent dealmakers these last few years. They came out on the wrong end of the Eovaldi trade. There's no doubt about that. But look at all the other trades they've made. Didi Gregorius, Aaron Hicks, Aroldis Chapman, Andrew Miller, Chapman again, now Stanton. If the Yankees deem Fulmer worth pursuing, I trust Cashman & Co. to make a good trade.