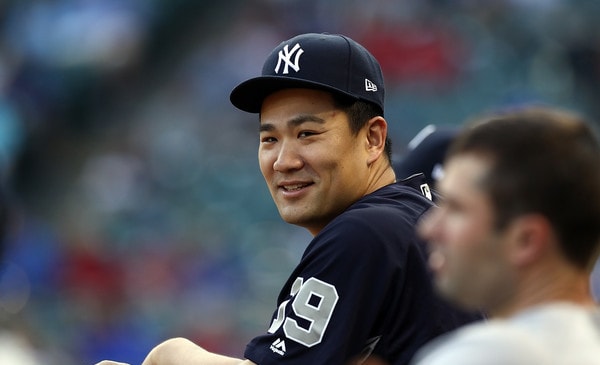 For the second straight season, Masahiro Tanaka has pitched pretty poorly out of the gate. He's had some good starts here and there, but overall, a 4.95 ERA (4.82 FIP) in ten starts is a 4.95 ERA (4.82 FIP) in ten starts. There are 92 pitchers with enough innings to qualify for the ERA title at the moment and Tanaka ranks 81st in ERA and 77th in FIP. The numbers don't lie.
Tanaka's slow start last season was much worse than this season. Through ten starts last year he had a 5.86 ERA (5.31 FIP) and we were talking about skipping starts and phantom disabled list stints and things like that. The Yankees never did any of that. They kept running Tanaka out there, and in his final 18 starts, he had a 3.69 ERA (3.54 FIP). Much better.
Tanaka was able to turn his season around last year by embracing the Yankees' anti-fastball philosophy. He has really strong secondary pitches in his splitter and slider, so he threw a lot — a lot — of them and the results improved. His month-by-month pitch usage through last season: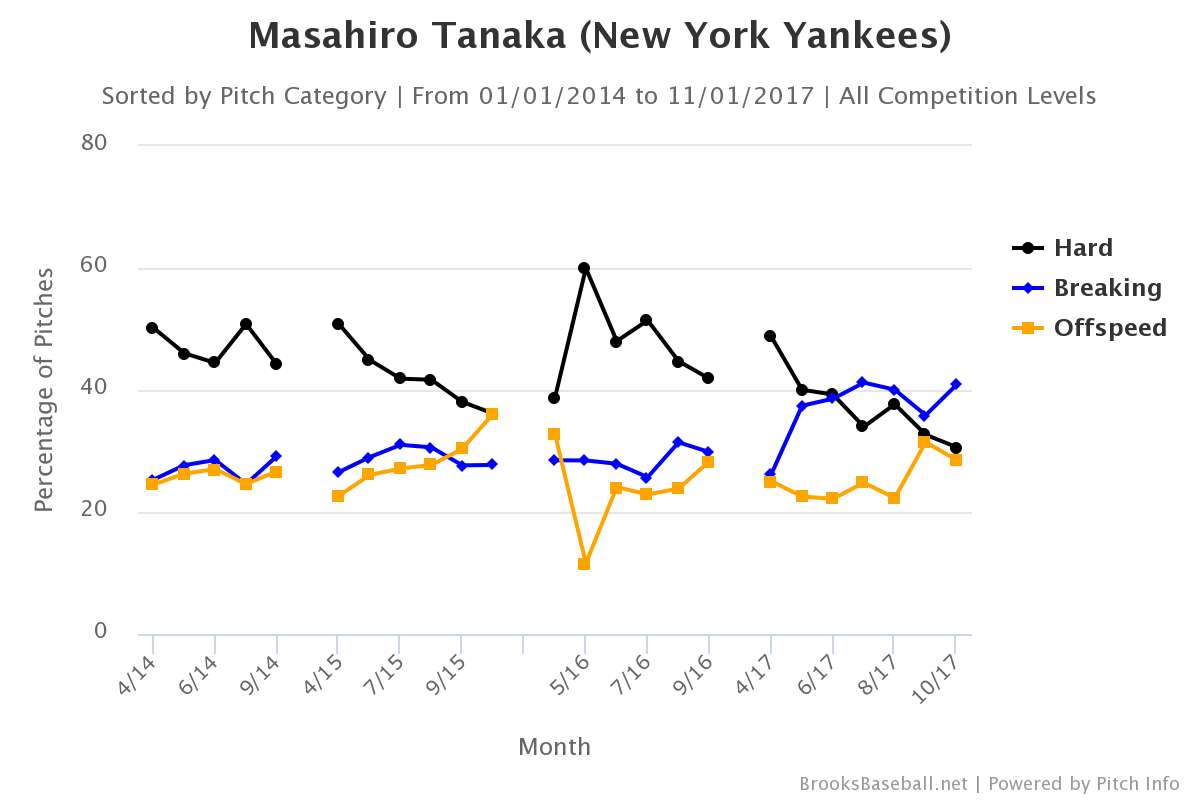 Fewer fastballs, more bendy pitches, better results. We all know the story. Tanaka has continued with the anti-fastball philosophy this year — he's thrown 27.2% fastballs this year, the lowest rate in MLB (Ross Stripling has the second lowest at 32.2%) — because hey, it worked last year, so keep doing it.
Lately though, it seems to me the anti-fastball approach is starting to lose some effectiveness, and I say this because hitters are not expanding the zone and chasing against Tanaka as much as they did last year and earlier this year. His chase rate: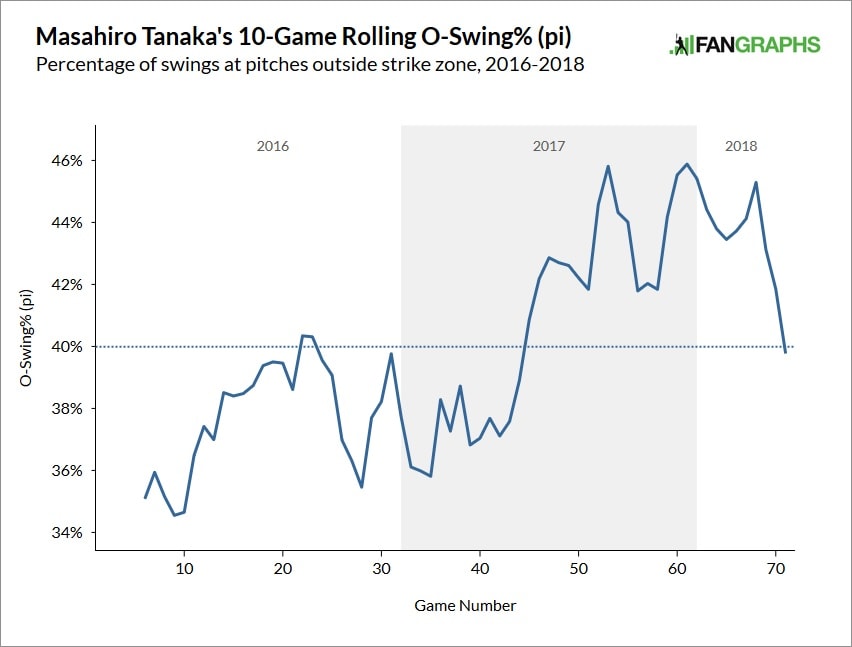 See what I mean? Once Tanaka started throwing so many non-fastballs last year, his chase rate went through the roof. Now the chases are down. It was pretty obvious in his start three days ago, when he walked four batters in five innings against a Rangers team that generally doesn't draw many walks. It's not just the walks either. Tanaka was behind in the count a bunch and that created more problems.
Over the last few years Tanaka has been the best pitcher in baseball at getting hitters to chase out of the zone. That is not an overstatement. Last year's chase rate leaderboard:
Masahiro Tanaka: 42.1%
Corey Kluber: 38.8%
Chris Sale: 37.5%
Zack Greinke: 37.3%
Max Scherzer: 36.8%
Tanaka posted a 39.7% chase rate from 2015-17, which was the best in baseball. Michael Pineda was a distant second at 37.3%. Like I said, Tanaka has been the best pitcher in baseball at generating swings on pitches out of the zone. That leads to swings and misses and it leads to soft contact. If a guy goes outside the zone and makes hard contact, you just tip your cap. More often than not, good things happen for the pitcher when a hitter chases.
This season Tanaka has the second best chase rate (39.8%) in baseball behind Aaron Nola (40.0%), which is really good, but as the graph shows, Tanaka's chase rate is trending down. That could be an indication hitters are beginning to adjust to the anti-fastball philosophy. Hitters aren't stupid. Teams scout, teams do prep work. They know what's up. Hitters know Tanaka doesn't throw many fastballs nowadays and they're beginning to adjust.
Because of that, it might be time for Tanaka to start working his fastball in a little more. I'm not saying he should throw heaters down the middle. But when hitters are thinking splitter down or slider away, you can get catch them looking at fastballs on the corners. We've all seen a hitter take a fastball in the zone for a strike and wonder what he was looking for. Well, he was looking for a non-fastball that would dip out of the zone.
Last year Tanaka struggled early in the season, so he made an adjustment, and in this case that adjustment that was throwing fewer fastballs. Now hitters seem to be adjusting to that adjustment, which means it's time for Tanaka to adjust to their adjustment to his adjustment. Got all that? It's a vicious cycle. It's baseball. A constant game of adjustments. Now that hitters seem to be doing a better job laying off the splitter and slider, more fastballs could be in the cards.