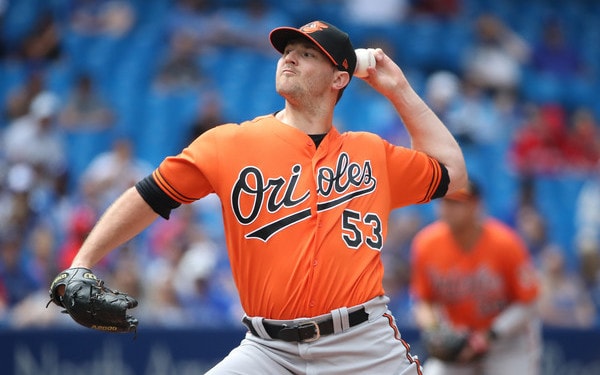 11:48pm ET: The Yankees have announced the trade, so it's a done deal. Officially official. The trade is as reported: Britton for Tate, Rogers, and Carroll. Will Britton make it to Tampa in time for tomorrow's game? Quick turnaround for the 12pm ET start. We'll see.
11:13pm ET: For the second time in eleven years the Yankees have acquired a Britton from the Orioles. According to multiple reports, the Yankees and Orioles have agreed to a trade sending Zach Britton to the Yankees for pitching prospects Dillon Tate, Cody Carroll, and Josh Rogers. These two teams made the Jared Wright-for-Chris Britton trade back in 2007, you may remember. The present day Britton deal is not yet final, which is notable given the O's stingy medical reviews.
The Yankees had been connected to both Britton and Brad Hand in recent weeks, and after Hand went to the Indians for top prospect Francisco Mejia, their focus apparently shifted to Britton. He joins a bullpen that already ranks among the best in baseball in basically everything. The team's bullpen ranks going into Tuesday's game:
ERA: 2.75 (first)
FIP: 3.02 (second)
K%: 31.5% (first)
WPA: +7.73 (third)
Shutdowns: 104 (fifth most) (what's this?)
Meltdowns: 41 (second fewest) (what's this?)
With Aroldis Chapman locked into the closer's role, Britton will join a setup crew that includes Dellin Betances, Chad Green, and David Robertson. Jonathan Holder has started to see more high-leverage work as well. Handedness doesn't matter with pretty much any of these guys, but it will be nice to have a lefty setup option.
Simply put, Britton allows the Yankees to further shorten the game, which is an especially big deal come postseason time. The Yankees could go four-and-fly come October and throw power arm after power arm at their opponent. Let's not get ahead of ourselves though. Gotta get there first. Also, Britton is a pretty great insurance policy in case Chapman's achy left knee acts up again at some point.
One other thing to keep in mind: The Yankees kept Britton away from the Astros and Red Sox, two potential postseason opponents. The Astros and Red Sox were both after him, as were other contenders like the Cubs, Dodgers, Brewers, and Phillies. I'm not sure how much keeping him away from the Astros and Red Sox helps, but it sure doesn't hurt.
Here is my Scouting The Market post on Britton. He returned from a torn Achilles last month and has generally looked better and better as he gets further away from the injury. Britton looks like a guy who's been shaking off the rust following a long layoff, basically. He's thrown eight scoreless innings in his last eight appearances, and both the velocity and movement on his trademark sinker is improving.
As for the trade package going to Baltimore, the deal closely mirrors what the Red Sox gave up to get Addison Reed last year, except that the Yankees headlined the trade with a top ten organizational prospect (Tate) rather than a top 20 organizational prospect because Britton is flat out better than Reed. One top ten prospect plus two fringe top 30 prospects rather than one top 20 prospect plus two fringe top 30 prospects. To be honest, I thought Britton would fetch more given the teams involved.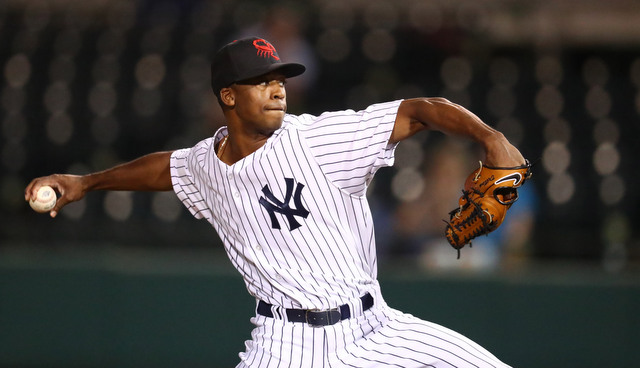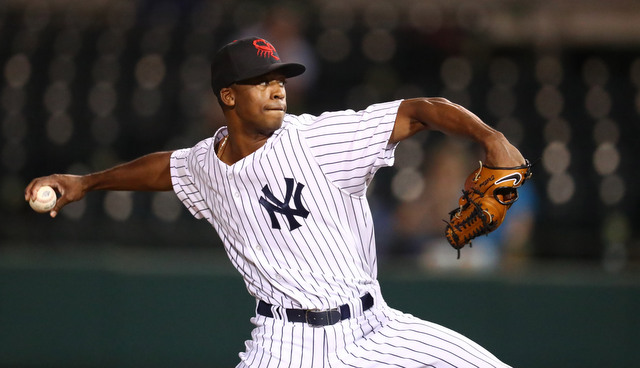 Tate, 24, originally joined the Yankees in the Carlos Beltran trade two years ago. He's missed time with various injuries (hamstring, shoulder, quad) in recent years and has a 3.38 ERA (3.76 FIP) with 21.9% strikeouts, 7.3% walks, and 48.1% grounders in 82.2 innings with Double-A Trenton this season. I ranked him as the team's No. 7 prospect in my most recent top 30 Yankees prospects list.
The 24-year-old Rogers and Carroll are both with Triple-A Scranton. Rogers was New York's 11th round pick in 2015 and he has a 3.95 ERA (4.23 FIP) with underwhelming strikeout (17.7%) and ground ball (40.8%) rates. He's a finesse southpaw who's best case seems to be a poor man's Jordan Montgomery. Carroll, a 22nd round pick in 2015, is a hard-throwing reliever with a 2.38 ERA (2.27 FIP) with 32.2% strikeouts and 10.5% walks this year. The Yankees have about 20 of those dudes in the system.
It's important to note all three prospects will be Rule 5 Draft eligible after the season, so the Yankees cleared out some 40-man roster clutter here. In fact, a few weeks ago I singled out Tate and Rogers as Rule 5 Draft eligible prospects who could be on the 40-man bubble this winter (Tate might be a reliever, Rogers isn't a good fit for Yankee Stadium), making them candidates to be moved at the trade deadline. See? Sometimes I say something smart.
Joel Sherman says the Yankees are taking on remainder of Britton's $12M salary, which is roughly $4.5M or so. Last time I checked, they had about $13M in payroll space remaining under the $197M luxury tax threshold, so they can fit Britton in comfortably. There's plenty of room for additional trade pickups and call-ups and waiver claims and whatnot as well. The luxury tax plan is still in good shape.
Britton is an impending free agent and it is way way way too early to worry about what happens after the season. I imagine he'll look for a closer's job somewhere, in which case re-signing with the Yankees probably won't happen. Perhaps he'll fall in love with the team and the city, pull an Andrew Miller and accept any role, and re-sign as a free agent. We'll see. Don't worry about that now. For now, I consider him a short-term addition only.
In all likelihood adding Britton is the first move for the Yankees before Tuesday's non-waiver deadline, not the move. They absolutely need another starting pitcher and I'd bet the farm on them adding one before the deadline. Who? I'm not sure. But it'll be someone. For now, the Yankees have upgraded an already strong bullpen (this might spell the end of Chasen Shreve), and there's nothing wrong with adding to a strength. The Yankees are a better team now than they were before the trade.