By

Bob Sheppard, the fabled voice of the Yankees, missed the end of the 2007 and all of 2008 with a serious health scare. He contracted a bad case of pneumonia and saw his weight drop to 105 pounds. But Sheppard, 97, made a great recovery, and he recently told the FAN that he finally has his doctor's permission to begin announcing Yankee games again. He'll be in the booth come the April 3 exhibition against the Cubs. Here's to another 57 years of Sheppard's voice at Yankee Stadium. · (21) ·
Joe Girardi's proclamation of Xavier Nady as starting right fielder earlier this week was a bit of a disappointment. Yet at the same time, as we've all noted over the past month, this "competition" will continue throughout the season. Once one hits a slump, chances are the other will start to get the majority of the at bats. While the RAB Triumvirate advocated Swisher, it's not worth crying over.
You might remember an article from earlier this month, via Beyond the Boxscore, in which we presented Sky Kalkman's analysis showing that Nick Swisher is the clear choice for right fielder. The analysis wasn't without flaw; it was based mostly on CHONE projections, which are weighted in Swisher's favor (not all projection systems rate him equally). Today he's back up to it again, breaking down the players by offense and defense. It's pretty tame compared to the last analysis, though it comes to the same conclusion.
Also interesting is how out of line 2008 was for each player. Sky uses wRAA, but we'll just go with wOBA. After wOBAs of .336 and .346 in 2006 and 2007, Nady skyrocketed to .374 last year. Thankfully, that's part of a consistently upward trend. Even if he regresses a bit, to say .365, it would be high-quality season. For Swisher it was a dip from .368 and .361 to .325. Yes, that's a consistently downward trend, but .368 to .361 is hardly significant.
On the defensive end we're learning nothing really new. Swisher has been fairly average, leaning towards slightly above, over the past three years. Nady's UZR has been consistently negative throughout his career, but it doesn't appear cripplingly so. Swisher also gets bonus points for logging over 1,000 career innings in CF, while Nady has just 45 at the most demanding outfield position.
This is just some information to chew on as we kick off the open thread. Yes, I still think Swisher should start, but I'm not worried because he'll have the chance to prove his case once the games count. If Nady doesn't get off to a hot start, you can figure to start seeing Swisher in right field five days a week by mid-April. If Nady gets off to a hot start, all the better for the team.
Before you guys have at it, we'd like to take just a second to mention the passing of former Yankee Johnny Blanchard. He was the backup backstop for the Yanks from 1959 to 1965, and hit quite well in the postseason. He was 76.
Ken Rosenthal this afternoon reported on a development that isn't much of a development: The Yankees are willing to move Melky Cabrera. According to Ken, the Yanks feel that Melky is a more attractive trade target than Nick Swisher or Xavier Nady and could be targeting the White Sox.
I can certainly see why the Yanks would want to trade Melky. He's out of options, and the Yankees like Brett Gardner for his speed and on-base prowess more than they like Melky right now. By trading the youngster, the Yanks would also enjoy more flexibility for their bench while clearing up the Gardner/Damon/Cabrera/Swisher/Nady logjam. With Austin Jackson's arrival in the Bronx looming, Melky is sliding toward superfluity, and this move could be a classic example of trading from your strengths.
At the same time, it's tough to give up on a 24-year-old who has shown in the past that he can hit Major League pitching. He hit .280/.361/.391 during his age 21 season but has regressed in the two years since then. During Grapefruit League play this year, he is at .295/.392/.409. He's also cost-controlled for the next four years.
In the end, though, what you see is what you get with Melky. He was never an elite hitting prospect and could be a stater on the White Sox, as Rosenthal speculates, but could be a fourth outfielder on many teams including the Yanks. We'll see what comes of this.
Steroids. Strippers. Prostitutes. Photo shoots.
Even the Yankees have their breaking point.
According to a Jon Heyman report on SI.com, Yankee team officials — including Hank and Hal Steinbrenner — have recently talked with Alex Rodriguez about toning down his off-field antics. A-Rod has, of course, managed to cram a few years' worth of scandal and controversy into the first three months of 2009.
Heyman, a frequently target of Scott Boras-inspired leaks, says Yankee officials are fed up with what some have called "constant maintenance" of their star slugger. The Yanks aren't too concerned with the recent prostitution allegations, but the team is concerned with A-Rod's constant appearances in the news for all the wrong reasons. Heyman writes:
The most serious of the heart-to-heart talks occurred right after Sports Illustrated reported on Feb. 7 that Rodriguez was one of 104 players to have failed baseball's 2003 survey test, as club officials used the steroid revelation as a platform to discuss avoidance of all controversy. That message was strongly reinforced again by top Yankees executives after A-Rod was rather indiscreetly picked up by cousin Yuri Sucart following a spring training game only days after Rodriguez named Sucart as the one who helped procure the steroids for him.

The Yankees' message was, "Put all the distractions behind you." And Rodriguez agreed, according to people familiar with those discussions.

"Clearly, you don't want any controversies on or of the field," Yankees general manager Brian Cashman said. "As to whether I talked to Alex specifically, I'll just keep that private and in-house in the best interests of the club."
Interestingly, A-Rod's people claim he is "sealed off" from the press for now. In light of Selena Roberts' upcoming book, I wonder if this story is yet another preemptive strike in the inevitable PR battle.
This story comes out one day after A-Rod's YES Network interview with Michael Kay. (It's the first video on this page under Multimedia Showcase.) A-Rod aced this latest public apologia, and in it, A-Rod spoke about how he is resigned to being unliked. He also expressed his belief that the full list of 103 names should not be released.
A-Rod, in Colorado on rehab, had no direct comment for the story. His people, according to Heyman, expect him to rejoin the Yanks during the first two weeks of May.
Mike unleased his on Monday. Joe chimed in on Tuesday. Now, it's my turn.
These are my top most important Yankees to the continued success of the franchise. This is a look at the team that goes behind just the 2009 season.
1. Brian Cashman
The three of us all agree: The Yanks GM has earned himself the top spot on the list. He will be the General Manager, barring a catastrophic Yankee disaster, through at least the 2011 campaign. His decisions over the next few seasons will shape the next generation of Yankee stars, hopes and dreams.
2. Joba Chamberlain
No one embodies the future of the Yankees more than Joba. His peripherals — 152 K's, 45 BB's in 124.1 innings — through age 22 are off the charts. The Yankees are either looking at their future ace for the next 10-15 years or the heir to Mariano. In that regard, 2009 is a big year for Joba. If he can stay healthy as a starter, the Yanks should have a legitimate star on their hands. If he can't, well, then the $64,000 question surrounding Mariano's successor beings a lot easier to answer.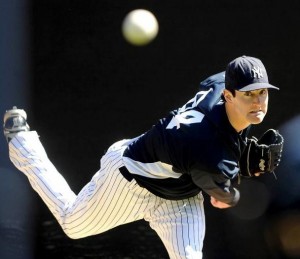 During the last few years we've grown accustomed to seeing the Yankees take chances in the draft. Two years ago they gambled on the upside of Andrew Brackman with their top pick, landing him with what could potentially be the richest contract in draft history. Last year they rolled the dice by taking Gerrit Cole in the first round, though he ultimately chose UCLA's rotation over the Yanks' millions. Because they were unable to sign Cole, the Yanks received a compensation pick in this year's draft, however if they fail the sign the player they take with that pick, they're out of luck. They won't receive another compensation pick.
Losing out on a first round pick one year is one thing, but losing out in two consecutive years can do major damage to a team's farm system. Since the Yanks will only get one shot to use the comp pick they received for Cole (as well as the pick they received for failing to sign second rounder Scott Bittle), I've been wondering if they would maybe go a little bit more conservative this time around. Now, that doesn't mean that they won't pounce on an elite talent if one falls to them, but if that opportunity doesn't present itself, they might lean towards the guy they know they can lock up.
The Yanks are picking 29th overall, and slot money for that pick is around $1.25M. That might not seem like much, but keep in mind that Joba Chamberlain received just a $1.1M signing bonus back in 2006, and guys like Colby Rasmus, Chris Coghlan and David Huff – all excellent prospects on the cusp of the big leagues – signed for less. Gobs of money alone won't build an elite farm system, but strong scouting and development (and luck) will. Don't get me wrong, the money certainly helps, but it's not a necessity. Fun starts after the jump.
In six days, Chien-Ming Wang, the erstwhile ace of the Yankee staff now relegated to the two spot behind CC Sabathia, will turn 29. In pitching years, he is hitting his prime, and for the Yankees and Wang, 2009 will be a pivotal year.
For the better part of four years, Wang has been a mainstay in the Yankee rotation. He has made 95 starts since May of 2005 and has gone a remarkable 54-20 with a 3.79 ERA. What makes his 117 ERA+ even more outstanding are his admittedly terrible peripherals. For his career, Wang has a 4.02 K/9 IP and a 1.54 K/BB ratio. Pitchers with those key numbers generally don't hold their opponents to a .265/.320/.365.
Wang does this, of course, by being an extreme groundball pitcher. He sports a career 1.58 GB/FB ratio and has induced 94 double plays over his four years in the Bigs. His sinker is so good that it confounds the statistically-minded experts and the BP PECOTA system who see his low K rates and worry.
In New York, Wang is adored by the fans and treated like an ace, but the Yankees have seemingly never quite embraced him as such. In a recent blog post, Joel Sherman voices some Wang-related speculation, and in doing so, he brings up a few good points:
Wang is going to be a free agent after the 2010 season so to keep him the Yankees are going to have to pay him elite dollars over a long-term to stay: He will likely have a case that he should be paid commensurate with the five years at $82.5 million bestowed A.J. Burnett. And the Yanks, internally, are not positive about going to such extents with Wang. He has pitched four seasons in the majors and two have been interrupted by injury. They wonder how a pitcher who does not strike out batters will age as he loses some bite on his sinking fastball, especially since he has been sketchy in developing the rest of his repertoire. And he would begin a new contract in 2011 at age 31, so you almost certainly are buying declining years.

Because of all of this, the Yankees have weighed trade scenarios in the past involving Wang and, I suspect, they will continue to at least listen, especially if they believe that Hughes is capable of being, at minimum, a cost-effective, mid-rotation starter. The Yankee logic would be simple: If they do not think they can go long-term with Wang then would they be better off letting him pitch for them through 2010 or to use him to potentially fill another area of need via trade?
In Sherman's view, the Wang scenario hinges on Phil Hughes. If the Yanks feel Hughes can handle Major League hitters to the extent we believe he can, the team may be willing to shop Wang for the right price.
Now, Sherman's argument breaks down in a few places. Wang's 2008 injury wasn't pitching-related; rather, it was some baserunning fluke. Sherman also speculates that the Yanks could try to trade for Roy Halladay. If they don't want to pay Wang for his decline phase, why would the team want Halladay, a pitcher three years older than the Yanks' right-hander?
But Sherman's points about Wang's repertoire carry some weight. Chien-Ming Wang is no longer considered young, and at this point, he should have mastered the rest of his pitches. Yet, that non-sinker out-pitch has continued to elude him. Last year, Wang showed some strike-out promise. His K/9 IP was up around 5.12 before his baserunning disaster struck. Take out his nine-strike out game against the Indians, though, and that figure settls in at 4.60.
Wang's stuff has often been compared to the heavy, hard sinker Kevin Brown sported in his younger days. By age 27, though, Brown had mastered the strike out. If Wang is to emerge as a true long-term option for the Yanks, he may need to take that big step this year.
In the end, though, I come out with Sherman: The Yanks will sign Wang. Even if he sticks around as a two, three or four starter behind some combination of Sabathia, Joba, Hughes or Burnett, a team can never have too much pitching.
It was yet another tough, grueling match-up between the Yankees and Red Sox, that is until top prospect Austin Jackson stepped in. With two runs already in, Jackson came to the plate with the bases loaded and one out against ex-lobsterfisherman Devern Hansack in the eighth inning. He took the first two pitches for balls, then swung through two low-90′s fastballs to bring the count back to 2-2. He took another pitch for a ball and fouled the sixth pitch of the at-bat off. The seventh pitch was a meatball – belt high fastball – and Jackson crushed it, sending it literally over the left field foul pole for a good ol' four run homer. Jackson's reward for the granny? An assignment to minor league camp immediately after the game (along with Juan Miranda and Eduardo Nunez). Regardless, it was one of the more exciting moments of the spring, and hopefully a glimpse into the future.
The rest of the offense was highlighted by Brett Gardner, who came around to score after tripling in the 6th. He went 1-for-2 on the night. Melky Cabrera, Gardner's competition for the center field job, scored a run after drawing a walk in his lone plate appearance. Ramiro Pena attempted to sacrifice Melk to second, but Manny Delcarmen and Chris Carter ran into each other on the infield grass, allowing Pena to reach safely and Melky to advance to third. Derek Jeter went 1-for-2 in his return to the team, while Johnny Damon and Robbie Cano both went 1-for-3. Angel Berroa ripped an RBI single, continuing his hot spring.
AJ Burnett made his fourth start of the spring, and this one was much more like the first two than the last one. He threw five and two-third innings, allowing one run on three hits and a pair of walks. He struck out four and went beyond his scheduled pitch limit of 75, throwing 49 of 81 pitches for strikes. He definitely tired as he reached his pitch limit and his control struggled, but the velocity was still there – his last fastball was clocked at 93, right where it was all game. Jon Albaladejo came in and retired the only batter he faced to get out of the bases loaded jam left by Burnett.
Mariano Rivera graced everyone with his presence tonight, throwing his third perfect inning in four one-inning outings. He struck out two and induced a ground ball from the other batter. Praise be to Mo. Damaso Marte struggled in the eighth, allowing a hit and walk before being removed because he reached his pitch limit after retiring just two batters. Edwar Ramirez relieved him, and struck out two while allowing one hit to close out the 7-1 win.
One of the biggest bright spots tonight was seeing Jorge Posada throw out Jacoby Ellsbury when he tried to steal second. Jeter got away with a phantom tag, but the throw was right there against an elite base stealer. After throwing out three of four attempted basestealers on Sunday, it's great to see there were no lingering affects.
The Yankees will enjoy their second and final off-day of Spring Training tomorrow, although Andy Pettitte will throw in a minor league game. The rest of the team returns to action Thursday afternoon, when Joba Chamberlain takes on the World Champion Phillies in a game available on YES.
By

Marc Hulet of Fangraphs has been profiling the farm systems of all thirty clubs over the last few weeks, and finally made his way to the Yanks' system today. He breaks the system down by level, talking about what the key players did last year and what we can expect out of them this year. It's a quick read, but it gives you a great overview of the team's top minor league prospect. Make sure you check it out. · (10) ·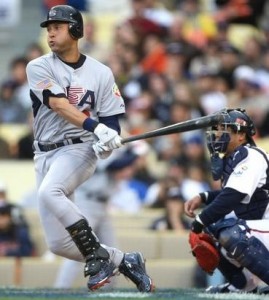 Absent from the team since March 2nd, Derek Jeter returns to the Yanks' lineup tonight following Team USA's unceremonious exit from the World Baseball Classic. Jeter got just 33 plate appearances (.276-.382-.345) and played just six games in the field (couting the exhibition against the Yanks) during his 22-day hiatus, so he has plenty of work to get in before the team heads north.
Toeing the rubber tonight will be AJ Burnett, who struggled for the first time this spring in his last outing against his former team. He'll be taking on the big bad Red Sox, against whom he's 5-0 with a 2.56 ERA and 1.15 WHIP in 56.1 IP covering eight starts (just over seven innings per start) lifetime. For the first time this spring, Joe Girardi is sending what projects to be the Opening Day lineup out there:
Damon, LF
Jeter, SS
Teixeira, 1B
Matsui, DH
Posada, C
Cano, 2B
Nady, RF
Ransom, 3B
Gardner, CF
Scheduled Pitchers: AJ Burnett, Mariano Rivera, Damaso Marte, Edwar Ramirez, David Robertson
The game is on both YES and MLB Network, with first pitch set for 7:15pm. Enjoy.
Note: John Brattain of The Hardball Times and Baseball Think Factory passed away today due to complications that arose during a heart procedure. He was only 43. We've written about Brattain's work as recently as six days ago, and he was kind enough to stop by and diffuse an argument in the comments with his usual witty humor. Brattain is survived by his wife and two teenage daughters. Our deepest condolences go out to John's family and friends.
Photo Credit: Getty Images