Last year wasn't the smoothest debut for Joe Girardi. He helmed a team which got off to a slow start, suffered a number of significant injuries, and in the end didn't make the playoffs for the first time since 1994 (1993?). He also had a tumultuous relationship with the press, so that means we get to see a number of stories about how Girardi needs to adapt and learn to relate to people, players and media alike. Most of us know the media's take of Girardi via PeteAbe, who was up front in his criticism of the manager. Today, he writes of how Girardi is changing.
One the problems, as Tony Pena points out and Giradi confirms, is the way he spent his time last season.
"Joe is Joe; you can't change your personality. But I think he has learned that sometimes you have to spend your time in different ways," said Tony Pena, Girardi's new bench coach. "I see him doing things he didn't do last year, making those gestures. It's good."
…
"Oh, sure, I have to do a better job of that. It can't be all managing the game. I have to improve the relationships, and finding that balance has to happen every single day," he said.
I think Girardi proved himself year a game manager. His bullpen management was a breath of fresh air. We had a few complaints about his ever-fluctuating lineups, but part of that was out of necessity. In any case, he seemed to change his approach later in the season, consistently trotting out the team's "A" lineup. That's not necessary all the time, of course — the team's back was against the wall in August. It did show that the manager is willing to adapt, and that's an important part of the managerial game.
As a manager of people, it's difficult to ascertain exactly how effective he was last year. The media didn't appreciate him not being truthful about injuries, so their criticism of him has to be viewed with that bias in mind. Yet it seems a few of the players had cause for concern as well. Jorge Posada noted that "it doesn't always add up the way you want. You have to account for personalities." Johnny Damon thinks it's all good, at least right now: ""Everything has been cool. He has made tremendous strides in talking to people, from the top players to the guys who don't have a shot."
I was excited when the Yankees hired Girardi after the 2007 season, and one rough season (by Yankees standards) isn't deflating that at all. He can certainly be the man to lead this team to a championship. By all accounts, he's working his hardest to do just that.
By

Just to round off the early Sunday morning, Ken Davidoff caught up with Rob Crawford, elementary school teacher and vice president of Red Sox Nation. Whatever that means. Davidoff wanted get an idea of Fenway's eventual reaction to A-Rod on April 24, but Crawford thinks they'll hold just as much for Mark Teixeira, the one who got away. It will make for an interesting atmosphere when the Yankees send up their three and four hitters. Both were rumored to be Red Sox, but both ended up in pinstripes. "We really thought we had him," said Crawford. · (74) ·
By

The Yanks got to suffer through the spring ritual of picture day last week, and while I don't really know what happens with these pictures, the results sure are bizarre. The Sports Hernia took a look at some of the stranger and more humorous photos. Andy Pettitte looks might surprised to see the camera, and Derek appears, well, just vacant. For more, check out Getty Images. CC Sabathia looks either very happy or rather pensive. · (29) ·
By

Six-year veterans didn't find a robust market this winter, but arbitration-eligible players did just fine. They went from an average $1.13 million salary to $3.07 million, a 172 percent increase and a new record. They didn't hit the arbitration average salary record, $3.26 million, set in 2004. Also of note: only three cases went to arbitration this year, and the players went 2-1, their first winning record since 1996. · (6) ·
By

Gerrit Cole, the Yanks' famously unsigned first round pick, made his collegiate debut for UCLA this afternoon, one hitting UC Davis over six innings. His final line was 6 IP, 1 H, 1 R, 0 ER, 2 BB, 7 K, with the lone run coming in the 4th inning on a single, two-base error to move the runner to third, and a sac fly. It's a shame he choose not to do this in a Yanks' uniform, but what can you do. Such is life when you gamble on uber-talented but tough to sign players. · (49) ·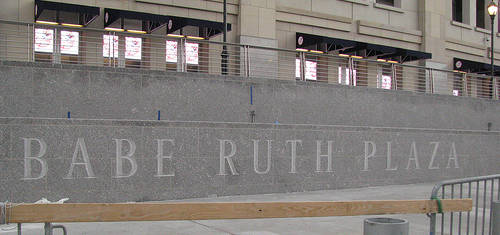 Kevin at The Voice of the Yankees Universe has a slew of photos from a recently substantially complete New Stadium, and my Mo does the place look like a palace. Just check out the Team Store, or the premium seats, or what looks like an information desk, or the lockers. That's crazy. There's plenty more for you to see too.
Anywho, he's the open thread for the night. The Rangers, Devils and Islanders are all in action tonight, and you've got a college baseball doubleheader on MLB Network. Talk about whatever you like, just be nice.
By

Mo bless Brian Foley of The College Baseball Blog for pointing this out: MLB Network is going to be showing a doubleheader from the MLB Urban Invitational straight outta Compton this afternoon. The first game between San Diego and Bethune-Cookman will air at 5pm Eastern, and they'll be followed by San Diego State taking on Southern at 8:30. I'm not sure what the pitching matchups will be, but I know that Stephen Strasburg won't be taking the mound for SDSU; he struck out eleven in 5.2 IP yesterday. If you're looking for a way to occupy some time on a lazy Saturday afternoon in February, thee's not much better than college baseball. · (9) ·
Yesterday's not-so-new revelations that A-Rod had trained with the Angel Presinal generated a good amount of discussion on RAB. While Presinal has been linked to PED use via the Mitchell Report and various journalistic investigations, numerous Dominican players have turned to him as a trainer.
Today, The Times notes that MLB is again turning a wary eye toward Presinal in light of the revelations that he trained with A-Rod during the period of the Yankee slugger's admitted PED use. While Presinal has engaged in "he said/he said" battle with Major League Baseball officials over Juan Gonzalez's 2001 steroid use, MLB has formally banned Presinal from the game in the U.S.
Back home in the DR, however, it is a different story. Presinal trained the Dominican Republic WBC team in 2006, and yesterday both David Ortiz and Robinson Cano defended their trainer.
This is, of course, a dicey situation. Cano said he wasn't concerned about being, as Kat O'Brien put it, "guilty by association," but with the way the steroid witch hunts are conducted, the company one keeps weights heavily upon the court of media — if not public — opinion. Hopefully, Presinal's steroid transgressions are things of the past because the players who swear by him are not inclined to stop.
By

Michael Salfino posted SNY's annual breakdown of the Mets vs. Yanks, comparing each team's players based on the four main pitches – fastball, curveball, slider and changeup. As if we didn't already know it, A-Rod is the best hitter in New York, leading all players in OPS off fastballs (.967), curves (.861) and sliders (1.168), but he also led in swings and misses (failed to make contact on 24% of swings taken). CC Sabathia dominates the pitching categories, with the city's best fastball (.610 OPS ), best slider (.417) and second best changeup (.558). No Mets' pitcher qualified for the curveball and slider categories, which makes me wonder what the hell their pitchers are throwing. Give it a read, it's quick and entertaining. (h/t BBTF) · (11) ·