Just a short mailbag this week because a) I'm still full of turkey, and b) I want to enjoy the rest of the Thanksgiving weekend. Remember to use the Submit A Tip box in the sidebar to send in your future questions.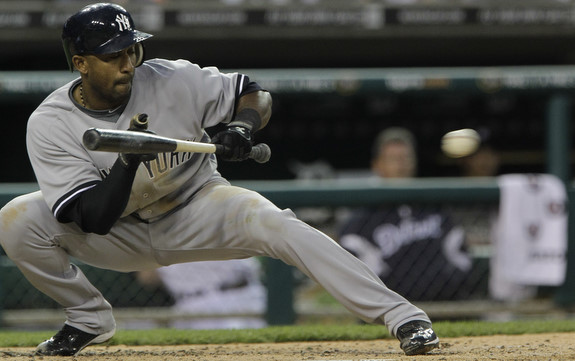 Jason asks: So the word is out that Atlanta likes Eduardo Nunez. I certainly would not want Jair Jurrjens in a deal for the reasons mentioned on this site. My question is whether you think it is realistic to think a deal could be had for one of the other young pitchers in Atlanta, such as Brandon Beachy, Randall Delgado, Mike Minor, or Julio Teheran?
I don't think so. The Braves moved Derek Lowe and are trying to move Jurrjens so they can open spots for those young guys. I really like Beachy, but Nunez alone isn't nearly enough to get him. The Yankees would have to expand a trade for him, or any of those other three guys you mentioned, rather significantly. Teheran and Delgado are their Manny Banuelos and Dellin Betances, so don't expect them to move either guy for anything less than a proven, above-average big league regular.
Just for the record, I would jump all over a Nunez-for-Jurrjens trade. It's a utility guy for a potential above-average starting pitcher, that's a no-brainer. The problem is that it's not realistic at all, the Yankees would have to give up a lot more. I have no interest in giving up multiple pieces for a guy that struggles to stay healthy.
Preston asks: If we were to trade Eduardo Nunez to the Braves, should the Yankees look into bringing in Jack Wilson as the utility infielder?
Even at 34 years old (35 next month), Wilson is still a wizard with the glove. He's well-above-average at short and started to see time at second and third bases last year. The problem is he just can't hit, at all. The last time he topped a .293 wOBA was 2007, and his OBP hasn't been above .292 since 2008. He also doesn't have any power (six homers since 2007, and five of those came in 2008) and hasn't stolen more than five bases in a season since 2005. Wilson just doesn't offer anything beyond his defense, and at his age that could start to slip. He's basically a veteran version of Ramiro Pena. I'd rather see them go for someone you can bring a little more to the table.
Anonymous asks: I know everyone's talking about the NEW CBA, and added wild card, HGH, but I was hoping to hear something where teams would be allowed to trade draft picks. No players or cash, just picks? Say, the Yanks wanted to trade the 30th pick, for an extra third or fourth round, just like all the other sports.
The six lottery picks given to the low-revenue clubs after the first and second rounds can be traded, but that's it. Those picks will be in the 35-40 and 75-80 range (or thereabouts), and I'm curious to see how teams will value them in trades. The expected value of draft picks in baseball drop off big time after the first five or six selections, then they really bottom out after the 50th pick or so. Getting say, the 77th overall pick in a trade isn't all that different than getting the 200th overall pick.
The new spending limits should, in theory, result in players being drafted in order of their talent rather than how affordable they are, and that will further depress the trade value of picks. I don't think a team with a pick in the 35-40 range could expect to receive a top prospect in trade. A top prospect in Double-A is worth substantially more than a draft pick, even a top ten pick. Would the Yankees trade Banuelos for a number one overall pick next year? Not a chance, Manny's already doing well in Double-A and that pick offers zero guarantees. Trading picks sounds like fun, but I don't think we'd see many teams trading down for an extra fourth rounder. This isn't the NFL, the value just isn't there when you have 49 other picks to use.