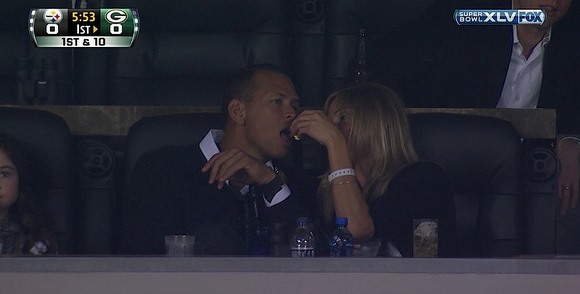 In the early minutes of Super Bowl XLV, we caught a glimpse of Cameron Diaz feeding Alex Rodriguez some popcorn in one of Cowboys Stadium's luxury boxes*, a subtle reminder that baseball season is on the horizon. Football season is over while basketball and hockey are in their versions of the dogs days of summer, but equipment trucks across the country are now en route to Spring Training facilities in Florida and Arizona. Pitchers and catchers are due to report in just a week, position players a week after that.
Today, Monday, is the last Monday we'll have to experience without some form of baseball until November. Pitchers and catchers reporting isn't terribly exciting, but it's comforting to know that the process of a new season is beginning. Photos of bullpen sessions and reports from batting practice will soon follow, and battles for the few open jobs on the Yankees' roster will begin to take shape. Robbie Cano will rake and rake and rake, CC Sabathia will treat innings like Michael Cera's character in Juno treated orange Tic-Tacs, and A-Rod will get caught doing something awkward on camera (he's already one-for-one in 2011). Some young kid will step up and wow you in Spring Training while another falls back and disappoints. Those are the rites of baseball season, as is this final boring week before camp.
If you're reading this site, then chances are the game consumes your daily routine nine months out of the year, if not more. This week is the last without baseball for a long time, so enjoy it.
* Don't hate, you know you'd switch lives with him in a heartbeat.