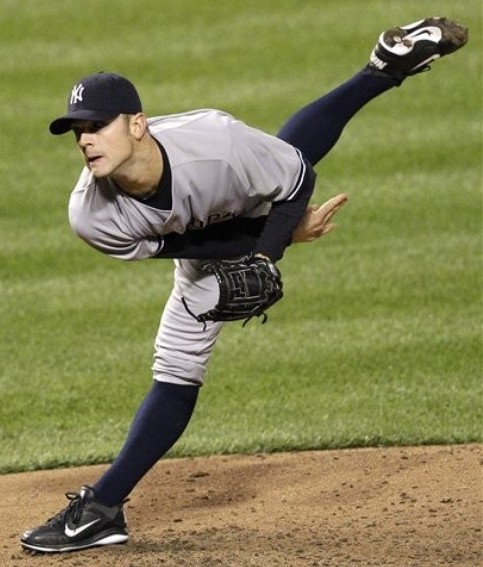 Freddy Garcia did not make out it out of the fifth inning last night, so the bullpen carried a heavy load before the Yankees finally won the game in twelve innings. Both Mariano Rivera and David Robertson have appeared in each of the last two games, and you know Joe Girardi doesn't want to push them early in the season. Rafael Soriano is also dealing with a torn fingernail, so his availability for tonight's game is unknown. With the end-game trio potentially sidelined, the bullpen is in pretty rough shape at the moment.
To make matters worse, Cory Wade and David Phelps are probably unavailable after throwing 42 and 31 pitches last night, respectively. That leaves Boone Logan and Clay Rapada as the only guys that are definitely available tonight; they threw a combined 14 pitches in last night's win. Thankfully the Yankees will have CC Sabathia on the mound and he's always good for innings. Even a bad Sabathia start usually lasts six or seven innings, the guy is a horse. As great as he is, there's a good chance the Yankees will call up an arm to shore things up this afternoon.
The good news is that Triple-A Empire State had their game suspended due to rain last night, so the entire bullpen got a day of rest. Adam Warren and D.J. Mitchell are both non-options after throwing 82 pitches on Monday and 61 pitches on Sunday, respectively. Maybe Mitchell is an option, but I would doubt it. That leaves Dellin Betances — 81 pitches last Friday — as the only real long relief candidate assuming they don't want to add Manny Banuelos to the 40-man roster. Betances is scheduled to start for Triple-A tonight but could give the big league team 80+ pitches out of the bullpen if needed.
As for short relievers, the side-arming Cody Eppley is on the 40-man roster and last pitched on Monday (13 pitches). He should be good to go. Right-hander Manny Delcarmen (35 pitches on Sunday) should also be available, but he's not on the 40-man. Lefties Mike O'Connor and/or Juan Cedeno don't make sense with Logan and Rapada presumably available. The Yankees could easily clear a 40-man spot for Delcarmen by sliding Joba Chamberlain or Cesar Cabral on the 60-day DL if they wanted. I think Eppley is more likely, but that's just me.
It's not fair given how well he's pitched, but Phelps is the obvious choice to go down should the Yankees decide to add an arm for tonight. They could send him down, call up Eppley for the night, then send down Eppley either Thursday (off-day) or Friday in favor of D.J. Mitchell. Mitchell takes over as long-man for the time being while Phelps steps into his Triple-A rotation spot. Remember, Phelps can't come back up right away because of the ten-day rule. He'd be back eventually though, don't worry.
The Yankees do have tomorrow off, so they could decide to roll the dice with the bullpen as is and hope for the best out of Sabathia. I wouldn't recommend it, but the "do nothing" option always exists. George Kontos would have been the perfect guy to reinforce the bullpen today, but the Yankees will have to go with someone else instead. My money is on Eppley since this figures to be a short-term, one-game thing.
Side Note: Good chance to plug our new Bullpen Workload page if you missed the announcement over the weekend. It's available via the Resources tab at all times.