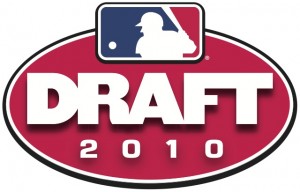 Every year, each team's scouting director will sit down and chat with fans at the team's official site about a week after the draft just to talk it up and interact with the fan base and all that jazz. They usually aren't very long or in-depth, but they're still a small little peek into the amateur scouting world. Damon Oppenheimer held his yesterday afternoon, and as you can imagine some of the questions (and answers) were more interesting than others.
I went through and picked out a few that stuck out to me for one reason or another, and kind of expanded on Oppenheimer's answer, or just added some kind of commentary. I think this is more interesting than just dumping a link to the transcript and telling you to give it a read, no? Anyway, here we go…
alm81: How much do you base your selections of high school players on statistics?

Damon Oppenheimer: Stats about high school players is a very minor aspect. If you see that a guy has exceptional stats, it helps a little. If you see a red flag such as a hitter with a lot of strikeouts or a pitcher with a lot of walks, that might play a part.
This one seems like a bit of a no-brainer. Even in the traditional hotbed states like California, Arizona, Texas, and Florida, there are just so many kids playing high school ball that will never go on to play in college, let alone pro ball. Gaudy stats, like Chris Smith had when the Yanks made him their fifth round pick in 2008, mean nothing. If you're looking at a high school and he's struck out fewer than a batter an inning, or a hitter that's swinging and missing a lot, then forget it. Professional baseball will eat them alive. That's about the only thing high school stats are good for.
jrod809: What about Cito Culver excited the Yankees most?

Damon Oppenheimer: There were a lot of things that excited us. Very rarely do you get a 17 year old, athletic, switch hitting shortstop. He has great tools, makeup and performs. He's a great shortstop and can hit. You have to take risks on guys like that in high school because if they do that in college, they don't make it down to pick 32.
That last part is a really great point. If Culver were to follow through on his commitment to Maryland, there's a chance he'd come out of school in three years as a legit first round talent, and he wouldn't remain on the board very long with that profile. It's definitely a risky pick, but with great risk comes great reward. Just look at the current team, you don't play for the Yankees if you're a safe and conservative non-athletic type. There's nothing wrong with being bold.
csamma: Is a player's attitude just as important as his ability?

Damon Oppenheimer: His makeup is an important part of the whole package. He can't play in the big leagues without ability. So ability is still more important, but the attitude is right there behind it.
Ah yes, the intangibles question. Without question, stuff like makeup comes into play, especially in New York. I don't think the impact is as big as it's made out to be, but it's definitely something that has to be considered when scouting amateurs. The grind of a 144 game minor league season, nevermind a 162 game big league season undoubtedly takes a certain level of mental toughness, because there will be so much failure to experience along the way.
meliss8907: When scouting pitchers, do you tend to look for speed over variety of pitches?

Damon Oppenheimer: The higher you take a guy, the more complete a pitcher you are looking for – complete meaning velocity and other pitches. As you move down further in the draft you are looking to get one or the other.
The Yankees were left scraping the bottom of the pitching barrel this year because their first four picks were position players, and that's fine. When they did get around to selecting pitchers, Oppenheimer clearly targeted power over polish, which makes sense simply because you can't teach a guy to throw hard. A breaking ball can be taught, taking something off your pitches to locate them comes from experience, but you can either throw hard or you can't.
meliss8907: Are there specific leagues, (i.e. Cape Cod League) that seem to develop better players?

Damon Oppenheimer: The Cape Cod League is really important to our evaluation. It is generally the better college players in the country playing on a daily basis and using wood, so it gives us an accurate depiction of what the player will represent. Some other leagues we scout are the Coastal Plains League, Northwoods League and the Alaska League to name a few.
It's now painfully obvious that the Yankees put a lot of weight in Cape Cod League performance. Not so much performance as in stats and production, but how they handle themselves and the skills they show. Wood bats, elite competition … it really is the best way for an amateur to showcase himself. You just have to make sure that you follow a player during the spring the year after he plays on the Cape to make sure the scouting report doesn't change.
bronxmissles: How come the Yankees usually draft catchers?

Damon Oppenheimer: Catchers are a premium position as they are hard to find. When you find one that you think can be a major leaguer, you have to jump on it. We didn't draft one this year because we have quality catchers throughout our organization.
Position scarcity, plain and simple. Quality catchers are like quality pitchers, there's no such thing as too many. Draft/sign them, develop them, and if you have too many catchers for too few spots, you break out into the Dance of Joy.
tkcmo39: Do you prefer college players over high school players?

Damon Oppenheimer: No. I just prefer the best players available. Actually, we'd rather have them young so that they can learn the Yankee way. Culver and Gumbs are both young and have a chance to learn the Yankee way really quickly at a young age. With the way our player development system is structured, I'd actually rather draft guys out of high school.
Well, he says he'd rather draft players out of high school, but saying and doing are two different things. The 20 prep players Oppenheimer drafted this year are by far the most he's ever taken in his six years at the helm, and the fact that seven of their top ten picks were high schoolers makes it look like a conscious effort. Here's a few charts breaking down the Yanks' drafts since 2005 (by school, by position, by school & position), and clearly high school kids take a back seat. We have to acknowledge that the data is somewhat skewed by the later rounds, where college players are commonplace because they make the best organizational fodder. Still though, we're taking about just one out of every four picks (78 of 301, or 26% total) being a high school kid.
I've said this a million times, but I prefer high school players because the sooner you get them under professional instruction the better. I think it's rather obvious that Oppenheimer prefers polish, which leads him more toward college players. I guess there's a chance that that's just how the draft board and best players available shook out, but I suspect that would be a rather large coincidence.
sirvlciv: How organized is your draft board before the draft occurs? Do you have a very clear order of players, and strike them out as they're taken, taking the best player still available at your draft spot?

Damon Oppenheimer: There's probably two weeks of preparation put into the final draft board. The names are strategically placed on the board by ability and as teams make selections, we take them down and generally select the next available player on the board.
I don't have anything to add here, I've just always been curious about this. I always imagined that they had one list, maybe 300 players deep, based on talent and they took the highest ranked player left on the board each team. Then for the later rounds, they had rankings by position, and selected based on need or whatever the system was lacking overall.
That's maybe half the questions, but the rest are the usual easy lay-ups. It would be nice if they took some questions that were a bit more inquisitive, but I suppose this is better than nothing. I'm curious to know how they allocate their draft budget and prioritize whom to sign. Basically who are the guys they really want (Gerrit Cole), and who are the backup plans (Brett Marshall).