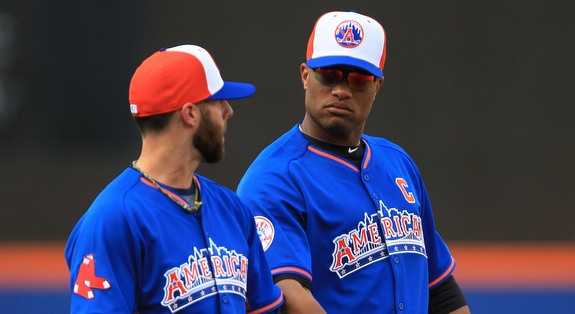 Yesterday afternoon, word got out that the Red Sox and Dustin Pedroia had agreed to a new seven-year, $100M contract extension on top of his current deal, which runs through next season. All told, he is under contract for approximately $114M from now through the end of the 2021 season, when he'll be 38 years old. It's likely to be the last contract he signs during his playing career.
Naturally, we have to wonder what Pedroia's new contract means for Robinson Cano. The two have been connected for the last half-decade only because they are the homegrown players on historic rivals who happen to play the same position. They'll be linked forever just because of that, and it certainly doesn't hurt that they're both great players. Clearly the top two second basemen in baseball right now, in my opinion.
Here's a real quick side-by-side comparison of their careers, from best seasons down to worst:
Source: FanGraphs — Robinson Cano, Dustin Pedroia
The two are pretty much neck and neck in terms of overall production, but Cano has created some distance between himself and every other second baseman in recent years. Since the start of 2010, Robbie leads full-timers at the position with 23.5 WAR. Pedroia is a distant second at 18.4 WAR.
WAR is a nice quick reference tool but it has some major flaws, specifically its reliance on far from perfect defensive stats. Defensive stats that always seem to sell Cano short for whatever reason. WAR is even less helpful when talking about elite players who have real live money-generating marquee value  and are paid on a much different scale than everyone else. It's not as simple as saying "this player has this WAR and makes this much, therefore that player with that WAR should make that much."
On the surface, it appears as though Pedroia's new contract means Cano should expect a lot less than the $200M-whatever he'll be seeking. These are two very different players though, and there are a number of reasons why that isn't the case. Let's break 'em down:
Power vs. No Power
Absolutely nothing in baseball pays like power, especially in this suddenly power-starved era. Homers drive up prices exponentially, and Cano happens to hit a lot of them for a second baseman, especially compared to Pedroia. In fact, Cano has hit exactly as many homers this year as Pedroia has hit over the last two years (21). Pedroia's career homer total (96) is as many as Cano has hit since July 2010. Power pays and Robbie has an enormous advantage in that department. There's no comparison here, Cano blows his Red Sox counterpart out of the water.
Durable vs. Injury Prone
A hamstring injury cost Cano about five weeks back in June 2006, but otherwise he's been an iron man for the Bombers. He's played in at least 159 games (!) in each of the last six years (!!!), and his days off usually come from Joe Girardi getting him off his feet rather than some nagging day-to-day injury. Robbie is one of baseball's most durable players, no doubt about it.
Pedroia, on the other hand, has played in just 476 of 588 possible games since the start of 2010. Two separate left foot fractures sidelined him for 85 total games in 2010, and a nagging thumb issue sent him to the sidelines for a total of three walks in 2012. Heck, he's playing through a torn thumb ligament right now. Pedroia has only once played as many 159 games in a season whereas Cano does it year after year. Another advantage for Robbie.
Hardware vs. No Hardware
Major awards pay well, though not as well as power (or saves). Pedroia was the 2007 AL Rookie of the Year and 2008 AL MVP, so his mantle is well-stocked. Cano has … three top-six finishes in the MVP voting? He was the 2005 Rookie of the Year runner-up, so there's that. Robbie has never won a major award, which takes away from his resume ever so slightly. You may laugh, but this kind of stuff gets brought up in contract negotiations all the time.
Extension vs. Free Agent Contract
This is the big one here. The Red Sox already had Pedroia under contract through 2014 with an affordable club option for 2015, so there was no bidding war. They had exclusive negotiating rights and zero urgency to hand out a nine-figure contract. Actually, there probably was some urgency to get it done now just to make sure Cano's next deal didn't jack up the price. Players tend to give a bit of discount by signing an extension, and Pedroia appears to have done just that with this deal.
Barring something surprising over the next 15 weeks or so, Robbie will hit the free agent market and be able to field any and all offers. Remember, he will be Roc Nation's first big contract, and I doubt they're looking to set a precedent by taking a discount. There will be a bidding war and the price will climb rather quickly. Signing an extension while already under contract and signing a new contract as a free agent are completely different animals. There's a major difference in leverage.
* * *
The total value of Pedroia's new contract is the largest ever for a second baseman, but the average annual value ($14M total through 2021) is just the second highest behind Ian Kinsler's deal ($15M). He didn't raise the bar all that much. Besides, Cano was all but guaranteed to land a nine-figure contract anyway. He wasn't exactly waiting for someone to set that market.
The only thing Pedroia's contract really does is define a term limit. He is ten months younger than Cano and is signed through age 38. If the Yankees were to sign Cano through age 38 this winter, it would require an eight-year contract. There have been rumors saying he will seek a ten-year contract, but I can't see that happening at all. I don't think the team will be handing out any ten-year deals to players on the wrong side of 30 anytime soon. Eight is the limit now, so there's that.
The Red Sox got themselves a nice deal with Pedroia, the kind of deal I wish the Yankees would have given Cano about two years ago. He was represented by Scott Boras at that time and Boras very rarely does long-term extensions for his elite players, however. Ultimately, Pedroia's deal doesn't change much for the Yankees and Cano simply because Robbie is the better player. He's the better player with more leverage by virtue of having more power, being more durable, and presumably having more suitors as a free agent.