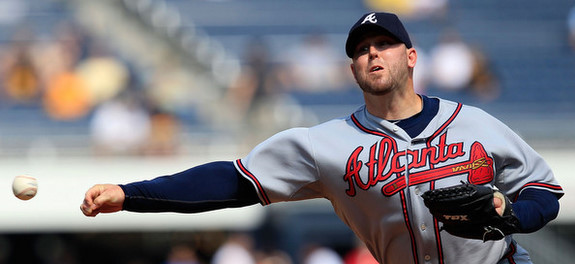 I'm fairly certain we've used that headline for every non-tender deadline in RAB history, but I'm not going to stop until someone tells me to. Anyway, last night was this year's non-tender deadline, when teams had to offer contracts to their players with less than six years of service time or cut them loose. The Yankees unsurprisingly tendered all of their eligible players contracts, but of course not every team followed suit. There's a whole new batch of free agents on the market this morning, some more interesting than others.
A full list of non-tenders can be found here, and we've already talked about several of them. That includes Hong-Chih Kuo (interesting, but not sure if he wants to play next year), Ryan Spilborghs (hasn't hit lefties in three years), and Joe Saunders (lefty reliever only). Unfortunately neither Tom Gorzelanny (lefty reliever candidate) nor Joe Thatcher (held lefties to .185/.250/.259 with a 5.23 K/BB ratio last three years, bothered by shoulder problems in 2011) were non-tendered, so the Yankees won't be able to scoop them up for nothing but money and a roster spot.
A few people have already asked about Luke Scott, who the Orioles cut loose. He'd make a lot of sense for the Yankees if they needed a DH since he's a left-handed power hitter willing to work counts and draw walks, but they don't. Calling him an outfielder is a stretch, and they absolutely shouldn't let him (or any free agent, really) take at-bats away from Jesus Montero next season. He just isn't a good fit. I'd rather see the Yankees try to sign Jeremy Hermida to a minor league deal if they want to add some lefty hitting outfield depth, since the out-of-options Chris Dickerson is likely to end up elsewhere. Here's a few more non-tenders of note…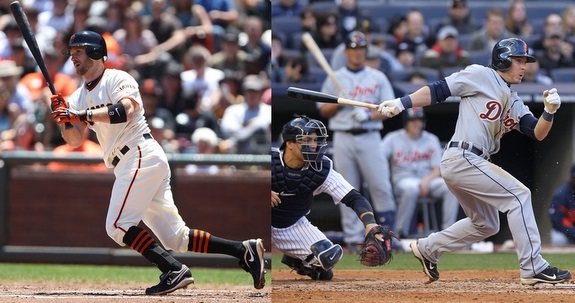 Jeff Keppinger & Will Rhymes, IF
The Yankees have been connected to Keppinger quite a bit over the last year or so, as they showed interest in trading for him last offseason before he needed foot surgery in January. The 31-year-old was terrible in 2011 (.295 wOBA in 399 PA), but he's shown flashes of being something more than a zero with the stick in the past. His .332 wOBA in 2010 was fueled by an 8.9% walk rate, and he excels at making contact (just 6.2% strikeouts and 2.8% swings and misses in his career). Just don't expect any power whatsoever (career .108 ISO). Keppinger can play second and third, but he hasn't logged many innings at short in recent years.
Rhymes, 28, is a tad more interesting. His big league performance (.313 wOBA in 312 PA) isn't anything special, but he's a .290/.357/.386 career hitter in nearly 1,400 Triple-A plate appearances. Rhymes is essentially a left-handed version of Keppinger, meaning he has no power (.085 ISO in the minors), draws a fair amount of walks (8.0% in the bigs, 8.8% in Triple-A) and makes a lot of contact (9.0% strikeouts and 2.8% swings and misses in MLB, 10.5% strikeouts in Triple-A). Although the Tigers had him play second base exclusively the last two years, he's seen time at third and short in the minors. Interestingly enough, Detroit non-tendered Rhymes even though he has less than one year of service time, so whatever team signs him will control him through 2017. From what I can tell, he even has one minor league option remaining.

Doug Slaten & Jose Mijares, LHP
Brian Cashman insists that left-handed relief help isn't a priority at the moment, but you know they're going to keep an eye out for anyone that could be useful in that role. They added Cesar Cabral through the Rule 5 Draft after bringing Mike O'Connor aboard on a minor league deal, and now they'll have a crack at Slaten and Mijares.
Slaten, 32 in February, has managed to appear in 204 games over the last five seasons, holding lefties to a .241/.304/.361 batting line with 73 strikeouts and 23 walks in 301 plate appearances. He's a big guy (listed at 6-foot-5, 215 lbs.) without big stuff (upper-80's fastball and low-80's slider, so generic LOOGY stuff), and he missed time with nerve damage in his elbow in 2011. Mijares, 27, is a shorter and fatter version of Slaten (6-foot-0, 230 lbs.) with his upper-80's heat and low-80's slider, but his velocity dropped off big time this year. He's held same side hitters to a .212/.276/.331 batting line with 65 strikeouts and 21 walks in 287 career plate appearances, but those numbers are worse since his 2009 breakout (.259/.323/.406 with 33 strikeouts and 11 walks in 156 plate appearances).
Peter Moylan, RHP
Unlike the other guys mentioned in this post, Moylan would be an injury reclamation project. He missed basically the entire 2011 season with a bulging disc in his back, and he just had surgery on his labrum and rotator cuff in September. It wasn't a total repair, more of a cleanup that will keep him on the shelf for six months.
The 33-year-old from Australia is a low-arm slot righty specialist more than anything, using an upper-80's sinker and upper-70's slider to get ground balls (career 64% grounders) and hold righties to a .215/.276/.301 batting line over the last six years. Moylan won't strike many guys out, not even righties (23.0% strikeouts), and he's damn near unusable against lefties (.277/.406/.381 career). It remains to be seen how Moylan's stuff will rebound following the back and shoulder injuries, but he's basically another Luis Ayala, just with more ground balls and fewer strikeouts. You can do worse as the seventh guy out of the bullpen.