Four questions this week, but three of the four answers are kinda long. The Submit A Tip box is your friend, assuming you need a friend that can help you send in questions for future mailbags.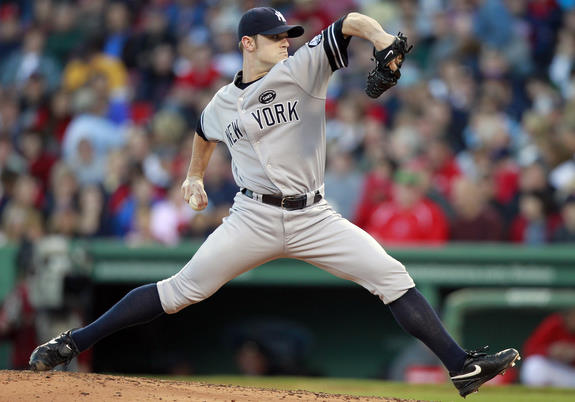 Chris asks: Do you think the Yankees would consider trying David Robertson out for the rotation? He seems to have good mechanics with his delivery and no obvious physical detriments that would inhibit his ability to start. Stuff-wise, I think few would doubt Robertson's qualifications — especially now that he's added a serviceable change-up to go along with his plus curveball and fastball. What do you think David Robertson's ceiling as a starter would be? Is it high enough to justify a "Robertson-as-a-starter" experiment?
You know, I could have sworn Joe wrote a post about Robertson as a potential starter, but apparently he didn't because I can't find it in the archives anywhere. Oh well.
Stuff-wise, Robertson would be fine. He'd definitely lose some heat off the fastball, figure more 91-92 than the 94-95 he's working with these days, but he's got that great curveball and will show a changeup from time to time. He's thrown that changeup just 1.7% of the time this year, so he'd have to be comfortable with using the pitch a lot more than he does now for it to work.
There's two big hurdles here. First, Robertson hasn't started a game since 2005, when he made three spot starts as a sophomore at Alabama. He also hasn't thrown more than 61.1 IP in a season since 2008, when he topped out at a career high 84 IP (he threw 84.1 IP in 2007, so close enough). It's not like they could just stick him in the rotation and expect 30 starts right out of the chute, it'll take a year or two to get him safely stretched out. The second thing is his efficiency, or lack thereof. Because Robertson's such a high-strikeout, high-walk guy, he ends up throwing a ton of pitches. In fact, his rate of 4.51 pitches per batter faced is the highest in baseball among relievers with at last 40 IP, and his 18.5 pitches per inning are the eleventh highest when you use that same criteria. He'd have to learn how to become more economical, which means pitching to contact a little more. If he can't do that, he'd be a five and fly starter.
There's also the element of the unknown here. We have no idea if Robertson can be successful the second and third time through the order. At least with Joba Chamberlain, you had his dominant college and (brief) minor league track record to fall back on. That's not to say it can't work (C.J. Wilson was very similar to Robertson when he was in the bullpen, and his transition was a smashing success), but that it won't be easy. I can't imagine the Yankees will entertain the thought of trying Robertson in the rotation, but it's not a completely insane idea. Would take a lot of work on David's part though, that's for sure.
Brent asks: I was reading your article about Pedro Feliciano and got to wondering: How is the luxury tax, insurance payments, salaries effected by an injured player like this?  What $$ are the Yankees exactly on the hook for in this situation?
I can't answer the insurance, we really don't have any idea what kind of insurance teams have on their players. I imagine the extent of the coverage is a case-by-case thing, like every other insurance arrangement, and it's basically impossible to find that info freely available somewhere. For all we know, the Yankees could have been reimbursed for every dime they paid Feliciano this year.
The luxury tax is a different story though. You can download the pdf of the current Collective Bargaining Agreement right here, then scroll down to Article XXIII for everything you need to know about the Competitive Balance Tax, the luxury tax's fancy name. I'll spare you the gory details, but in a nutshell, teams are taxed on their "Actual Club Payroll," which is the average annual value of all the contracts on their 40-man roster. There's almost some specifics about signing bonuses, benefits, etc., but a team is taxed for every player on the 40-man, and Feliciano has been on the 40-man all year. The Yankees will have to pay luxury tax on his contract even though he never pitched for them. Since they're taxed the maximum 40%, that's another $1.6M on top of his $4M average annual salary.
J.R. asks: If a player goes on the DL in the playoffs he is ineligible for the next round (ie Clemens in the ALDS). If the Yankees lost a player in the ALDS could they be off the roster for the ALCS but then put back on for the WS?
Yep, that's exactly how it would work. The Braves lost Billy Wagner to injury in the NLDS last year, and replaced him on the roster with a new pitcher. Wagner was ineligible for the NLCS, but if Atlanta had made it to the World Series, he could have been re-added to the roster. If a player is replaced on the roster in the LCS, they're off limits in the World Series, which kinda stinks.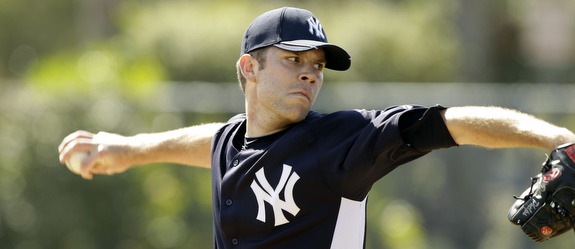 Mike asks: Who are the minor leaguers who need to be added to the 40 man roster after the season to protect from the Rule 5 draft and who are the candidates to be cut from the 40 man to make room for them? I think you touched on this a couple of months ago but things have changed in Sept a little.
I trimmed Mike's question down just for the sake of saving bandwidth, but you get the idea. I answered a question about who's eligible for the Rule 5 Draft a few weeks ago, but you're right, things have changed. Both George Kontos and Austin Romine were added to the 40-man roster and called up while Steve Garrison and Pants Lendleton lost their spots. Here's a quick recap of the 40-man situation heading into the offseason…
On 60-day DL (7): Feliciano, Chamberlain, Damaso Marte, Sergio Mitre, Reegie Corona, Colin Curtis, Justin Maxwell
Scheduled to become free agents (8): Marte, Mitre, Luis Ayala, Bartolo Colon, Freddy Garcia, Eric Chavez, Andruw Jones, Jorge Posada
Non-tender/release candidates (4): Corona, Aaron Laffey, Scott Proctor, Raul Valdes
That's eight spots definitely being opened up by departing free agents, but five of those spots will immediately be filled by 60-day DL guys (Marte and Mitre overlap). There's no DL in the offseason, those guys have to be activated. Proctor's as good as gone, so that's another open spot. Pretty safe bet that Corona and at least one of Laffey/Valdes will go as well, so that's two more spots. Right now, we're at six open spots.
The outfield trio of Maxwell, Greg Golson, and Chris Dickerson will all be out of options next year, so something has to give. They could be released, traded for a marginal prospect (like what they did with Juan Miranda), or run through waivers just to see if they clear. All three could be gone next year, or all three could be back and off the 40-man roster. I have to imagine that at least one of those guys will be cut loose at some point, perhaps two. Either way, those are some flexible spots that can be dealt with as needed. The out-of-options thing really doesn't become a problem until you actually want to send them to the minors, usually at the end of Spring Training.
With Romine and Kontos added to the 40-man, David Phelps is the only remaining lock to be added to the roster to prevent Rule 5 Draft exposure. David Adams and Pat Venditte are up in the air, as are a few others. Remember though, those open 40-man spots aren't just for prospects. The Yankees have to replace Garcia and Colon in the rotation, add some bench players to replace Chavez and Andruw, and rebuild some bullpen depth. The 40-man roster can be a difficult thing to manage in the offseason, especially for a team like the Yankees, a team with so many players locked into long-term contracts.